John Cipollina:
The Life and Death of San Francisco's Most Prolific Guitarist
by William Ruhlmann
While the death of any popular musician is a painful experience, leaving a gap to be filled for both his audience and bandmates, the loss of John Cipollina, the guitarist who died May 29, 1989, is a special tragedy. His death doesn't leave just one group short a member, but in fact robs a dozen bands of a primary player. And Cipollina, best known as the founder of Quicksilver Messenger Service, who pioneered the melodic, extended lead guitar work that came to typify the "San Francisco Sound" of the 1960s, is not replaceable. In his absence, a major chapter in the history of rock 'n' roll must be closed. At the same time, as one of rock's most influential guitarists, and as a musician who found time, even backstage and in crowded hotel rooms, to tutor young players, he will continue to have a profound effect on the sound of popular music.
A tireless raconteur, Cipollina was almost as interesting a speaker as he was a guitarist, and based on the many extensive interviews he granted this writer, it's possible to reconstruct his biography largely in his own words. But this printed copy will fail to convey the sharp tone of Cipollina's voice. Often interrupted by the extended coughing that signalled his emphysema, the disease that would kill him, the guitarist could still tell a story better than most.
He and his twin sister Antonia were born August 24, 1943 in Berkeley, California, into what he described as a musical family. (There is also another sister, Michael, and a brother, Mario, who is now the bass player in Huey Lewis and the News.) Cipollina's mother, Evelyn, was an opera singer, a protege of the classical pianist Jose Iturbi, who became the twins' godfather. Cipollina was born with chronic asthma and had to be held upright to fall asleep. (It was a condition that would not prevent him from becoming a chain smoker, however.) In his infancy, he lived in San Salvador and Guatemala, moving to Mill Valley, California when he was six.
Naturally, the first instrument Cipollina was taught to play was the piano, as early as the age of two, but he began to be attracted to the guitar in his early teens. He recalled riding in the car with his mother and hearing Mickey and Sylvia's "Love Is Strange" on the radio. "I look over at my mother and I go, 'What's that?'" he said, and she goes. 'It's an electric guitar.'" Cipollina had heard acoustic guitars and amplified guitars, but never an electric guitar, and never the single note lines of Mickey Baker. "I really identified with it," Cipollina said. "I thought, 'You just said the 'F word,' without saying any words. Nobody in my family could bend a note on keyboard. And I heard that, I thought, 'God, that's really cool!'"
Before long, Cipollina was absorbing the playing of Scotty Moore, James Burton and Link Wray, though at his parents' insistence, he took classical lessons for a short time. "I drove this guy nuts," he said of his instructor, "because everything I wanted to do, he didn't want me to do. Then after I had thoroughly snowed my parents, I went out and got an electric guitar and completely forsaked everything else."
Cipollina was in his first band, the Penetrators, by 1959. "It was more of a gang than a band," he said. The gang played the popular rock 'n' roll of the time -- Elvis Presley, Ray Charles, Jerry Lee Lewis and Fats Domino -- at high school dances.
But as the 50's gave way to the early 60's, rock faded in favor of folk music. Cipollina, now about to turn 20, and in a band called the Deacons, didn't change his style. "Folk music was hip and cool and avant-garde," he said, "and I'm still a rocker. I'm still punking around. I've still got my long shirt on and I got my dark glasses." Along with his black Dan-Electro guitar, it wasn't a look that went down well at hootenannies.
Cipollina took up playing what he called the "steak and lobster" circuit, handling requests for "Girl From Ipanema," while, in the daylight hours, trying to become a real estate salesman. Meanwhile, his living arrangements had become unusual. "I hung out with a bunch of crazy flamenco guitar players in a troupe," he said. "I was living in a huge ferry boat with 11 other people and we were paying a little under $3 a month rent -- we were still late on the rent!"
In 1964, Cipollina finally began to run into people who wanted to play rock 'n' roll, many of them coming out of the folk movement. There was Chet Powers (who changed his name to Dino Valenti and, later, Jessy [sic] Oris Farrow), a budding songwriter who wrote "Get Together" and was managed by Tom "Big Daddy" Donahue. And there was Jim Murray, a harmonica player who learned guitar.
It was Valenti who organized the group. "I can remember everything Dino said," Cipollina recalled. "We were all going to have wireless guitars. We were going to leather jackets made with hooks that we could hook these wireless instruments right into. And we were gonna have these chicks, backup rhythm sections that were gonna dress like American indians with real short little dresses on and they were gonna have tambourines and the clappers in the tambourines were going to be silver coins. And I'm sitting there going, 'This guy is gonna happen and we're gonna set the world on its ear.'" The next day, Valenti was arrested for possession of marijuana. He would spend the better part of the next two years in jail.
As Valenti went into jail, David Freiberg, a folk guitarist friend of his, who had been in a band with Paul Kantner and David Crosby, got out. "We were to take care of this guy Freiberg," Cipollina said, and though they had never met before, Freiberg was added to the group. The band also added Skip Spence on guitar, and began to rehearse at Marty Balin's club, the Matrix. Balin, in search of a drummer for the band he was organizing, soon to be called Jefferson Airplane, convinced Spence to switch instruments and groups.
The Dinosaurs, from left to right: John Cipollina, Barry Melton, Merl Saunders, Peter Albin and Spencer Dryden.

It was this odd circumstance, however, that led to the gelling of Cipollina's band, since Balin, to make up for the theft, suggested they contact drummer Greg Elmore and guitarist-singer Gary Duncan, formerly of a group called the Brogues. This new version of the band had its first paying gig in December 1965, playing for the Christmas party of the comedy troupe the Committee.

The band gained financial backing from the Committee's management, which in turn was working with Bill Graham, then part of the Mime Troupe, and so Quicksilver Messenger Service became one of the early bands featured at the San Francisco dances that Graham promoted in 1966.

"Jim Murray and David Freiberg came up with the name," said Cipollina. "Me and Freiberg were born on the same day, and Gary and Greg were born on the same day; we were all Virgos and Murray was a Gemini. And Virgos and Geminis are all ruled by the planet Mercury. Another name for Mercury is Quicksilver. Quicksilver is the messenger of the gods, and Virgo is the servant. So Freiberg says, "Oh, Quicksilver Messenger Service.'"

By this time, of course, Valenti was finally out of jail, but according to Cipollina, he passed on rejoining the group he had started unless Elmore and Duncan were dropped. The band declined.

The quintet of Cipollina, Murray, Freiberg, Duncan, and Elmore became one of the top San Francisco bands, headlining over such contemporaries as the Grateful Dead at the Fillmore and Avalon ballrooms in 1966 and 1967, and even playing at the Monterey Pop Festival in June 1967. But unlike the other bands, Quicksilver delayed signing a record contract.

"We didn't want to sign," said Cipollina, explaining that, early on the group had gotten a bad taste in its mouth about record companies since it felt it had not received support from Donahue and his Autumn Records, and had then been rejected by other companies. By 1966 and 1967, when the major labels were coming to San Francisco with their checkbooks, "we didn't need them," Cipollina said. "We had no use for them, and we weren't gonna make a record. 'What for? We're still the headliners.' You see, that was one of the things that made us cocky right up front. We always had a lot of people going to our shows. We would play, and the second act would usually have the hit record. And we were unsigned. And we were making more money. We would make double the money of the guys who had the record contract.

"We watched everybody else. We watched the Dead, who used to be a fairly funny band, and they were happy-go-lucky, groovin' kind of guys. And we'd come by and we'd see them gettin' real serious and talking about having to pay back the company. And we watched Jefferson Airplane. They got a record contract and they were just hustling all the time. Somebody gives you a whole bunch of money one day, and the next day you owe all this money back."

Reasonable as this sounds, it meant that Quicksilver was not heard on record until after the first blush of publicity and notoriety about San Francisco and the Summer of Love had already passed. They never had the chance to ride that wave to national popularity, as Jefferson Airplane did in the summer of 1967, and, as it turned out, they didn't stick around long enough to build a loyal mass following, as the Dead did.

The group finally signed to Capitol Records in the fall of 1967, at which time Murray quit. He did stay around long enough to work on the first recording sessions, which produced two songs used on the soundtrack for the film Revolution, issued in March 1968.

It was as a quartet, however, that Quicksilver recorded their first album at the end of 1967. "The first album was the easiest because we didn't know any better," Cipollina said. "We didn't know what constituted making an album. I had lots of trouble in the old days. In those days, when you would record, they had a huge red light, a hundred-watt lightbulb sitting on a floor stand, that would light up ominously when the record button was on. Besides, they had a sign outside that said, 'Recording. Do Not Open This Door.' And every time that red light would go on, I would freeze up. It took me a couple of days to convince these guys, 'You gotta just get rid of that light, man! I don't want to know what's going on!'"

Released in May 1968, Quicksilver Messenger Service featured "Pride of Man", a former folk song written by Hamilton Camp (since reclaimed for folkies by the Washington Squares) and a 12-minute song by Duncan and Freiberg called "The Fool." Rolling Stone, the arbiter of all things from San Francisco at the time, pronounced the album too derivative of the Electric Flag, though it was complimentary about Cipollina's playing. The album entered the Billboard charts on June 22, and reached #63, staying in the charts for 25 weeks, a better showing than the Grateful Dead's Anthem of the Sun, but far below Jefferson Airplane's Top 10 Crown Of Creation and Big Brother and the Holding Company's chart-topping Cheap Thrills.

Cipollina's remarks reveal a vast preference for playing live over studio work, a common opinion among San Francisco musicians of the time. Accordingly, the band's second album, Happy Trails, was recorded live in the fall of 1968. "Live recording was easy," Cipollina said. "The second album was live, and it was a piece of cake. I think it was probably the best album we ever did, for that reason."

But there were other problems. "The band started to fall apart during that one," Cipollina said. "Gary Duncan quit the band as soon as we started recording it, which took a lot of the fire out of the band." Surprisingly, Duncan hooked up with Valenti, who had released a solo album in 1968.

Happy Trails was released in the spring of 1969. It entered the charts on March 29 and rose to #27, far better than the first album (and roughly the same showing as the band's next three albums would have). It has come to be remembered as the band's best work. Even critic Dave Marsh, who is dismissive of Quicksilver, was impressed. "The group made only one noteworthy record, Happy Trails," he wrote in The Rolling Stone Record Guide in 1979, "which catches them live, at their peak, on versions of 'Who Do You Love' and 'Mona.' Both tracks feature guitar extravaganzas by John Cipollina that are among the best instrumental work any San Francisco band did."

Unfortunately, Quicksilver was not able to capitalize on their popular and critical success. "After we did the Happy Trails album, we took a year off," Cipollina said. "This is when trios were happening, but we were not a power trio. Elmore could cover. Elmore loves trios. But Freiberg is not a trio bass player and I'm not a trio guitar player. 'Cause, like, a trio guitar player's gotta use all six strings, which is something I've never gotten around to doing."

To fill out the sound, Quicksilver surprisingly added keyboards. "I wanted a piano player," Cipollina explained. "Quicksilver was the only band I had ever played in without keyboards. And I decided that we wanted (British session ace) Nicky Hopkins, even though I had never met the guy. I didn't know anything about him, I decided that's who we needed and the band went along with it. Nicky and I became real good friends and we ended up doing the third album, Shady Grove." The album was recorded in the fall of 1969 and issued at the start of the new year.

Rolling Stone approved of the new sound. "The old Quicksilver was immediate, instrumentally flashing and frenzied," wrote Gary Von Tersch. "The Quicksilver on Shady Grove has had its collective head turned around by Nicky Hopkins. The result is a more precise, more lyrical, and more textured Quicksilver." It was also a short-lived Quicksilver, at least in this exact configuration.

"Quicksilver was slated to play at the New Year's gig at Winterland, '69-'70," Cipollina said, "but by this time we were a little hesitant, because we had no singer other than David and we really had trouble writing songs. It took us a year to get the material for Shady Grove together. And of course the company wanted us to do more and more originals and we had more and more trouble doing that."

"When we got Nicky, now we had a full sound, but we didn't really have the singers. Who comes back in town but Dino and Gary, and they heard our record. Everybody thought that we hated each other, so we said, 'Let's prove 'em wrong. Let's all go down there as friends.' And Dino, of course, was always meant to be an original member of the band, and never was, and we thought, 'How cool to go down and do a show. We'll just blow everybody out.' It was a one-shot thing. We went down, and we played the New Year's show with us and the Dead. And we did so good that before the night was over, Graham had hired us to play at the Fillmore East the following week. And the Dead were setting up a tour and they asked us to come as a headliner. And it just seemed like a natural. So, out of that one gig, Dino and Gary ended up back in the band."

This happy state of affairs lasted five months, until May 1970, when the band went to Hawaii and cut what turned out to be its next two albums, Just For Love and What About Me, albums dominated by the songs of Dino Valenti (or Jesse Farrow, as he was called for contractual reasons).

"We started having differences," Cipollina said. "First of all, I found out that the difference between a four-piece and a six-piece band is I had less and less to do. And due to the music that we were doing, which was more folk-oriented than I was used to and very simple, there was less and less playing for me to do. So I just sat around and did less playing."

Cipollina found other places to play. "Nicky turned me on to doing sessions," he said, "which was not a cool thing. Being in the band was kind of like being married. And playing with somebody else was like cheating on your spouse. I can remember coming in one day after I had done a Brewer and Shipley track. I came into rehearsal and I got the cold stares and the cold shoulders. And finally, somebody said, 'So you played with Brewer and Shipley!' Like, 'How could you,' you know? 'You're sleeping on the couch tonight!'"

"I got it put to me that, 'Well, do you wanna play in a band or you wanna do sessions?' I left Quicksilver (officially) October 5, 1970. Nicky and I left about May. That's when the showdown came. But then we had obligations, so I ended up doing two more national tours, up till October."

Just For Love had been released in the summer of 1970, and What About Me came out at the start of the new year. Freiberg left the band in 1971 to join Paul Kantner and Grace Slick. Valenti, Duncan and Elmore carried on as Quicksilver for two more albums.

As for Cipollina, "I ended up doing about four years in the studio where basically that was all I did," he said. "In fact, there was a magazine I read some place that quoted me, I was like at one time the busiest session man in San Francisco. Which is real misleading, anyway, 'cause San Francisco isn't that big of a recording town. But I was the busiest session man; I was working virtually every day."

Cipollina also put together a new band, Copperhead, that featured, at various times, Jim McPherson on keyboards, Hutch Hutchinson on bass, Pete Sears on bass and keyboards, Gary Philippet on guitar, keyboards, and vocals, and Dave Weber on drums. "I started looking for new directions, because I was so burned out at that time with the San Francisco bands," Cipollina said. "At first, we were all fighting for individuality, and we fought so hard that we were stereotyped. I thought, man, if I see another pair of Levi's with patches on the knees, and if I see another guitar with an STP sticker on it, I'm gonna puke. I started looking for something fresh."

"We were an early punk band. In fact, the term "punk rock" was coined for one of the early reviews that Copperhead got, late '70, early '71. It was a San Francisco critic, in distain, who said, well it's not really San Francisco rock, and it's not really hard rock, it's kind of punk rock. And I thought, that looks good, that's us. We did have a real bad attitude which I was really proud of. It might not have been commercial, but it was definitely more professional."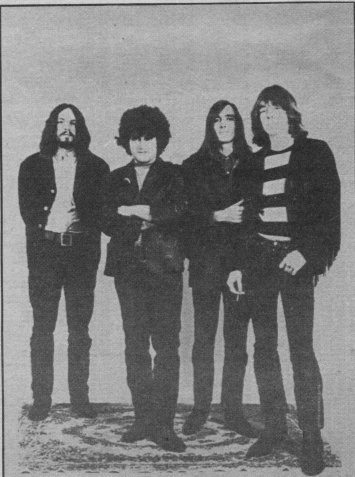 Quicksilver Messenger Service

Copperhead never got a chance to find out how commercial it might be. The group released an album on Columbia Records in May 1973, the same month that label president Clive Davis, who had signed them, was fired. "They're cleaning out (Davis's) desk," Cipollina said, "and they find this contract for $1,350,000, and they went, 'Who are these guys?' So they killed the act. They printed, as far as I know, 60,000 units and that was just accidentally. And then they stopped it. And that was it. In fact, we talked to some booking agents and I found out later that CBS threatened them. They said, 'If you book Copperhead we'll take off every CBS act you got.' They made sure we didn't work. So by '74 we just kind of drifted; there was no sense in it."

But Copperhead was far from Cipollina's only project at the time. He had met Terry Dolan shortly after his breakup with Quicksilver, and played in Dolan's band, Terry and the Pirates, until his death. "I got my first time running in with Terry and my last session I did with Quicksilver back in 1970," Cipollina said. "Nicky had already left Quicksilver and he was producing this guy Terry Dolan. I had just left the PHR (Pacific High Recording) studios. We were doing the last overdubs on the What About Me album. And then I ended up going to Wally Heider's studio.

I remember I got in a jam with (Jerry) Garcia and Jorma (Kaukonen) and a bunch of other bozos. It was just one of those things you do when you don't want to go home, you know? It was about four in the morning and I'm almost ready to go home now. I got a call from Nicky saying, 'Hey, come on over, man, I'm over at Lone State Recorders. I'm doing a session. We'd really like you to put a track down or two.' So I went over there and that's how I ran into Terry. And then he kept doing sessions and then somewhere along the line, I guess it was after Copperhead, or during Copperhead, he decided to do some gigs. They were real easy and it was a lot of fun. After Copperhead, I ended up playing a lot in Terry and the Pirates. And then of course I went and did the Man thing."

Man, a Welsh band led by Micky Jones, Terry Williams, and Deke Leonard, had been heavily influenced by Cipollina. "They came to San Francisco and they were big fans and they wanted to meet me," he said. "So I went in and I met them and they immediately accused me of not being me. I didn't live up to their expectations at all. They said, 'Aw, you can't be him. How tall are you?' And I said, 'I'm five-nine.' And they said, 'Everybody knows Cipollina's at least six-two to six-four.' I said, 'Bullshit.' They said, 'We've seen pictures of Quicksilver. He's a big, tall guy.' And I actually showed them my license.

"I had never had anybody accuse me of not being me before. It was weird. Deke Leonard said, 'Well, if you're Cipollina, here, play something like him.' And I don't know how 'he' plays, you know? So we did a jam and I guess I passed." Cipollina played with the band at Winterland in San Francisco, and agreed to return with them to England. He appeared on their Maximum Darkness album, released in 1975. But the association was short-circuited by a call from home.

"We were just about to go to Spain," Cipollina said, "and I got a call from the States saying, 'Hey, we got Quicksilver back together.' Before I'd left, somebody had asked me if I would ever play with Quicksilver again. And I was very explicit. I said, 'Yes, but only if it was the original musicians and you got everybody to agree with it.' So I went back and did the Quicksilver reunion (Solid Silver), and then did two tours coast to coast with the band." The album, which came out in the fall of 1975, was only a moderate seller, peaking at #89, and the Quicksilver reunion proved a temporary affair.

Still working with Dolan and doing sessions, Cipollina moved on to a new band project, organized in a typically offhand way. "I had gotten involved at a party with a bunch of L.A. bigwigs and we were all under the influences of whatever," he said. "We were quite egotistical, including myself. And somebody said, 'Do you write songs?' 'Oh, yeah, I write, sure, you bet!' 'Well, do you got any new material?' 'You bet! I just spit 'em out, man, like gum.' And they said, 'Well, God, we gotta get you in the studio, love to hear your stuff.' So, three years later, they finally said, 'Come on, are you gonna go in or not?' And at the time I had a couple of tunes that I had written and I was ready to put down and I had to pull a band together.

"So I got members of the last three bands that I had worked with, who were Quicksilver, Copperhead, and Terry and the Pirates. And I put Raven together in the beginning of '76. I went in the studio and cut a bunch of my stuff and we had so much fun in the studio, we looked at each other and said, 'Hey, let's do some gigs. Come on, what do you say?' And that's how Raven started, and then it just got to be crazy. We only did about four gigs."

Though recorded in 1976, the resulting Raven album would not be released until 1980, and then on the German Line Records label. Cipollina sold the Raven album to Line while on a tour of Germany with Nick Gravenites, the blues-rock singer who had who had produced and played with Quicksilver. It was one of many tours he would undertake with Gravenites, another association that lasted intil his death.

Along with his work with Dolan and Gravenites, Cipollina continued to do extensive studio work throughout the 1980's, and to play in San Francisco-based bands in a bewildering profusion. Bands like Thunder and Lightning and Problem Child, with whom Cipollina frequently played on the Bay Area club circuit, never recorded. But other bands, such as the Ghosts, the post-Grateful Dead band led by Keith and Donna Godchaux, did make records. The Ghosts metamorphosed into the Heart of Gold band after Keith Godchaux's death and, eventually, into Zero, which issued an album on Relix Records in 1987. Another major affiliation for Cipollina was the Dinosaurs, a band consisting of former mebers of various San Francisco bands, including former Country Joe and the Fish guitarist Barry Melton, that eventually issued an album on Relix in 1988.

"I've been in a lot of bands," Cipollina acknowledged during an interview in January 1988, while on tour with the Dinosaurs. "I'm currently in and out of six bands. I mean, tomorrow I'm playing with Zero. And then after that I'm playing in a band called Fish Stu, which is me and Melton and the bass player from Thunder and Lightning and I forget who the drummer (is). I think it's Spencer (Dryden). And then this keyboardist, Stu Blank."

Cipollina concluded this interview philosophically. "I'm still thinking the same as when I was 17 years old, which'll probably be the death of me," he said. "But I'm going on 45 and I'm still acting like a 17-year-old. I'm happy. I really enjoy what I do. Otherwise I'd do something else."

Despite this activity, Cipollina was in declining health. He was sidelined for three months in 1988 due to respiratory problems. When travelling, he reportedly used wheelchairs in airports because he couldn't walk long distances. The steroids prescribed by doctors for his disease weakened his hip bones, forcing him to use crutches offstage, and he usually sat while playing. Of course, performing in smoke-filled clubs was bad for his health, but he refused to stop playing, even completing a tour of Greece with Gravenites in the spring. On Monday, May 29, he was rushed to Marin General Hospital after an asthma attack. He died during the night.

Cipollina was cremated and his ashes were spread on Mt. Tamalpais in San Francisco on June 1. He had been scheduled to play with Thunder and Lightning at the Chi Chi Club in San Francisco on June 2, and Gravenites and his band Animal Mind, joined by Mario Cipollina and Greg Elmore, played a tribute show instead. But no one in the room could have played the guitar like John Cipollina. No one ever did.


Goldmine, November 3, 1989







---
JC Home - Articles, etc
---
Last updated: 3-Nov-2004