The Ghosts / Heart of Gold Band

The Ghosts:
Petaluma Theater, Petaluma, CA, May 8, 1980
Keystone, Berkeley, CA, May or July 8, 1980
The Ghosts Playing in the Heart of Gold Band


Heart of Gold Band:
Heart of Gold Band (1986)
Double Dose
Heart of Gold Band (1998)



---
The Ghosts Playing in the Heart of Gold Band
---
Petaluma Theater, Petaluma, CA, May 8, 1980
CD-R received May 2022.
Tracks
1.
I // Showboat
1:44
2.
It Takes a Lot to Laugh
6:43
3.
Easy Living
7:48
4.
I Heard a Voice
8:39
5.
tuning > I'd Do It All Again > chat
5:30
Total
30:26


Partial Set

"They played with the Pirates and John played with both bands that night. I think I ran out of tape after recording the Pirates, so this is all I have of the show. Recording setup was Sony tape deck with condenser mic next to the monitors on stage."

Sony tape deck with condenser microphone onstage next to the monitors > Cassette > CD > CD (with a little EQ to bring out the vocals)
CD-Rs > EAC > Wav > FLAC Front End > FLAC(8)


Scan of artwork included. Received on a CD-R with a partial show by Healy-Treece Band.


Personnel
Keith Godchaux
piano, vocals
Donna Godchaux
vocals
John Cipollina
guitar
Steve Kimock
Guitar
Bobby Vega
bass
Greg Anton
drums
---
Keystone, Berkeley, CA, May or July 8, 1980
Tracks
Set 1 - 29:51
1.
Showboat
3:03
2.
It Takes A Lot To Laugh
6:50
3.
Easy Living
5:53
4.
Gomorrah
8:45
5.
I'll Do It All Again
5:18
Set 2 - 60:57
6.
tuneup
2:07
7.
Lonesome and a Long Way From Home
7:59
8.
I Wish I Could Say
9.
Sweet Inspiration
10.
Scarlet Begonias
11.
Short Time Fever
12.
Stir It Up
13.
Like A Thief In The Night
14.
All I Know Is I've Got To Go
Total
90:48
NOTES:
Master recording and transfer by John Levene
Source: AUD (master) TDK SA-C90
Transfer: Yamaha K-1020 > Sony SBM-1 > Nomad JB3 > Creative Play Center > Soundforge v6e > CDWav
Creative Play Center software used to copy to laptop.
Soundforge used to prep file for tracking.
CDWave used to track and flac at level 8 compression.
Some song titles maybe incorrect
tape flip was after S2T2 (44:27.508)
Tapers Memories: (a little hazy :-) While in college in California a few friends and I used to traveled to various music venues. This day found us in Berkeley. We showed up mid-day, and eventually went to the Keystone to check out the scene. The doors were open so in we went; started drinking beers and playing pool. A little while later John Cippolina asked to join us at the pool table. We chatted, drank and shot pool. Eventually I asked if it was okay to record. He introduced me to the soundman, who recommended I not patch as the mix was way off balance and certain instruments and vocals might come out too weak or too strong. Instead he let me set up my friends boom box with built in mics on the front edge of the soundboard. I recall the soundboard was in the front of the balcony, but I might be wrong. On the master tape's cover, I have a cut out from the SF Chronical's Pink Section that notes: THE GHOST with Keith and Donna Godchaux. Plus: The Edge w/ Ozzie Ahlers, Lorin Rowam, Mark Stein. The cost of the show was $3.50. I also have a ticket stubb for a performance on 27-APR-1980 at the Old Waldorf in SF. Cost of that show was $5.00 = enjoy =
Personnel
Keith Godchaux
piano, vocals
Donna Godchaux
vocals
John Cipollina
guitar
?
bass
?
drums
maybe another guitarist
---
Heart of Gold Band (1986)
Tracks
1.
Stir it Up
(B. Marley)
2.
Watching the River Flow
(B. Dylan)
3.
It Takes A Lot to Laugh, It Takes a Train to Cry
(B. Dylan)
4.
Strange Man
(D. Lovecoats)
5.
Lonesome Highway
(B. & D. Bramlett, L. Russell)
| | |
| --- | --- |
| Keith Godchaux | Piano, Vocals |
| Donna Godchaux | Vocals |
| Greg Anton | Drums |
| Steve Kimock | Guitar |
| Dexter LaBlanc | Bass |
| Greta Rose | Vocals |
Release History
Label
Cat No
Country
Format
Date
Relix Records
RRLP 2020
US
LP
1986
---
Double Dose
Tracks
The Heart of Gold Band
1.
Stir it Up
6:50
(B. Marley)
2.
Watching the River Flow
5:36
(B. Dylan)
3.
It Takes A Lot to Laugh, It Takes a Train to Cry
6:09
(B. Dylan)
4.
Strange Man
4:14
(D. Lovecoats)
5.
Lonesome Highway
6:32
(B. & D. Bramlett, L. Russell)
The Ghosts Playing in the Heart of Gold Band
6.
Ride Out
3:01
(G. Anton, I. Rosenberg)
7.
Built For Comfort
8.
House of Wax
9.
Ready For Love
10.
Maybellene
3:15
(C. Berry)
11.
Solid Rock
4:51
(B. Dylan)
12.
Golden Road
4:30
(G. Anton, Brian Godchaux)
13.
Knockin' On Heaven's Door
5:04
(B. Dylan)
14.
Scarlet Begonias
6:56
(J. Garcia, R. Hunter)
| | |
| --- | --- |
| Keith Godchaux | Piano, Vocals |
| Donna Godchaux | Vocals |
| Greg Anton | Drums |
| Steve Kimock | Guitar |
| Dexter LaBlanc | Bass |
| Greta Rose | Backing Vocals |
Release History
Label
Cat No
Country
Format
Date
Relix Records
RRCD 2020
US
CD
1989
Castle Communications
CCRCD 111
UK
CD
1993
---
Heart of Gold Band (1998)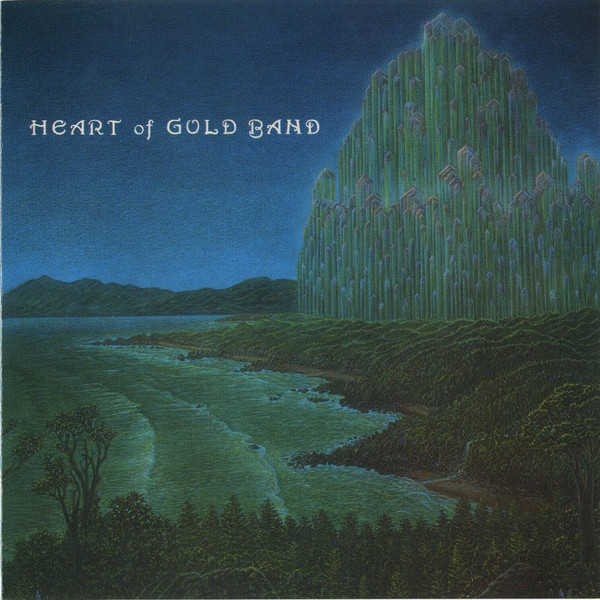 Tracks
1.
Watching the River Flow
5:36
(B. Dylan)
2.
Scarlet Begonias
6:56
(J. Garcia, R. Hunter)
3.
Stir it Up
6:50
(B. Marley)
4.
Gomorrah
9:01
(J. Garcia, R. Hunter)
5.
Strange Man
4:14
(D. Lovecoats)
6.
It Takes A Lot to Laugh, It Takes a Train to Cry
6:09
(B. Dylan)
7.
Lonesome Highway
6:32
(B. & D. Bramlett, L. Russell)
8.
Show Boat
4:34
(D. Godchaux, K. Godchaux)
9.
Knockin' On Heaven's Door
5:04
(B. Dylan)
10.
Solid Rock
4:51
(B. Dylan)
11.
Golden Road
4:30
(G. Anton, Brian Godchaux)
12.
Maybellene
3:15
(C. Berry)
13.
Ride Out
3:01
(G. Anton, I. Rosenberg)
Personnel
Keith Godchaux
piano
vocals
organ
1 - 9, 12 - 13
1 - 9
12 - 13
Donna Godchaux
vocals
1 - 13
Greg Anton
drums
piano
'71 Harley Davidson Shovelhead
1 - 13
12 - 13
13
Steve Kimock
guitar
1 - 11
Dexter LaBlanc
bass
1 - 9
Greta Rose
backup vocals
vocals
1 - 9
10 - 13
David Mackay
bass
10 - 11
Mark Adler
piano
10 - 11
Bill Middlejon
guitar
12 - 13
Don Gaynor
guitar
12
John Cipollina
guitar
13
Larry Klein
bass
12 - 13
Billy Travis
vocals
12 - 13
Irv Rosenberg
'49 Harley Davidson Panhead
13
Dave Cort
'850 Norton Commando
13


1 - 9 Recorded Live at the Back Door, San Francisco, Ca 7/10/80
10 - 11 Recorded Live in Arcata, Ca 1980
12 - 13 Recorded 12/79; Remixed 2/89 by Tom Size




"The Heart of Gold Band began with Keith. After one concert he was gone and we were left with this one night stand. Who knows what might have been. Here is the raw beginning. For those who loved and remember Keith, this record is for you. God Bless You." Donna Godchaux Mackay


Produced by Greg Anton
Compilation Engineer: Brian Risner
Artwork by Dean Burns
Photography by Sister Charles Mayer R.S.M.
Design by Gecko Graphics
Historical Notes by Alan Trist


Coordination, Wardrobe: John Cipollina
Motorcycles recorded by Susan Rosenberg
Engineers: Dan Healy, Bob Matthews, Leroy Shayne, Joe Tarantino, Richard Van Doren, B.T.
Studios: Front Street, Tewkesbury, Tres Virgo, Prairie Sun, Harbor Sound, Fantasy Studios


Also starring:
Zion Rock, Muppy, Hal and Brian Godchaux, Jamie and Ivan Thatcher, Rolling Thunder, David Frieberg, Pete Sears, Robert Hunter, Smoking Moccasin, Mickey Hart, John Kahn, Donna MacKay, Dino Valenti, Chevy Marie, Marty Levine, Courtney Pollack, Nancy May, Laura, Dan and Carol, Peter Monk, Hope, Fu, Jerilyn, Hodge, Debbie Trist, Gary Kephart, N.F.B., Jeff Bogart, Howie, Don Cort, Kenny and Dee, Don Gaynor, Les Kippel, Michael Peri, Payton Massey, Avatar Studio, The Stoop Sisters, Peter McQuaid and Cameron Sears.


These live recordings come from a fluid period in the lives of several key Bay Area musicians in the early 80's. They bridge the death of Keith Godchaux who with Donna Godchaux first formed "The Ghosts" after playing with the Grateful Dead through most of the 70's, adding the flavor of their gospel and R&B roots to the Dead's music, touring, recording six albums and a solo album. Keith and Donna were also an integral part of the Jerry Garcia Band of the 70's. "The Ghosts" went on to become the "Heart of Gold Band" - a flash in time, sparkling, dynamic, where Keith and Donna expressed a magical musicality together. Donna remembers: "the interplay between Keith's playing and my singing on 'Strange Man' is extraordinarily sensitive, and it was the last song we played together."

The "Heart of Gold Band" included the core of what was later to become Zero - Greg Anton and Steve Kimock. In one version of the "Heart of Gold Band" David MacKay, who later created an entirely different musical endeavour with Donna, plays bass guitar. On one of the two studio tracks on this album, "Ride Out", includes a guest performance by John Cipollina, formerly of Quicksilver Messenger Service, who later toured and recorded with Zero. A studio version of "The Ghosts" backed up Robert Hunter on one of his troubadour tours, the occasion for the meeting of Hunter and Anton who in the 90's write songs together. All this eclectic mystery, which can perhaps be deciphered from the accompanying notes, made for exciting and formative music in the early 80's. It is therefore fitting to re-release these recordings now as, in the wake of the death of Jerry Garcia, a new fluidity amongst band personnel is engendered, proving once again the continuing vitality of the music which comes from the San Francisco Bay area. - August 1998



Release History
Label
Cat No
Country
Format
Date
Grateful Dead Productions
GDCD 4060
US
CD
1998
---
JC Home
---
Last updated: May 14, 2020