QUICKSILVER MESSENGER SERVICE
Compilations
Anthology
The Ultimate Journey
Sons of Mercury: The Best of Quicksilver Messenger Service, 1968-1975
The Best of Quicksilver Messenger Service
Unreleased Quicksilver Messenger Service: Lost Gold & Silver
Masters of Rock
Classic Masters
Who Do You Love
The Best of Quicksilver Messenger Service
Fresh Air - Greatest Hits
Anthology Box 1966-1970
Studio Outtakes 1967-1969
Live at The Summer of Love
Live 1968-1970
Live Across America 1967-1977 (Limited 4CD Box Set)
---
Anthology
Tracks
From
1.
Pride Of Man
QMS
2.
Dino's Song
QMS
3.
The Fool
QMS
4.
Bears
Single
5.
Mona
HT
6.
Edward The Mad Shirt Grinder
SG
7.
Three Or Four Feet From Home
SG
8.
Fresh Air
JFL
9.
Just For Love
JFL
10.
Spindrifter
WAM
11.
Local Color
WAM
12.
What About Me
WAM
13.
Don't Cry My Lady Love
Q
14.
Hope
Q
15.
Fire Brothers
Q
16.
I Found Love
Q
Personnel
Ace of Cups
Vocals (Background)
Ken Balzell
Trumpet
John Cipollina
6-String Bass, Guitar, Organ, Slide Guitar, Vocals, Vocals (Background)
Gary Duncan
Bass, Guitar, Guitar (Rhythm), Organ, Vocals, Vocals (Background)
Greg Elmore
Drums
David Freiberg
Bass, Organ, Piano, Viola, Vocals, Vocals (Background)
Nicky Hopkins
Organ, Piano
Frank Morin
Sax (Tenor)
Mark Naftalin
Piano
Pat O'Hara
Trombone
Mark Ryan
Bass
Ron Taormina
Sax (Baritone), Sax (Soprano)
Dino Valente
Guitar, Vocals
John Tobler - Liner Notes



Release History
Label
Cat No
Country
Format
Date
LP
Beat Goes On
UK
CD
1973
---
The Ultimate Journey
Tracks
From
Who Do You Love
(Single Version)
3:42
(Ellis McDaniel)
Single A side
Pride of Man
4:07
(Hamilton Camp)
QMS
Codine
5:25
(Buffy St. Marie)
Revolution
Dino's Song
3:06
(Valenti)
QMS
Gold and Silver
6:44
(Duncan/Schuster)
QMS
Joseph's Coat
4:51
(J. Cipollina & N. Gravenites)
SG
Shady Grove
3:02
(P. O. Wands)
SG
Fresh Air
5:24
(Jesse Oris Farrow)
JFL
Too Far
4:34
(D. Freiberg)
SG
Stand By Me
3:34
(Valenti)
Single B side
What About Me
6:44
(Jesse Oris Farrow)
WAM
Mona
7:10
(Ellis McDaniel)
HT
[CD booklet notes]
It's rather difficult to discuss Quicksilver Messenger Service without tripping out the superlatives; mesmerising, innovative and enigmatic spring immediately to mind. If the Grateful Dead represented the spirit of San Francisco, then Quicksilver was its style, the shimmering guitar-slinger improvisatory band.
The special quality inherent in their music probably was due to the fact that the individuals came out of the two major elements contributing to the development of the 'San Francisco Sound', those from the coffee-house and folk club circuit and those from the city's garage bands. The central catalyst was Dino Valenti, a folknik who had hung around Greenwich Village during the early 60's before moving out to Los Angeles. He did some live work there, as well as cutting a few demos at the World Pacific Studios, of which two tracks, 'Black Betty' and 'Life Is Like That' would later appear on a compilation album, 'Early L.A.'. Also on that album were the Byrds, and coincidentally both would move on from these sessions to record one-off singles for Elektra. The Byrds issued 'Please let Me Love You', (as by the Beefeaters) and Dino's shot was 'Birdsies' c/w 'Don't Let It Down'. Valenti in fact knew both McGuinn and Crosby from the Byrds as they had all worked at the same folk clubs and at one point, during the seven-month wait between the recording and release of 'Mr Tambourine Man', McGuinn had been tempted to leave his group and join Dino in an alternative venture.
Valenti then moved upstate to San Francisco, where the folk circuit was much more healthy. He built a local following around the North Beach clubs, sufficient to interest the local Autumn Records who cut at least eight tracks for a projected, but unissued album. Undeterred - Dino then began to piece together a group of his own, for which his first recruits were Jim Murray (vocals/harmonica) and John Cipollina (guitar), the latter previously playing in two local R&B dance bands, the Deacons and the Penetrators. But before their first rehearsal, Valenti was arrested and imprisoned, the first of several Quicksilver drugs busts. Cipollina and Murray were then joined on bass by David Freiberg, another folkie and friend of Dino who had previously been half of the David and Michaela duo. By February 1965 the trio had added Casey Sonoban on drums and Alex 'Skip' Spence on second guitar but this was yet another temporary grouping as Spence was quickly poached by Jefferson Airplane (as their drummer) in time for their debut album. He'd later return to guitar when he joined Moby Grape. Sonoban also left around this time, leaving the group virtually back where they were.
Meanwhile, well removed from the coffee-house circuit, a group called the Brogues were proving themselves one of San Francisco's finest garage bands. Bill Whittington, Eddie Rodrigues, Rick Campbell and Gregory Elmore had formed in 1964 and it was this line-up which appeared on their debut single 'But Now I Find'/'Someday'. It was first pressed up on the local Twilight label in March 1965 and was subsequently reissued for national distribution on Challenge. At the same time the Brogues brought in a new guitarist, Gary Grubb, late of the Merced Blue Notes and the Ratz, who probably contributed to 'Early Bird' the new flip side of the second pressing. Another single, 'Don't Shoot Me Down' c/w 'I Ain't No Miracle Worker' followed in May, but two months later the Brogues split when two of the members were drafted.
An uncanny coincidence saw a van carrying Cipollina, Murray and Freiberg break down outside the basement where Grubb and Elmore were living, and thus the two sides were joined together. Gary Grubb changed his name to Gary Duncan and the group took the name Quicksilver Messenger Service from their common astrological birth signs. They began rehearsing in earnest and when Dino Valenti was released from prison, he was asked to join. However, Dino was somewhat suspicious of Elmore and Duncan, and refused, although another drugs bust two days later and his subsequent imprisonment (again) made the choice somewhat academic.
The first gig by Quicksilver Messenger Service was in December 1965 and throughout the following years they gigged solidly over the whole Bay area, building a reputation as one of the city's leading bands. Initially they tried to interest Autumn Records as a possible outlet, but the label's m.d. Tom Donahue (coincidentally Dino Valenti's manager) wasn't interested. It was probably just as well, the label was to fold soon afterwards and this escapade, along with the difficulties the Grateful Dead, the Charlatans, and Big Brother and the Holding Company had with their record companies, led Quicksilver to hold out for as long as possible. Indeed when their deal with Capitol was eventually signed, they did so with an air of resignation, rather than elation.
There was however one exception to this; as a strictly one-off deal, the group agreed to appear in 'Revolution', a love and peace (and drugs) quickie flick made to cash-in on flower-power. Part of this deal included a soundtrack album, for which they began recording two tracks in October 1967. However, by the time the sessions were underway, Jim Murray had left the group and although he appears with them in the film, the record marks the debut of the 4-piece Quicksilver.
Both tracks, 'Babe I'm Gonna Leave You' and 'Codine', were staple parts of the group's live set and the performances caught on on record were startling, especially considering that they marked their first studio appearance. Of the two, it's 'Codine' which is included here, a bitter, brooding reading of Buffy St. Marie's chilling anti-drugs song and one of the finest performances the group cut on record.
By December 1967, Quicksilver Messenger Service were working on their debut Capitol album. They brought in Nick Gravenites and Harvey Brooks from the Electric Flag as producers, who, along with noted writer Pete Welding, were able to give the group a sound superior to many of their contemporaries. It was not before almost a whole album had been recorded and scrapped again that the final six tracks were settled on. Of those, three are on this compilation; 'Pride of Man', 'Dino's Song' and 'Gold and Silver'. The first two songs were also a vital part of their live set, the first, a folk classic written by Bob Hamilton Camp was the album's perfect introduction, while 'Dino's Song', written, of course, by Valenti, was somewhat lighter, but equally memorable. Both of these tracks formed Quicksilver's debut single in June 1968.
'Gold and Silver' was a newer piece, and a late addition to the album, coming in when 'I Hear You Knocking' and 'Back Door Man' were rejected. It remains one of the classic instrumentals from the era, showcasing the twin guitar talents of Cipollina and Duncan, as well as offering their contrasting styles. Debut albums rarely come better than this; however Capitol were unhappy that there was not a proliferation of hit material, and having used the two most likely songs, they pressurised Quicksilver into providing something else. So in September 1968, they entered the studio, along with Nick Gravenites, to record something specifically as a single. The topside, 'Bears', was a piece of pure humorous mayhem, exaggerated as the rest of the group tried to make Freiberg laugh while he put down the lead vocal. The flip was something else; 'Stand By Me' was yet another stage favourite, another Valenti song and a deep heartfelt ballad, tinged with a melancholy echo and a piercing guitar line. It has in fact become the rarest Quicksilver artifact, appearing here on a CD, for the first time, anywhere in the world.
Quicksilver then began work on a second album, but, unhappy with the confines of a studio, decided to record a series of gigs at the Fillmores East and West, splice them, add some studio work and create a masterpiece, which is what 'Happy Trails' remains to this day. This is the quintessential San Francisco album, improvisatory excitement at its very peak, with an empathy few groups could ever come close to. Essentially, the album is two long sides, side 1 is a near thirty-minute workout of Bo Diddley's 'Who Do You Love', which is included in full here along with a complete version of 'Mona' which opened up side two.
Sadly, 'Happy Trails' not only captured an era, but also marked its closing. Even before the album was issued, Gary Duncan had left the group and in fact had to be coaxed back for a short while to complete some of the recordings. The reason was basically Dino Valenti, who, having been freed from prison, and released an eponymous solo album, was often seen hanging around Quicksilver, even singing with the band from time to time. It soon became clear that he and Duncan had set up a musical empathy and they decided to split to New York and form their own band, the Outlaws. A week later, Duncan was asked back, but only if Dino could join permanently too. For the moment the offer was refused.
Meanwhile, Cipollina, Freiberg and Elmore continued awhile as a trio, before drafting in pianist Nicky Hopkins who had settled in California after spells with the Jeff Beck Group and the Steve Miller Band. The new Quicksilver was altogether different in scope, Hopkins assumed the role of the central figure at the expense of the customary guitar lines, and the resultant album, 'Shady Grove' was seen as something of a disappointment after the innovatory 'Happy Trails'. However, time has shown it to be stronger than it may have seemed and there are moments of individual brilliance. 'Shady Grove' itself owes much to the rhythmic punch of the customary Diddley shuffle-beat and comes with some of Cipollina's sharpest studio playing. 'Joseph's Coat' is similarly strong, an almost menacing song with yet another vibrant solo, while David Freiberg's 'Too Far' forms the perfect alternative, a soft almost delicate ballad which slowly twists and turns its way through a complete mix and some meandering chord changes.
In January 1970, the seemingly inevitable happened, and the 'Shady Grove' line-up was augmented with the arrival of Valenti and Duncan. If the 'Hopkins' group had been controversial, the new band caused an uproar, with a hard-core of fans dismissing this version of the group as a travesty, claiming that Quicksilver had basically become Valenti's backing group and that the searing guitar runs were conspicuously absent. Certainly Dino did write all the songs, under the 'Jesse Oris Farrow' pseudonym, adopted to avoid a previous songwriter contract which saw most of his royalties to the smash hit 'Let's Get Together' (by the Youngbloods and the Dave Clark Five) disappear elsewhere. But if Valenti's songs dominated the ensuing album, 'Just For Love', then any 'fault' lay with the rest of the group. Throughout their history, Quicksilver had been interpreters, using songs as mere staging posts for their instrumental wizardry, and their finest moments were always based on outside material. The introduction of such a prolific writer naturally meant he would become dominant, although it is certainly true that for a band boasting two lead guitarists, 'Just For Love' was a very vocal album. That said, some of the songs were good, in particular 'Fresh Air', which would become an obligatory part of their live set and certainly has the best balance between the old and new group.
'What About Me' followed six months later in February 1971, and it was now abundantly clear that Quicksilver were now following Valenti's lead. Nicky Hopkins had already left, there were rumours that chunks of the album were out-takes from the previous release, and just as the album reached the shops news of John Cipollina's departure filtered through. That, more than anything marked the end of the band as a real force, and although his subsequent work with Copperhead and Terry and the Pirates has had its moments, he would never be quite as incisive again.
'What About Me' was a disappointment, only the title cut (included here) and 'Spindrifter' were really worthwhile, all of which merely fuelled the anti-Valenti vote. In truth, however, the band had been slipping since 'Happy Trails', a spiral continued with the three subsequent Quicksilver albums, 'Quicksilver', 'Coming Through' and the abortive 1975 reunion album, 'Solid Silver'. David Freiberg had in fact packed his bags in November 1971, thanks to yet another drugs bust and subsequent incarceration, and when released, he preferred to work with Grace Slick and Paul Kantner, and later joined Jefferson Airplane/Starship. A further series of musicians came and went around the constant Valenti/Duncan/Elmore axis (how strange it should be the two whom Dino had been so suspicious of that stayed with him until Quicksilver's break up).
Their final disintegration came following 'Solid Silver'. Without the magic, Freiberg returned to the Starship, Duncan moved to Hawaii, Cipollina returned to his gypsy projects, Elmore vanished and Valenti returned to folk singing. At least one circle there had been completed, in between times was some of the most essential rock music ever recorded, the cream of which is compiled here.
Brian Hogg
Release History
Label
Cat No
Country
Format
Date
See For Miles
SEECD 61
UK
CD
1993
---
Sons of Mercury
Tracks
From
Disc 1
1.
Babe, I'm Gonna Leave You
(Bennett/Bredon/Darling)
RS
2.
Codine
(Sainte-Marie)
RS
3.
I Hear You Knockin' (It's Too Late)
(Bunn)
4.
Pride Of Man
(Camp)
QMS
5.
Light Your Windows
(Duncan/Freiberg)
QMS
6.
Dino's Song
(Valente)
QMS
7.
The Fool
(Duncan/Freiberg)
QMS
8.
Gold And Silver
(Duncan/Schuster)
QMS
9.
Bears
(Perkins)
Single
10.
Who Do You Love (Single Edit)
(Diddley)
Single
11.
Mona
(Diddley)
HT
12.
Maiden Of The Cancer Moon
(Duncan)
HT
13.
Calvary
(Duncan)
HT
14.
Happy Trails
(Evans)
HT
Disc 2
1.
Shady Grove
(Wands)
SG
2.
Flute Song
(Jewkes)
SG
3.
Joseph's Coat
(Cipollina/Gravenites)
SG
4.
Edward, The Mad Shirt Grinder
(Hopkins)
SG
5.
Fresh Air
(Farrow)
JFL
6.
Cobra
(Cipollina)
JFL
7.
Subway
(Farrow)
WAM
8.
What About Me
(Farrow)
WAM
9.
Local Color
(Cipollina)
WAM
10.
Hope
(Valente)
Q
11.
Fire Brothers
(Duncan)
Q
12.
Don't Cry My Lady Love
(Valente)
Q
13.
I Found Love
(Duncan)
Q
14.
Doin' Time In The U.S.A.
(Duncan)
CT
15.
Gypsy Lights
(Duncan)
SS
16.
Cowboy On The Run
(Valente)
SS
Production Credits
Michael Briggs : Compilation
Bill Inglot : Remastering
Brigid Pearson : Design
Ken Perry : Remastering
Gary Peterson : Coordination



Personnel
John Cipollina
Guitar, Vocals
Gary Duncan
Guitar, Vocals
Greg Elmore
Drums, Percussion, Vocals
David Freiberg
Bass, Guitar, Keyboards, Vocals
Nicky Hopkins
Keyboards
Mark Naftalin
Keyboards
Mark Ryan
Vocals
Chuck Steaks
Keyboards
Dino Valente
Guitar, Vocals
Release History
Label
Cat No
Country
Format
Date
WEA/Rhino
US
CD
1991
---
The Best of Quicksilver Messenger Service
Tracks
From
1.
Fresh Air
JFL
2.
What About Me?
WAM
3.
Pride of Man
QMS
4.
Who Do You Love?
HT
5.
Dino's Song
QMS
6.
Joseph's Coat
SG
7.
Shady Grove
SG
8.
Just for Love
JFL
Release History
Label
Cat No
Country
Format
Date
EMI Capitol
US
CD
1994
---
Unreleased Quicksilver Messenger Service: Lost Gold & Silver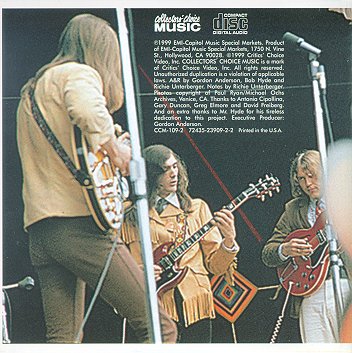 Tracks
Disc One: "Live from 1968"
1.
Back Door Man
4:15
2.
Codine
6:13
3.
Gold & Silver
12:02
4.
Smokestack Lightning
10:14
5.
Light Your Windows
3:05
6.
Dino's Song
3:32
7.
The Fool
13:14
8.
Who Do You Love
12:21
9.
Mona/Maiden of the Cancer Moon/Mona
11:34
Total Time
76 minutes
Disc Two: "Studio"
1.
I Don't Want To Spoil Your Party (Dino's Song)
3:06
2.
Acapulco Gold and Silver (Gold and Silver)
2:37
3.
I Hear You Knockin'
3:11
4.
Back Door Man
4:00
5.
Your Time Will Come
3:09
6.
Walkin' Blues
5:58
7.
Who Do You Love (Part 1)
3:07
8.
Calvary
6:31
9.
Codine
5:21
10.
Babe I'm Gonna Leave You
5:06
11.
Stand By Me
3:35
12.
Bears
2:10
Total Time
47:51
Disc One is probably a version of the Fillmore East shows of June 7/8, which also appear on Summer of '68. Patrick has a page which discusses this in detail at Quicksilver Confusion.
Disk Two: Tracks 1-8 are unreleased demos and early versions; tracks 9 & 10 from "Revolution Soundtrack"; tracks 11 & 12 from Capitol single #2320.
Richie Unterberger's sleeve notes for this album plus much more of his music and travel writing, including information about, and excerpts from, his books:


Eight Miles High: Folk-Rock's Flight from Haight-Ashbury to Woodstock
Music USA
Turn! Turn! Turn! The '60s Folk-Rock Revolution
Urban Spacemen and Wayfaring Strangers: Overlooked Innovators and Eccentric Visonaries of '60s Rock
Unknown Legends of Rock 'n' Roll
can be found on his site www.richieunterberger.com.
The direct link to the Lost Gold & Silver notes is here.
One of the excerpts is a piece from Urban Spacemen and Wayfaring Strangers: Overlooked Innovators and Eccentric Visonaries of '60s Rock about the recording of Dino Valenti's album.
Release History
Label
Cat No
Country
Format
Date
Notes
Collectors' Choice Music
CCM-109-2
CD
1999
---
Masters of Rock: Quicksilver Messenger Service
Tracks
From
1.
Who Do You Love (Part 1)
HT
2.
Mona
HT
3.
What About Me
WAM
4.
Shady Grove
SG
5.
Just For Love (Part 1)
JFL
6.
Fresh Air
JFL
7.
Pride of Man
QMS
8.
Dino's Song
QMS
9.
Joseph's Coat
SG
10.
Long Haired Lady
WAM
11.
California State Correctional Facility Blues
CT
12.
Stand By Me
B side
Release History
Label
Cat No
Country
Format
Date
CD
2001
---
Classic Masters

Duncan, Elmore, Freiberg, Cipollina, Murray (front)



Cipollina, Elmore, Hopkins, Freiberg



Freiberg, Elmore, Duncan, Cipollina



Valenti, Elmore, Steaks, Duncan



Tracks
From
1.
Pride of Man
4:07
(Camp)
QMS
2.
Light Your Windows
2:36
(Duncan - Freiberg)
QMS
3.
Who Do You Love (Part 1)
5:40
(McDaniels)
HT/Single
4.
Stand By Me
3:33
(Valenti)
Single
5.
Dino's Song
3:07
(Valenti)
QMS
6.
Shady Grove
3:05
(Wands)
SG
7.
Joseph's Coat
4:50
(Cipollina - Gravenites)
SG
8.
Flute Song
5:22
(Jewkes)
SG
9.
Fresh Air
5:19
(Farrow)
JFL
10.
What About Me
6:41
(Farrow)
WAM
11.
Just For Love
2:57
(Valenti)
JFL
12.
Hope
3:00
(Valenti)
Q


PRODUCTION CREDITS:

Produced & compiled by: Cheryl Pawelski
24-bit Remastering by: Robert Vosgien at Capitol Mastering
Project Manager: Herb Agner
Liner Notes: Bill DeYoung
Art Direction/Design: Peleg Top, Top Design Studio
Photos: Capitol Records Archives
A&R Production: Frank Collura, Lee Lodyga
Editorial Supervision: Brendan Gormley, Michelle Azzopardi
Production: Bryan Kelly, Maria Cubas, Shannon Ward, Jennifer Barbee, Barrie Smithers
Business Affairs: Robyn Ginsburg, Frank Lopez, Adam Varon
Special Thanks: Bob Hyde, Audrey Bilger

All tracks 24-bit Digitally Remastered




[CD booklet notes]

A band that always valued musicianship more than the often fruitless pursuit of the almighty hit record, Quicksilver Messenger Service left a legacy of virtuosic playing and unwavering dedication to the craft of rock'n'roll. Their aim was true.

Quicksilver formed in the early months of 1966, but the musicians didn't sign with Capitol Records until they were good and ready. It was a two-year courtship; the potent pot'n'paisley influence of the San Francisco hippie bands was spreading across the country, and as the big labels rushed in to get their own seat on the bandwagon, Quicksilver insisted on a hefty advance and near-total artistic control.

RCA had Jefferson Airplane, Warners had the Grateful Dead, CBS signed Big Brother and It's A Beautiful Day, and by the spring of 1968, Capitol was in bed with Quicksilver Messenger Service.

By then, Quicksilver was one of California's most prized live bands. Their free-form jamming and deceptively loose approach to song construction had attracted legions of devoted fans who came to the Fillmore and the Avalon to see them on bills with the other "heavy" San Francisco acts. With Big Brother and the Airplane, Quicksilver headlined the first "Human be-In" at San Francisco's Golden Gate Park.

Such was the band's reputation as a killer live act, they played the Monterey Pop Festival a year before they'd made a record.

Guitarists John Cipollina and Gary Duncan, bassist, guitarist and piano man David Freiberg and drummer Greg Elmore made up Quicksilver Messenger Service - at least that was the lineup on the band's self-titled debut. Singer/songwriter Dino Valenti (real name: Chester A. Powers) had been involved during the early stages, but a conviction on marijuana charges sent him to prison for 18 months; when he returned to the Bay Area, Quicksilver was off, running and signed to Capitol (his Dino's Song, however, was one of several high spots on QUICKSILVER MESSENGER SERVICE, sung in unison by Freiberg and Duncan).

Freiberg's impassioned vocals drove home the stirring and somewhat spooky Pride of Man, written by singer, actor and SMOTHERS BROTHERS SHOW regular Hamilton Camp, and the psychedelic pop song Light Up Your Windows[sic].

A live 25-minute improvisational take on Bo Diddley's Who Do You Love took up the entirety of Side One of 1969's HAPPY TRAILS. Edited to single length, the acid-soaked cover became Quicksilver's first single to chart. The stinging twin guitars of Duncan and Cipollina gave muscle and dynamics to the simple, pounding R&B chestnut.

By the time HAPPY TRAILS was issued, however, Duncan had left the band (his last recording was Stand By Me, a non-LP single written by Valenti). Quicksilver hired British piano ace Nicky Hopkins as his replacement and recorded SHADY GROVE, released in early 1970.

This short-lived version of the band never toured. SHADY GROVE is represented here by three tracks, including the title song, a reworking of the classic Appalachian folk lament set to a Bo Diddley beat.

Duncan returned in 1970, accompanied by Valenti, who composed the lion's share of the music on the JUST FOR LOVE and WHAT ABOUT ME albums. The band's biggest "hit", Valenti's Fresh Air, reached #49 on the American charts in November. A staple on classic rock radio today, its sound is unmistakable and brings the era screaming back into focus with Valenti's opening six-syllable "Whoa".

The single What About Me - a virtual rewrite of Fresh Air, written and sung by Valenti - was a moderate success. Valenti created both Fresh Air and What About Me under the pen name Jesse Oris Farrow (Valenti, by then, was practiced at the art of hit songwriting; as Chester A. Powers, he'd composed Hey Joe and the Youngbloods' Get Together).

But there was dissention in the ranks. Unhappy with the band's new, Valenti-dominated, sound, Cipollina and Hopkins resigned following the WHAT ABOUT ME album. Mark Naftalin took over Hopkins' seat at the piano.

Freiberg gave his notice, too, and as the reconstituted band recorded 1971's QUICKSILVER, he was renewing old Bay Area acquaintances and eventually became a member of Jefferson Airplane, soon to morph into Jefferson Starship.

John Cipollina died in 1989, followed four years later by Dino Valenti. Nicky Hopkins passed away in 1994.

Like all the rest of the San Francisco music of the 60's and early 70's, Quicksilver Messenger Service's songs still resonate today with the high pulse of an era ahead of its time, and with the pure ideals of a group of young and inspired rock 'n' rollers who knew what they wanted and, ultimately, knew how to get it.

"We had no ambition toward making records," Gary Duncan once told an interviewer. "We just wanted to have fun, play music, and make enough money to be able to afford to smoke pot."

- Bill DeYoung




Release History
Label
Cat No
Country
Format
Date
Capitol
72435-36156-2-9
US
CD
2002
---
Who Do You Love
Tracks
From
1.
Who Do You Love
3:32
(McDaniels)
HT
2.
Fresh Air
5:16
(Farrow)
JFL
3.
Gold and Silver
4:06
(Duncan/Schuster)
QMS
4.
California State Correctional Facility
6:23
CT
5.
Long Haired Lady
5:48
(Jesse Oris Farrow)
WAM
6.
Pride of Man
4:04
(Camp)
QMS
7.
Shady Grove
2:58
(Wands)
SG
8.
What About Me
6:39
(Farrow)
WAM
9.
Mona
7:00
(Ellis McDaniel)
HT
10.
Good Old Rock 'N' Roll
2:30
(Jesse Oris Farrow)
WAM
11.
Dino's Song
3:03
(Valenti)
QMS
12.
Stand By Me
3:27
(Valenti)
Single
13
Just For Love (Part 1)
4:33
(Valenti)
JFL
14.
Joseph's Coat
4:49
(Cipollina - Gravenites)
SG
Release History
Label
Cat No
Country
Format
Date
Disky
S1 905177
CD
2002
---
The Best of Quicksilver Messenger Service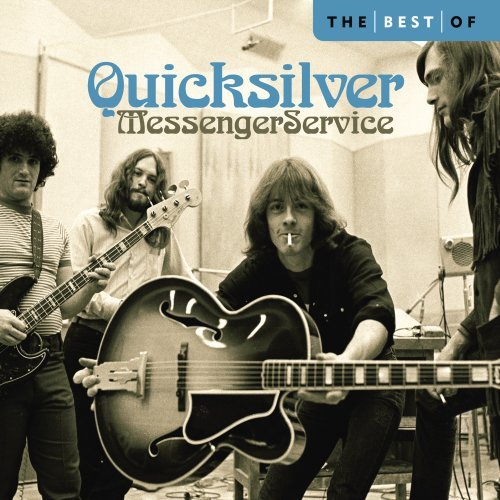 Tracks
From
1.
Who Do You Love
2.
What About Me
3.
Shady Grove
4.
Just for Love
5.
Fresh Air
6.
Pride of Man
7.
Dino's Song
8.
Joseph's Coat
9.
Long Haired Lady
10.
California State Correctional Facility
11.
Stand By Me
Release History
Label
Cat No
Country
Format
Date
EMI
US
CD
2005
---
Fresh Air - Greatest Hits
Tracks
1.
Fresh Air (Rare Session)
5:58
2.
What About Me (Rare Session)
6:54
3.
Pride of Man (Rare Session)
4:37
4.
Who Do You Love (Rare Session)
5:48
Release History
Label
Cat No
Country
Format
Date
Purple Pyramid/Cleopatra
US
MP3
2011
---
Anthology Box 1966-1970
Special limited edition multimedia box set covering the crucial late '60s period of the legendary San Francisco-based jam band, Quicksilver Messenger Service!
Features rare studio outtakes from the bandís highly celebrated first 2 albums, plus 2 full discs of live material recorded at the epicenter of America's countercultural revolution, the Fillmore Auditorium - released here for the first time!
Includes a BONUS DVD of more vintage live performances - all packaged in a gorgeous box with full liner notes, collectible poster, button and more!
Tracks
Disc One: Outtakes
1967 Sessions: Quicksilver Messenger Service:
1.
Dino's Song
3:20
2.
Studio Chat
0:07
3.
Gold And Silver (Take 17)
2:39
4.
Light Your Windows
2:33
5.
Pride Of Man
3:58
6.
I Hear You Knockin'
3:11
7.
Stand By Me (Take 1)
3:57
8.
Stand By Me (Take 2)
4:10
9.
The Fool
14:29
10.
Gold And Silver (Take 18)
2:54
1969 Sessions: Happy Trails:
11.
Calvary
13:26
Disc 1 Total
54:43
Disc 2: Live 1966-1967
May 11, 1966: Live at The Fillmore Auditorium:
1.
Dino's Song
3:14
2.
Hair Like Sunshine (Long Distance Call)
5:01
3.
If You Live (Your Time Will Come)
5:34
4.
All Night Worker
3:56
5.
Got My Mojo Workin'
4:24
6.
You Don't Love Me
2:40
7.
Susie Q
3:42
8.
Hoochie Coochie Man
5:15
9.
Babe, I'm Gonna Leave You
4:35
10.
Stand By Me
4:23
11.
Pride Of Man
3:47
February 4, 1967: Live at The Fillmore Auditorium:
12.
I Hear You Knockin'
3:52
13.
Acapulco Gold And Silver
2:27
14.
Codine
4:56
15.
Don't Tell Me You're Sorry
4:29
16.
A Strange, Funny World
2:57
17.
Walkin' Blues
3:01
18.
Duncan And Brady
3:13
19.
Who Do You Love?
6:17
Disc 2 Total
77:44
Disc 3: Live 1968-1970
June 7, 1968: Live at The Fillmore East:
1.
Smokestack Lightnin'
10:14
2.
Light Your Windows
3:03
3.
Back Door Man
4:11
4.
The Fool
13:00
1970: Live at Winterland:
5.
Too Far
3:13
6.
The Warm Red Wine
2:58
7.
Mona
8:28
8.
Long Haired Lady
3:03
9.
Mojo
3:22
March 29, 1970: Live at The Old Mill Tavern:
10.
Subway
6:01
11.
Rain
5:52
12.
Blues Jam
7:58
Disc 3 Total
71:23
Bonus DVD
Monterey International Pop Festival (1967):
1.
Dino's Song
From the film Revolution (1968):
2.
Babe, I'm Gonna Leave You
3.
Codine
Sonoma State College (1970):
4.
The Warm Red Wine
5.
Baby Baby
6.
Subway
7.
Mona
Fillmore "Carousel Ballroom" - July 4, 1971:
8.
Fresh Air
9.
Mojo
Winterland Ballroom - December 1, 1973:
10.
Losing Hand
11.
Play My Guitar
12.
Mojo
13.
What About Me
14.
The Hat
15.
Who Do You Love?
Release History
Label
Cat No
Country
Format
Date
Notes
Cleopatra Records
5953
US
3 x CD + DVD
2011
Limited Edition
---
Studio Outtakes 1967-1969
Tracks
1.
Dino's Song
3:18
2.
Gold And Silver (Take 17)
2:34
3.
Light Your Windows
2:31
4.
Pride Of Man
3:56
5.
I Hear You Knockin'
3:10
6.
Stand By Me (Take 1)
3:56
7.
Stand By Me (Take 2)
4:16
8.
The Fool
14:30
9.
Gold And Silver (Take 18)
2:53
10.
Calvary
13:34
Total
---
Live at the Summer of Love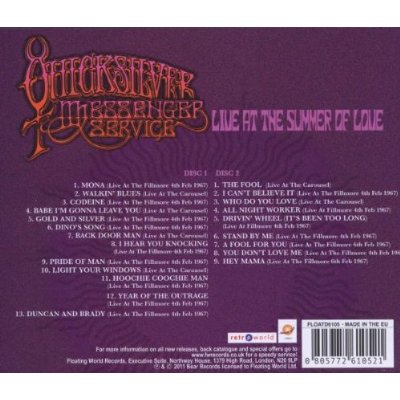 Tracks
Disc One
1.
Mona #
8:43
2.
Walkin' Blues *
4:36
3.
Codeine #
5:04
4.
Babe, I'm Gonna Leave You *
5:07
5.
Gold And Silver #
2:18
6.
Dino's Song #
3:17
7.
Back Door Man *
3:53
8.
I Hear You Knockin' #
3:54
9.
Pride Of Man #
3:53
10.
Light Your Windows *
5:14
11.
Hoochie Coochie Man #
5:21
12.
Year of the Outrage #
7:58
13.
Duncan And Brady #
2:54
Disc 1 Total
62:13
Disc 2
1.
The Fool *
13:51
2.
I Can't Believe It #
4:29
3.
Who Do You Love? *
12:04
4.
All Night Worker #
4:00
5.
Drivin' Wheel (It's Been Too Long) #
4:09
6.
Stand By Me #
5:39
7.
A Fool for You %
3:41
8.
You Don't Love Me #
2:52
9.
Hey Mama %
2:39
Disc 2 Total
53:22
| | |
| --- | --- |
| Live At The Fillmore 4th Feb 1967: | # |
| Live At The Carousel 4th April 1968: | * |
| Live At The Fillmore 6th Feb 1967: | % |




[From the Floating World web site]

"Along with the Grateful Dead and Jefferson Airplane, QSM[sic] were one of the leading bands from San Francisco in the mid 60ís."

"Like many of the bands of that era QSM[sic] were never that comfortable in the studio, and were best heard live."

"Featuring the guitar playing of the truly awesome late great JOHN CIPPOLINA[sic], this collection of live recordings represents some of their best performances from all the legendary venues such as The Fillmore and the Carousel Ballroom."

"This set has been re mastered via Sound Mastering, probably the best mastering studio in the country and given what they had to work from, have produced a great set."

[CD Booklet]

Quicksilver Messenger Service ē Live at the Summer of Love

Quicksilver Messenger Service were one of the 'big three' combos of the San Francisco rock scene of 1966 / 67, alongside The Grateful Dead and Jefferson Airplane. For a while, it looked like they might well emulate the success of their SF contemporaries, but for a variety of reasons, that didn't quite happen. In their heyday, however, they still managed to produce music of lasting merit, at their very best onstage, when the fiery, intense interplay between their guitarists Gary Duncan and John Cipollina would generate peaks of improvisational excitement that stirred the SF hippies into paroxysms of freakout joy. The QMS 'formula', if one can call it that, was to take Blues and early Rock cover songs, some lysergic-tinged Folk stuff, with some self-penned material, and put their own highly idiosyncratic spin on them. These recordings contain many fine examples of the QMS 'thing'.

QMS came together in San Francisco as early as 1964. Their lineup copmprised John Cipollina (guitar), Dino Valenti (vocals), David Freiberg (bass / vocals), Jim Murray (vocals, harmonica), Casey Sonoban (drums), and briefly, one Alexander 'Skip' Spence (guitar / vocals). Spence would in short order depart the QMS ranks to line up behind the drums in the early Jefferson Airplane configuration. Of the others, Freiberg was an ex-folkie, and Cipollina had been a real estate salesman. Not long after the band came together, however, Dino Valenti was arrested and jailed on a drug possession charge, which severely impeded their growth. Valenti had already enjoyed considerable success as composer of the classic Hey Joe, under the sobriquet Chester Powers, and had already made a name for himself on the Greenwich Village coffee house circuit in New York. Valenti was unable to rejoin the QMS line-up until 1969.

Valenti's incarceration was a massive blow to the band; they bided their time awaiting his release living in time-honoured Hippie fashion living communally in a basement on Water Street in SF's North Beach district. As Cipollina recalled for Pete Frame's absorbing "Rock Family Trees": "these were the very early days of Psychedelia - lots of LSD, no money, lots of living off the street, which, coming from a good family, was very strange to me!" The band's line-up was considerably enhanced with the enlistment of Gary Duncan on guitar and vocals, and Greg Elmore taking Sonoban's place on drums.

Valenti, in the meantime, was eventually released, but had the misfortune to be busted again two days after his release, and was back in stir in no time. The band soldiered on without him, nonetheless, and soon worked up a strong local following - they had also made it their avowed interest to only play within California's confines until they were ready to make a big move; they ended up playing some seventy-five shows at SF's Avalon Ballroom - which gives some indication of the strength of their local following.

This double CD collection is drawn from recordings made at various San Francisco venues - two shows from the Fillmore (4th and 6th February 1967), the Carousel Ballroom (4th April 1968) were taken from a cache of 'official bootlegs' released on their own Bear Records in 2008. Recorded by sound engineer and legendary Acid distiller Owsley Stanley, they form a vivid snapshot of where San Francisco music was at the time. The line-up is the classic core quartet of Gary Duncan (guitar and vocals), John Cipollina (guitar), David Freiberg (bass / vocals), Greg Elmore (drums) with Jim Murray (vocals). The recording quality may vary, but what I have sought to do is to present various different aspects of the live QMS experience. The titanic take of 'Mona', one of their real tours-de-force morphs through the Bo Diddley rhythm, through to some garage-y psych detours then back again. The Robert Johnson Walkin' Blues is taught and tough, with John Cippolina's distinctive, heavy-on-the-whammy bar lead licks very much in evidence. Codeine was a staple of many a band's set of the time, and QMS always invested any version they performed with an impassioned, strung-out fervour that wrung out every last ounce of emotive juice from the song. They'd later feature the song in the movie Revolution, which did much to draw attention to the San Francisco scene, of course.

Babe I'm Gonna Leave You also featured in the Revolution movie, and it's interesting to note the kind of strident vocal arrangement that shows a stylistic similarity to that of fellow SF hippie running mates, Jefferson Airplane. Gold and Silver, or, to give it it's full title, Acapulco Gold and Silver, would turn up on the band's debut album, and the version featured here, in all its waltz-time glory, shows that Jazz was also a considerable influence on their sound. An agreeable stomp through Howlin' Wolf / Willie Dixon Back Door Man shows the band in effective tight-but-loose mode. I Hear You Knockin' is not the Smiley Lewis hit that Dave Edmunds parlayed into a number one hit, but a torrid blues workout, and it's followed here by a sizzling take on the apocalyptic Biblical imagery of Pride of Man, which would open their debut album for Capitol later in 1968. Here it's concise and impassioned, as it should be, of course. The band are joined by flute player Steve Schuster for Light Your Windows, which shows the bands' neat ways with dynamics, although at times it's quite painfully out of key.

Disc Two opens with The Fool, the epic closer to their debut album, and over the course of thirteen minutes or so, shows the QMS ability to slowly build up a song and to take it through various modes and moods, giving free rein to their awesome improvisational guitar creativity. Who Do You Love, another Bo Diddley vehicle that the band used for their instrumental forays is also a lengthy opus, but features some tremendous Cipollina guitar thrust amd parry.

Dino Valenti's Stand By Me is a mellow, ballad outing, with bassist Freiburg dusting off his viola to add some string sweetening to the tender lyric. The disc is rounded by three bluesy workouts, which show the QMS skill in the idiom particularly well.

After the band played a well-received set at the Monterey Pop festival in 1967, Jim Murray flew the QMS coop, ostensibly to learn the sitar (those were the times, after all, and let's not forget that Ravi Shankar received a standing ovation at the Monterey Festival just for tuning up!). It was as a quartet - Cipollina, Duncan, Freiberg and Elmore - that they cur their first two albums for the Capitol Records label - their self-titled debut (I) (released May 1968), and its follow-up, 'Happy Trails' (March 1969). The latter is regarded as their defining work, with their cover of Bo Diddley's Who Do You Love, recorded live, taking up the entirety of one side of the album. Just as Rick Griffin became synonymous with the Grateful Dead's cover art, QMS looked to George Hunter and his Globe Propaganda design company to lend their albums a unique look (though Griffin of course was responsible for the cover of their first album).

[NB The text above is reproduced exactly as in the booklet, complete with typo's, inconsistent formatting and factual error(s).]

(P) & (C) Bear Records licensed to Floating World

Compiled by ALAN ROBINSON. Thanks to MICHAEL GAIMAN and ROB AYLING.
Concept PETE MACKLIN. Design BECKY Stewart from an idea by JAMIE MACKLIN.


Release History
Label
Cat No
Country
Format
Date
Notes
Floating World
FLOATD6105
UK
2 x CD
2011
---
Live 1968-1970
Tracks
1.
Smoke Stack Lightning (Fillmore 1968)
10:26
2.
Light Your Windows (Fillmore 1968)
3:01
3.
Back Door Man (Fillmore 1968)
4:09
4.
The Fool (Fillmore 1968)
13:40
5.
Too Far (Winterland 1970)
3:12
6.
The Warm Red Wine (Winterland 1970)
2:56
7.
Mona (Winterland 1970)
8:28
8.
Long Haired Lady (Winterland 1970)
3:14
9.
Mojo (Winterland 1970)
3:19
10.
Subway (Old Mill Tavern 1970)
5:58
11.
Rain (Old Mill Tavern 1970)
5:26
12.
Blues Jam (Old Mill Tavern 1970)
5:57
Total
---
Live Across America 1967-1977 (Limited 5CD Box Set
Tracks
Disc 1 - Fillmore Auditorium, San Francissco, CA, February 6, 1967
1.
You Don't Love Me
2.
All Night Worker
3.
Gold and Silver
4.
Hey Mama
5.
Walkin' Blues
6.
Year of the Outrage
7.
I Hear You Knocking
8.
A Fool for You
9.
I Can't Believe It
Disc 1 Total
Disc 2 - Red Vest Inn, Oahu, HI, June 13, 1970
1.
Fresh Air
2.
The Warm Red Wine
3.
Subway
4.
Pride of Man
5.
Baby Baby
6.
The Hat
7.
Edward
8.
The Truth
9.
Freeway Flyer
10.
Mojo
Disc 2 Total
Disc 3 - My Father's Place, Roslyn, NY, January 31, 1976
1.
Fresh Air
2.
Dr. Feelgood
3.
The Truth
4.
Cowboy on the Run
5.
Bittersweet Love
6.
The Hat
7.
They Don't Know
8.
What About Me
Disc 3 Total
Disc 4 - Quarter Note, New Orleans, LA, July 26, 1977
1.
Fresh Air
2.
Doctor Boogie
3.
I Just Can't Have You
4.
Mona
5.
Play My Guitar
6.
Jump Back to Me
7.
Cowboy on the Run
8.
Bittersweet Love
9.
What About Me?
10.
Freeway Flyer
11.
I Want to Fly
12.
Just a Country Boy
13.
Baby Baby
14.
Who Do You Love?
Disc 4 Total
Disc 5 - Opalua Lodge, Haleiwa, HI, Rehearsal June 4, 1970
1.
Cobra
2.
Guitar Jam
3.
Won't Kill Me
4.
Cobra (Acoustic)
5.
Good Old Rock N' Roll
6.
Drums
7.
Just for Love
Disc 5 Total
A special limited edition box set (only 1,000 copies made!) of vintage live recordings from San Francisco's most renowned psychedelic jam band, Quicksilver Messenger Service, available here for the first time! This 5CD set features the classic QMS line-up with the twin guitar attack of Gary Duncan and John Cipollina tearing through fan favorites including "Who Do You Love?," "Gold & Silver," "Pride Of Man," "Mona," and lots more!
Release History
Label
Cat No
Country
Format
Date
Notes
Cleopatra Records
US
CD
2016
Limited 1000