Quicksilver - Cowboys and Indians in Marin County
The night breeze ripped through my stout leather jacket as I strode manfully down the Sausalito seafront to keep my appointment at the Trident, a plush restaurant/bar whose very foundations are lapped by the waters of the San Francisco Bay.
So determined was my step as I crossed the road in front of the Trident that I failed to notice the raised central reservation dividing the dual carriageways, tripped on the kerb, end sprawled headlong, inflicting cruel injuries to my knee and palms - an ungainly movement which drew savage mockery from the car park attendants. Dusting off my jeans and gathering up the notes, cassettes and other junk that lay strewn before me, I regained my composure, asked the attendants if they'd like to see what I did for an encore, and entered the lobby to meet the man who once described himself as the world's most benign carnivore (and I forgot to ask why).
As it happened, the pink carnation and carefully folded copy of the Financial Times proved to be unnecessary; I'd only seen photographs of him before, but I had no difficulty recognising the rangy craggy frame of John Cipollina, the man who moved mountains as lead guitarist with Quicksilver Messenger Service.
For the sake of clarity and in order to include as much detail as possible, live decided to split into 3 my expansion of the interview which followed: this part will concern itself with Quicksilver's lunacy up until they began to solicit a recording contract and establish themselves internationally, the second part [1] (to appear under the letter Q in Melody Maker's Rock Giants series - Mick Watts and Sod willing) will trace the ups and downs of their subsequent career, and the final part [2] (not sure where that'll be appearing yet) will detail Cipollina's subsequent activities, including his leadership of the nebulous, fabulous Copperhead.
Waiting for Dino
Dino Valente (yes, he was there at the beginning as well as the end), having made a transcontinental hike from Greenwich Village, where he'd achieved a charismatic coffee-house reputation as a distinctive 12 string folkie song and dance man at the turn of the Sixties, arrived via a fruitless year in Los Angeles to start afresh in the folk haunts of San Francisco's gaudy North Beach district. A couple of years later, with little more than a local following, a few unissued tracks in the can at Autumn Records and an ache to investigate some of the areas the Beatles had opened up, he fell in with a couple of shady young characters who appear to have been helping to make ends meet by making certain scarce and beneficial herbs available to a wider public.... these were Jim Murray, Gemini looner extraordinaire, and John Cipollina, an ex-real estate agent who felt it was too late to go back now.
This was 1964. Inevitably, they set about forming a group. "Dino not only had a head full of ideas, he was one of the few guys on the scene who had a manager - Tom Donahue, who owned Autumn Records and a club in the city called Mothers. So we knew that if we played with Dino, we'd have a place to stay. 'We'll start our rehearsals tomorrow' Dino told us, but the next day, before we had played a note together, Dino was busted right here in Sausalito and taken to jail. Well, Jim and I sat around thinking that held be out real soon - we were told that he'd be out on Tuesday, then we were told Thursday, then the following Tuesday, then maybe.... you know. Well, that went on for a year and a half! Jim and I, meanwhile, were waiting for his release and sleeping on this chick's floor - no, we weren't even doing that; we were sleeping up on Mount Tamalpais in a 54 Plymouth that I had at the time.
"Not long after Dino was put inside, we met a friend of his, David Freiberg, who'd just got out of jail himself.... and because he was a friend of Dino's and had just got out, we took him into the group, or what was trying to become a group. He played 12 string and was getting around as a folksinger, but he wanted to play bass, so I loaned him one that I had in the trunk of my car and he started hanging out with us, learning to play bass and singing real good."
Did you know that Skip Spence was in Quicksilver? Neither did I, but he apparently was. "The group at this time (64/5) was Jim Murray on vocals and harmonica, David Freiberg on bass and vocals, a local guy called Casey Sonoban on drums, Skip Spence on rhythm guitar and vocals, and me on lead guitar, and we were rehearsing at the Matrix, a club in San Francisco that the Jefferson Airplane had part ownership of. They were letting us use it. Well, one day Marty Balin came up to Skip, who was standing there with his acoustic guitar around his neck, and asked him if he'd ever played drums before - and Skip told him all about this marching band he was in at his high school. So he was rolled into the Airplane around the same time as Casey left.... he was crazy, and far more at home with congas than behind a set of drums - in fact, he was conga player in the original line-up of Copperhead.
"The three of us that were left began to look for a new guitarist and drummer and ran across Gary Duncan and Greg Elmore who had been in a group called the Brogues, which had broken up because the service had drafted one guy and another had disappeared without trace. They were living in a basement at 52 Water Street, a crazy little alley in North Beach, and my Plymouth happened to break down out in front - the clutch went - so we had to stay the night, but we ended up staying there for 4 months. What a crazy street that was; a bunch of neighbours had got together and had painted this long fiery dragon which stretched right down the street.... this was the early days of psychedelia - right? Lots of LSD, no money, and lots of living off the street, which, coming from a good family, was very strange to me... but this is Fat City and you can always get a meal or a place to stay - and you could pick up any hitch-hiker and they'd give you some grass".
Dino was eventually released from the State Pen, so Quicksilver Messenger Service was finally ready to deliver - but for some reason, Dino was a little wary of Greg and Gary and he wasn't entirely convinced that his re-joining would be a good idea. As it happened, all this conjecture was unnecessary - he was only out for 2 days before he was busted again and returned to jail.
Assuming that fate had ruled out any participation by Dino, the quintet set about rehearsal once more, and their first gig was to play at a Christmas party organised by the Committee, a local satirical group. "These guys came down to our basement and said they'd give us something to smoke if we gave them a rock'n'roll version of 'The Star Spangled Banner' - the Charlatans were originally going to do it, but had evidently backed out. We thought 'what the hell? We've got no reputation to harm, so we'll do it'. We went and recorded it to their satisfaction and they thought we were good enough to play at their Christmas party... they offered us 200 dollars to do it. 'Wow', we all said, 'give it to us now, give it to us now!' So they did - even though it was only October... and we took the money and moved out of our Water Street basement, into a houseboat in Larkspur, up in Marin County".
The band with mud on its boots
"We moved into the houseboats not long before the authorities condemned them, burnt them down and filled in the quay area... but we lived out that winter on the water. We didn't work much either... the first job we had was in December (1965), so we practised through October and November... and we burned everything we could get our hands on to keep warm. It was bitterly cold up there, but the boat had this old oil drum with a hole cut out of it and a stovepipe coming out of the top, and we got that thing absolutely red hot every night. In fact, we ended up burning about a third of the houseboat in an effort to keep warm. I had a really bad case of pneumonia at the time, and one wall of the room I slept in was totally useless - it had this huge hole in it and when the tide came in, it almost poured right onto the bed.... it was a really low life in some ways, but we all had a lot of fun.
"Like I say, it was pretty cold living up there on the mud and the water, and the boat would get lashed by the rain and the wind - so we burned up whatever we could find.... fences, anything.... all's fair in that sort of situation. Anyway, we moved out of there pretty quick after we'd burnt down a neighbour's boat - some kind of fight had developed... and then our boat got burned too - I'm sure I can't remember all the circumstances.
"We moved back down to Mill Valley and met Ron Polte, who became our manager. This was after we'd been through about half a dozen other managers - the first of them had got busted and put in jail for three years, the next two were brothers who were health food fanatics - they kept us well fed and healthy for about three months, then the next one was a mad astrologer from Chicago.
"Anyway, we got this 3 storey house in Mill Valley - a Victorian insane asylum or something, complete with a ghost. We had a pretty good time there but never rehearsed because it was right in the middle of town. This was 1966, when people across America were beginning to drift into the San Francisco area, and we became fairly well known as the band that lived a block and a half from the bus depot in Mill Valley... so they'd just take a bus and come looking for us. As a result, the cops were always in and out of the house looking for the 14 year old chicks!
"All this time, we were slowly gaining a reputation in the Bay Area and by the middle of 1966 we'd become quite a legend; we were the first band on the scene in the county, and the City people looked up at us because we'd lived on the houseboats and were the only band who walked around with mud on their boots... everybody used to make a big deal out of that for some reason".
After a few months, the restrictions of living in a town, albeit a small one, began to make themselves felt and to escape a growing notoriety they went north once more - this time to an 88 acre ranch at Point Reyes Station, some 25 miles north-west of Frisco. "Gary Duncan and I went straight out and bought cowboy hats - if we were going to live on a ranch, we'd do it in style. Then I brought out my collection of guns and we brought out all these pretty girls who loved horses, because we had plenty of horses... 40 to 70 head running around our property all the time. Next, I went out and got a wolf - a real Northern McKenzie timber wolf; it was the largest of the litter and its father was 224 pounds and 7 and a half feet long. I'd been studying wolves really intensely for along time, about eight years, and had become some kind of an authority on them, so I thought that I'd get one now that I had a big enough place to keep it.
"This period, 'the ranch period' you could call it, saw Quicksilver Messenger Service at the height of its insanity but the record companies had begun to take an interest in us and were watching us closely - even though we hadn't the slightest intention of signing with anybody. We had developed a great mystique because we were so weird and because we'd chosen to live way out in the wilderness.
"The only bands I living out there in the San Geronimo Valley were us and the Grateful Dead, who had a summer camp up there - Camp Lagunitas for Boys and Girls. They had a swimming pool there, and arts and craft things, but what they really got into was archery... and they went into this big Red Indian trip as a result. So we were 7 or 8 miles away acting out our cowboy fantasies while the Dead were whooping it up with their bows and arrows... and we inevitably got into this cowboys and indians riff.
"Apart from the Dead, the only other person we used to see was this guy called Jim Jensen (later to appear in the Copperhead story), who lived in a deserted bakery up there, but then Dino got out of jail again and moved in with us. He'd decided to go his own way as a solo, but sometimes he came to gigs with us and played and sang as part of the band... in fact some of those gigs were recorded - The Quicksilver Messenger Service with Dino Valente. Anyway, our rivalry with the Grateful Dead culminated in two of Quicksilver being put in jail".
The Quicksilver/Dead Feud
"We had gone to San Francisco to get the Dead, because they had come and got us real bad. We had this roadie who wasn't too good at carrying equipment, so we turned him into a cook - and every night all of the people living on the ranch, the group and the roadies and the friends and the girls, we'd all gather together to eat. We lived in 6 different buildings spread around the ranch, but every evening we'd come together to dine and then smoke ourselves silly until we passed out! Well, the Dead knew that we did this, and they figured that the best time to catch us off guard was in our after-dinner relaxation. You see, I'd had this big argument with Jerry Garcia; we spent hours arguing the relative merits of cowboys and indians... it was at a Musicians Union meeting, in fact. For a laugh, a lot of us had decided to attend a Union meeting and these old straights who ran the Union almost collapsed; they'd never seen such a bunch of longhaired musicians before... and there were so many of us; people from the Airplane, the Charlatans, the Dead, Quicksilver, the Mystery Trend, the Great Society, Big Brother... it was just a whole gang of us, and these guys weren't ready for us at all - it was a really funny evening.
"Anyway, Garcia was saying things like 'Cowboys are lame, Indians are much hipper, nobody loves cowboys anymore but Indians are groovy because they're into flowers and stuff... you guys are nowhere'. He was saying it all in fun, but he was giving me a hard time, so I said 'Yeah? Well our band says that the Grateful Dead eats shit'. We got into this slanging match until all these straight musician guys were cowering in the corners... we were really digging it, but we made out that our tempers were fraying and we started to get really hot under the collar, shouting and stuff. When I got home that night, I told the other guys that we ought to go and get the Dead for saying that cowboys aren't as cool as Indians, and they said 'yeah, let's get em', but then we got stoned and forgot all about it.
"A couple of nights later, we'd just finished eating and were all swacked out as usual, when suddenly there's all this hollering and whooping.... the dogs were barking like crazy, my wolf was howling, and we didn't know what was going on. Then suddenly the door bursts open and the entire Dead family crash in on us, whooping and shouting, all in feathers and warpaint, all high on acid, all crazy. Well, they got us real bad; they were all over us before we even realised what was happening - brandishing tomahawks and firing arrows into the walls ... you never saw anything like it in your life.
"Needless to say, our egos were well and truly crushed and ground into the dirt because the Dead were going al around saying that our band eats shit. Dino was with us at the time and being part Indian, he took it rather more personally than was intended - but anyway, we made up our minds that the Dead weren't going to get away with it... no chance.
"Two weeks later, the Dead were due to play the Fillmore, sharing the bill with the Airplane, and that's where we reckoned we'd get them. The plan was for us to wear all our cowboy gear, masks and guns and take over the stage during their set... we knew it wouldn't be difficult because the Dead were always out of their heads in those days. For those two weeks we rehearsed solidly, harder than we ever had before, until we'd perfected a 15 minute version of 'Kaw Liga was a Wooden Indian', which we intended to play at the Fillmore to humiliate them. Then we went out and bought cap guns, because we wanted to make a bit of noise as well as brandishing real guns... we were going to frighten the piss out of them; wait till they'd finished their first song and strike, knowing they'd be too spaced out to resist.
"We called Bill Graham, explained what we were going to do, and he said it was cool and promised not to tell a soul, and we let Gleason in on it too... but that was it - no-one else would know who these masked men were! We were going to grab them and handcuff them to their speaker cabinets, because they had these huge things that Owsley had got for them, with big handles... can you imagine how dramatic it was going to be??? Garcia and his gang being handcuffed and chained at gunpoint and watching us play 'Kaw Liga' on their instruments! Then they'd know that cowboys were cooler than Indians after all!
"Everything was taken care of.... everything except the X factor".
"The Fillmore was in a predominantly Black, ghetto area of San Francisco, and earlier that day some young kid had broken a jeweller's window, grabbed something and run - and this cop arrived on the scene, pulled his 357 Magnum and yelled 'halt or I fire'... well, he fired and hit this kid right in the back of his head. The velocity of the bullet just about took his head off, and the whole neighbour hood went nuts about it... the tension of the entire area just tightened up to breaking point. And we arrived a few hours later, knowing nothing of what had happened... maybe you can imagine the effect of half a dozen freaks suddenly appearing outside the Fillmore with masks and guns.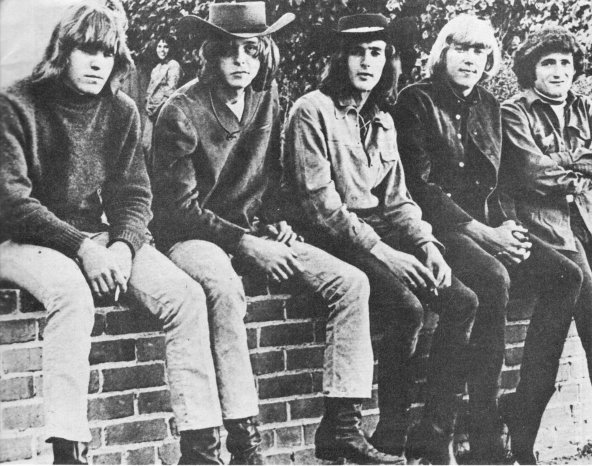 QMS in 1966: (l to r) Greg Elmore, Gary Duncan, John Cipollina, Jim Murray, David Freiberg
"The cops were on us before we'd moved ten feet. Our protestations were useless, of course; they didn't want to believe it was a joke - they were in no mood for joking. We tried to explain that we were going into the Fillmore to play, and that this was our stage gear, but they wouldn't believe that we were anything less than hippie revolutionaries bent on capitalising on the indignation of the Black population. As soon as we realised that it was no use, we tried to disperse but they got Jim Murray and David Freiberg and threw them in the tank with all these Blacks who were feeling real hostile towards any whites because they'd heard about the shooting of the kid. Everything was explained in the end, but David and Jim weren't released for 3 days and we never got the Dead after all.... in fact, we eventually did, but I'm not going to talk about that".
Gunfight at Pt Reyes Station
"Meanwhile, back at the ranch, we got into conflict with the neighbouring farmer over my wolf, and it finally developed into a shootout with the guy. You see, my wolf got too big to play with any of our dogs - it had grown at an astounding rate, but I still used to take him around with me everywhere I went...I took it to the Fillmore several times and the Avalon too - it was completely domesticated and docile with me, but completely wild at the same time. He was alright off the lead as long as I was around and he never ever bit anybody.

"Anyway, this farmer got angry because the wolf would run with his horses; he was still a puppy really and loved running and playing with horses... but the farmer was really angry about it - thought he'd harm his animals, though he never did.
"Also, he had some trouble with this friend of ours - a guitar builder called Tim, who built this amazing guitar that I designed for David Freiberg. The guy's dead now - he slit his throat; he was a mad Samurai sword expert and also one of the finest craftsmen I've seen in my life. I'd brought him up to the ranch to get him out of the city for a while and he was able to get a good night's sleep and wake up with only the sound of the birds singing. He would get up, take his sword and go up on the hill to meditate and do his exercises - because he really was a master swordsman.
"Now, every morning one of Quicksilver's equipment men, a guy by the name of Steve Schuster, used to go for a walk, playing a sax. That might sound a little strange, but he used to assure us that it helped him to breathe properly and stuff like that - said it kept him fit. He used to walk around the ranch, followed by Dino's 200 pound Great Dane, Jose our mongrel, and my wolf, all howling like crazy at the noise of his sax. Well, one morning, Farmer Brown (that was his name) saw this insane procession tramping along on his side of our boundary fence... so he came over to tell Steve to get off his land. It so happened that Tim, our swordsman friend, had just completed his meditation and came roaring down the hill yelling his head off and flailing this giant sword around like some kind of lunatic. It was obviously too much for this farmer to take... seeing this crazyman come screaming down out of the trees. Anyway, he was un-nerved and split - we didn't see him for a while after that.
"He must've thought the best course of action was to befriend us rather than alienate himself, and he tried a new tack; he turned a blind eye to all the things he didn't like about us and began to come over and visit. The fact that Quicksilver always had the most voluptuous and beautiful women staying at the ranch just may have had something to do with it... they used to fix him coffee and stuff, and he used to think that was really far out, but he still couldn't figure out exactly what was happening, just couldn't understand us at all. Like I'd dismantled this old fence and then re-erected it along one wall of my room; that old wood, over 100 years old and all covered with moss was really groovy... I had to water my room, man! I loved it, thought it was really far out and beautiful, but it blew him up to see some longhaired freak doing things like that.
"Anyway, soon afterwards, he began to renew his antagonism... made it clear that he didn't like us and that he wanted us to clear out, leave the area altogether. So one day, he showed up, drunk I guess, apparently with the intention of shooting my wolf and he was threatening us all too. Dino tried to take him on in hand to hand combat, telling the guy that he'd take his gun off him and shove it right up his ass... and the chicks were all shouting encouragement - screaming abuse and profanities at this farmer who'd never in his life heard such words from a woman's mouth.
"He was carrying this loaded gun, but I was really crazed and angry - I'd raised that wolf from a cub, bottle fed it for the first 6 weeks and really loved him - and this guy was going to shoot him. Well, he was carrying on about how he was going to tell the authorities and the law about everything and it was like the moment we'd all been anticipating. We knew the gig was up and that we'd have to move out... so we figured we'd go out in a blaze!
"This visit had been preceded by a series of events designed to get us to move out: he'd cut off our water, for instance, but it was 3 days before we even realised - so that plan kind of misfired. So I guess he thought that menacing us with a gun was the answer... but the thing was, he didn't know how much into guns we were; the only hippies he knew about were the peaceful flower people he'd been reading about in his paper.
"Well, like I said, we were in the middle of this confrontation out in the front of our house, and we knew this was it - so we all ran inside, went to the armoury and loaded up with guns and ammo. Then, in the best Western movie tradition, we smashed the windows with our gun barrels and began blasting out into the sky... It was something we'd always wanted to do, and we did it in style - firing out of every window as though the place was surrounded by marauders!
"That farmer just freaked! Lit out of there like a rocket, hightailing it back to his own house... but we followed him, all the time firing off into the sky and the ground, followed him like was a prize pheasant. We kept firing near him and he'd fall on his face in all the mud and the horse-shit, scared to death! Then he'd get up run like a crazyman until he made it home.
"So we just stood outside, firing at his roof, picking off lumps of it, just like eating corn. I myself put about 200 rounds into that roof, firing through a semi automatic rifle... we just poured that place full of bullets.
"Well, that was it... it was all over for Quicksilver at Point Reyes Station, and our manager moved us back to the City and began to pursue the possibilities of a record deal".
Pete Frame
ZigZag 38, January 1974
QMS in 1968 (following Murray's departure): Duncan/Cipollina/Elmore/Freiberg


[Thanks to Keith Hunter for doing the original scan & OCR, and giving permission for me to add the article to my site.]


---
The later parts of this series appeared in:
ZigZag #41, Did They Fall or Were They Pushed?
ZigZag #52, John Cipollina in the 70's


---
JC Home - Articles, etc
---
Last updated: 27-Oct-2002