You Ishihara
---
Passivité
formula
---
Passivité
Tracks
1.
K
7:44
2.
Nachbild
5:40
3.
Immortal Nothing Blues
5:44
4.
Crevice
3:50
5.
Wednesday
3:54
6.
Nightwalker
14:40
7.
For You
2:32
Personnel
You Ishihara
Vocals, Guitar
Michio Kurihara
Guitar
Chiyo Kamekawa
Bass
Koji Shimura
Drums


[CD info]



All songs written, arranged by You Ishihara
Performed by You Ishihara with friends
Produced by You Ishihara
Co-produced by Hidenobu Kaneda (Test/G.K.Planning)
Label Manager Toshiharu Tai (creativeman disc.)
Engineer: Soichiro Nakamura
Recorded at Inter Music Studio '96 - '97
except track 7 recorded at Total Media Center '80
Cover concept Ishihara
Design Yoshiaki (ONE'S CREATION)
All songs published by LUANDA MUSIC PUBLISHING INC.



Release History
Label
Cat No
Country
Format
Date
Notes
creativeman disc
CMDD-00035
Japan
CD
1997
Pedal Records
PDL-9701
Japan
CD
2004
---
formula (Deluxe Edition)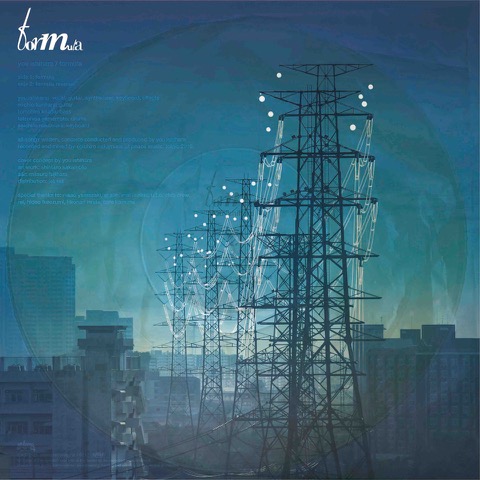 Tracks
1.
formula
21:23
2.
formula reverse
21:05
3.
formula version 1.0
21:23
4.
formula reverse 1.0
21:04
Personnel
iou ishihara
vocal, guitar, synthesizer, keyboard, effects
michio kurihara
guitar
tomohiro kitada
bass
tatsuhisa yamamoto
drums
soichiro nakamura
keyboard


all songs written, concrete conducted and produced by you ishihara
recorded, mixed & mastered by soichiro nakamura at peace music, tokyo 2019

This digital release is a "Deluxe Edition" which includes "version 1.0" of the tracks which were not included in the physical releases (LP/CD).
The additional tracks "version 1.0" and "version 1.0 reverse" are bustle sounds of the city with additional electronics but without the instruments and vocals.
This is the complete "formula".

Is this a reflection of the world determined by some formula? Or a nebulous report, a product of complex entanglement between apathy and anonymous malice?



After the break-up of legendary psychedelic rock band "White Heaven" and "The Stars", You Ishihara as of late has been active as "You Ishihara with Friends". For Ishihara, known as the sound producer for "Yura Yura Teikoku", "Boris" and "Ogre You Asshole", this will be his first solo album in 23 years.

The music and song seem distant, in the background amidst the bustle of the city, neither ambient nor avantgarde. But nothing mellow either. Music that is sensual, never before captured, a conceptual work depicting the detachment between the music (Ishihara) and the World.

Ishihara is supported by Michio Kurihara who has been with Ishihara throughout White Heaven and The Stars, along with Tomohiro Kitada and Tatsuhisa Yamamoto, and Soichiro Nakamura, another alumni of White Heaven, who also engineers the record.

Artwork concept by You Ishihara and realized by Shintaro Sakamoto.


Release History
Label
Cat No
Country
Format
Date
Notes
CDBaby
Digital
June 25 2020
2020
formula (LP)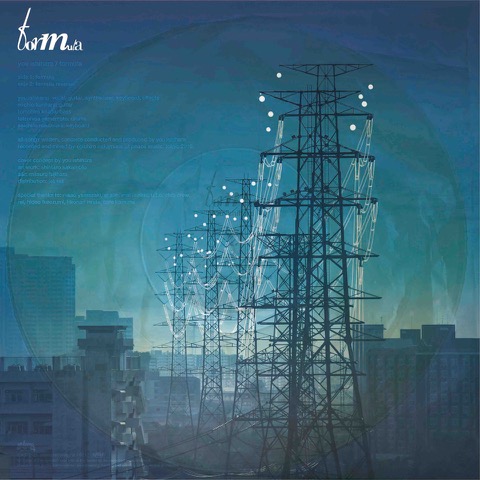 Tracks
M-1 / Side A
formula
21:23
M-2 / Side B
formula reverse
21:05
Personnel
iou ishihara
vocal, guitar, synthesizer, keyboard, effects
michio kurihara
guitar
tomohiro kitada
bass
tatsuhisa yamamoto
drums
soichiro nakamura
keyboard


all songs written, concrete conducted and produced by you ishihara
recorded, mixed & mastered by soichiro nakamura at peace music, tokyo 2019


Release History
Label
Cat No
Country
Format
Date
Notes
zelone records
zel-021
Japan
LP
October 2020
formula (CD)
Tracks
M-1 / Side A
formula
21:23
M-2 / Side B
formula reverse
21:05
Personnel
iou ishihara
vocal, guitar, synthesizer, keyboard, effects
michio kurihara
guitar
tomohiro kitada
bass
tatsuhisa yamamoto
drums
soichiro nakamura
keyboard


all songs written, concrete conducted and produced by you ishihara
recorded, mixed & mastered by soichiro nakamura at peace music, tokyo 2019


Release History
Label
Cat No
Country
Format
Date
Notes
zelone records
zel-022
Japan
LP
October 2020
---
MK Home
---