JC Home - The Barry "The Fish" Melton Band


THE BARRY "THE FISH" MELTON BAND
(aka FISH & CHIP)
---




The Saloon Years


Links:

Barry Melton Home Page

Live Music Archive, Barry Melton Band Collection.

Interview with Barry about John Cipollina in 1990: here


---
The Saloon Years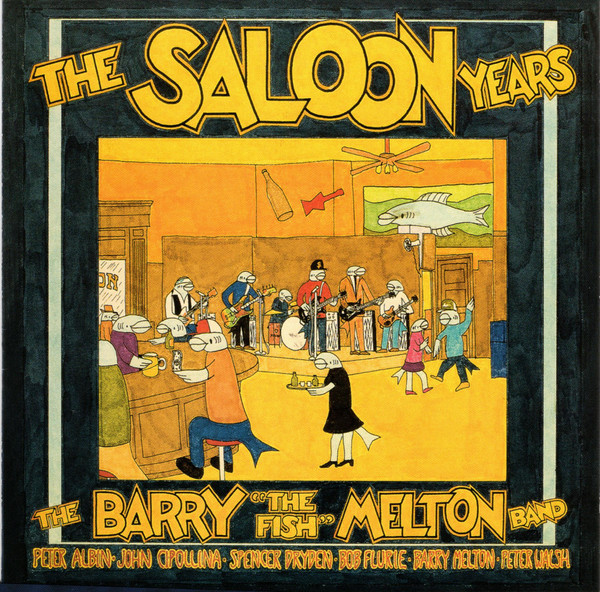 Track
Composer(s)
Date
Personnel
Time
1.
I Can't Dance
(Melton)
4-29-89
BM JC PA SD
4:43
2.
Mojo Navigator
(Denson, Melton, McDonald)
7-27-91
BM BF PA SD
6:32
3.
Colorado Town
(McDonald & Melton)
7-27-91
BM BF PA SD
5:36
4.
3rd Degree
(Boyd)
2-25-89
BM JC BF PA SD
8:37
5.
Love
(Armstrong, Barthol, Cohen, Gunning, Melton)
6-25-94
BM BF PW PA DG
5:25
6.
Hold On To The Good Times
(Melton)
2-25-89
BM JC BF PA SD
4:53
7.
Just A Little Bit
(Thornton, Bass, Washington, Brown)
6-25-94
BM BF PW PA DG
6:35
8.
Harlem Nocturne
(Hagen)
5-17-91
BM BF PA SD
5:10
9.
Mona
(McDaniel)
4-7-89
BM JC PA SD
19:00
10.
SOS
(Melton)
5-17-91
BM BF PA SD
7:07
Total Time
73:38
Personnel
Barry Melton
guitar, vocals
John Cipollina
guitar, vocals
Peter Albin
bass, vocals
Spencer Dryden
drums
Bob Flurie
guitar, vocals
Peter Walsh
guitar, vocals
David Getz
guest drummer
Since the 50's the North Beach section of San Francisco has been home to those who have sought a Bohemian lifestyle; its great restaurants, bookstores, cafes, and strip joints are known worldwide. And in its heart on Grant Avenue, up from Columbus Avenue, stands The Saloon; it is the oldest remaining saloon in the city, having survived the earthquake of '06. In 1996, The Jack Daniel Distillery recognised The Saloon as one of the best bars in the United States in their Gentleman Jack Classic Bar and Bartender Guide.
A small, funky bar, The Saloon is a place where people come to dance, drink, party, sweat, and listen to loud blues and rock. It was here twice a month from 1982 to 1994 that The Barry "The Fish" Melton Band played (Barry estimates almost 300 gigs!). This CD is a tribute to that era and includes some of the band's finest moments.
The boys in the band include:
Barry Melton was the lead guitar player with Country Joe & The Fish. He recorded six solo albums, and has performed with such greats as Otis Spann, Donny Hathaway, Phil Upchurch, and Dinosaurs. An accomplished attorney and candidate for a San Francisco judgeship, these days Barry is serving as a Public Defender in Mendocino County.
John Cipollina is best remembered for his guitar work with Quicksilver Messenger Service. Among the dozens of bands he performed with are Copperhead, Terry & The Pirates, Thunder & Lightning, Dinosaurs and Zero. Barry and John were referred to as "Fish & Chip". The concept of "The Saloon Recordings" was inspired by efforts to record John's last performance at The Saloon. He passed away too early in 1989.
Peter Albin was a founding member of Big Brother & The Holding Company, and has played bass with Pigpen, David Nelson, Dinosaurs, and Country Joe & The Fish.
Spencer Dryden rose to prominence with Jefferson Airplane in the Sixties and also drummed with New Riders of the Purple Sage, and Dinosaurs.
Bob Flurie played guitar with Roy Buchanan and The Chambers Brothers, as well as stints with Quicksilver Messenger Service, Country Joe & The Fish, The Pointer Sisters, and The Hoo Doo Rhythm Devils.
Peter Walsh, who appeared in The Dick Clark Show in 1960, has played guitar on stage and record with Seatrain, Lou Reed, The Rowan Brothers, and Commander Cody.

- Mike "Fan Man" Sommavilla
Recorded live at The Saloon, North Beach, San Francisco

Produced by Myron Mu • Cover Art: Mike Dolgushkin/Hot Tomato Studios
Photograph: Steve Keyser/Jim Filippi • Recording & Mix: Myron Mu
Special thanks to Huck, Greg, the bartenders & cocktail waitresses, doormen, roadies and especially everyone who came to dance
(P) 1989, 1991, 1994 © The Saloon Recordings, 1232 Grant Avenue, San Francisco, CA 94133



Release History
Label
Cat No
Country
Format
Date
The Saloon Recordings
SR1994CD
US
CD
1997
---
JC Home
---
Last updated: 14-Sep-2014