QUICKSILVER MESSENGER SERVICE
with John Cipollina

Live at The Avalon Ballroom, San Francisco, 9th September 1966
Live in San Jose, September 1966
Live at The Avalon Ballroom, San Francisco, 28th October 1966
Fillmore Auditorium, November 5th 1966
Live at The Fillmore Auditorium, San Francisco, 4th February 1967 (2 CD)
Fillmore Auditorium February 4th, 1967 with Dino Valenti (2LP)
Fillmore Auditorium, February 5, 1967
Live at The Fillmore Auditorium, San Francisco, 6th February 1967
New Year's Eve 1967
Live at The Carousel Ballroom, San Francisco, 4th April 1968

Revolution Original Motion Picture Score

Quicksilver Messenger Service
Live At The Fillmore - June 7, 1968
Happy Trails
Happy Trails Live 1969
More Happy Trails 1969
Shady Grove
Castles in the Sand
Just For Love
What About Me
Live At The Old Mill Tavern - March 29, 1970
Live At The Old Mill Tavern - March 29, 1970
Live At Winterland 1970
Hawaii 1970 (June 13, 1970)
At the Kabuki Theater (December 31, 1970)
Live at The Fillmore West (July 3, 1971)

Live at The Winterland Ballroom, December First 1973

Solid Silver

Cowboy On The Run: Live in New York


---
Live at The Avalon Ballroom, San Francisco, 9th September 1966
Tracks
1.
Radio Commercial
2.
Stand By Me
3.
Babe I'm Gonna Leave You
4.
Pride Of Man
5.
Smokestack Lightning
6.
Codeine
7.
Gold And Silver
8.
Hoochie Coochie Man
Release History
Label
Cat No
Country
Format
Date
Notes
Bear Recordings
BEARVP105CD
CD
2008
---
Live in San Jose, September 1966
CD
LP
Tracks
1.
A1.
All Night Worker
3:39
2.
A2.
Walkin' Blues
3:20
3.
A3.
I Hear You Knockin'
3:34
4.
A4.
If You Live (Your Time Will Come)
6:28
5.
B1.
Smokestack Lightning
9:24
6.
B2.
Who Do You Love?
8:35
7.
C1.
Back Door Man
4:08
8.
C2.
Acapulco Gold And Silver
11:50
9.
D1.
Codeine
6:49
10.
D2.
The Fool
12:42
Product Description
One of the earliest live recordings of the quintessential San Francisco psychedelic jam band, the legendary Quicksilver Messenger Service!
Features original vocalist Jim Murray alongside the classic Cipollina-Duncan-Freiberg-Elmore quartet performing their trademark tunes plus rare numbers such as "Walkin' Blues" and "All Night Worker!"
Available on both CD & vinyl with liner notes from rock historian Dave Thompson!
---
Live at The Avalon Ballroom, San Francisco, 28th October 1966
Tracks
1.
Band Intro
2.
Mona
3.
If You Live Your Time Will Come
4.
Smokestack Lightning
5.
Dandelion
6.
Codeine
7.
Runaway
8.
Pride Of Man
Release History
Label
Cat No
Country
Format
Date
Notes
Bear Recordings
BEARVP106CD
CD
2008
---
Fillmore Auditorium, November 5th, 1966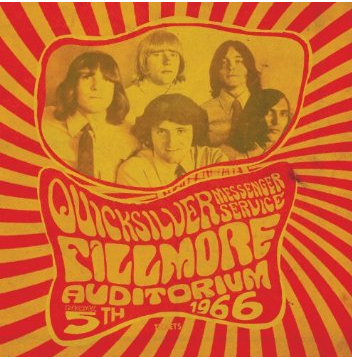 Tracks
1.
Dino's Song
3:14
2.
Hair Like Sunshine (Long Distance Call)
5:00
3.
I Hear You Knockin'
3:38
4.
Babe I'm Gonna Leave You
4:32
5.
Smokestack Lightnin'
11:45
6.
If You Live
5:35
7.
All Night Worker
3:55
8.
Got My Mojo Workin'
4:11
9.
You Don't Love Me
2:39
10.
Suzy Q
3:43
11.
Hoochie Coochie Man
5:24
12.
Gold & Silver
2:14
13.
Stand By Me
4:22
14.
Pride of Man
3:47
Total
Release History
Label
Cat No
Country
Format
Date
Notes
Purple Pyramid
US
CD
2014
Purple Pyramid
US
2 x LP
2014
---
Live at The Fillmore Auditorium, San Francisco, 4th February 1967
Tracks
Disc 1
1.
You Don't Love Me
2.
I Hear You Knocking
3.
Gold And Silver
4.
All Night Worker
5.
Codeine
6.
Get My Mojo Working
7.
Mona
8.
A Fool For You
9.
I Can't Believe It
10.
Look Around (Excerpt)
Disc 2
1.
Dino's Song
2.
Walkin' Blues
3.
Babe I'm Gonna Leave You
4.
Hoochie Coochie Man
5.
Stand By Me
6.
Drivin Wheel (It's Been Too Long)
7.
Duncan And Brady
8.
Pride Of Man
9.
Who Do You Love
Release History
Label
Cat No
Country
Format
Date
Notes
Bear Recordings
BEARVP107CD
CD
2008
---
Fillmore Auditorium February 4th, 1967 with Dino Valenti (2LP)
Tracks
Side A
1.
You Don't Love Me
2.
I Hear You Knocking
3.
Gold And Silver
4.
All Night Worker
5.
Codeine
6.
Get My Mojo Working
Side B
1.
Mona
2.
Dino's Song
3.
Walkin' Blues
4.
Babe I'm Gonna Leave You
Side C
1.
Hoochie Coochie Man
2.
Stand By Me
3.
Too Long
4.
Duncan And Brady
5.
Pride Of Man
Side D
1.
A Fool For You
2.
I Can't Believe It
3.
Look Around You
4.
Who Do You Love
Release History
Label
Cat No
Country
Format
Date
Notes
Vinyl Lovers/FMinor
180 Gram 2 LP
2010
---
Fillmore Auditorium, February 5, 1967
CD
LP
Tracks
101.
A1.
Suzy Q
2:58
102.
A2.
I Hear You Knocking
4:39
103.
A3.
Dandelion
3:26
104.
A4.
Acapulco Gold And Silver
3:14
105.
A5.
You Don't Love Me
3:57
106.
B1.
Codeine
6:08
107.
B2.
Instrumental
3:52
108.
B3.
Smokestack Lightning
8:04
201.
C1.
Dino's Song
4:05
202.
C2.
Walkin' Blues
3:36
203.
C3.
Drivin' Wheel (It's Been Too Long Now)
5:00
204.
C4.
Babe I'm Gonna Leave You
5:52
205.
C5.
Hey Mama
3:28
206.
D1.
Hoochie Coochie Man
6:11
207.
D2.
All Night Worker
5:26
208.
D3.
Stand By Me
6:38
209.
D3.
Pride Of Man
3:54
Product Description
One of the very earliest known live recordings by psychedelic jam band legends who conquered San Francisco and later the world, Quicksilver Messenger Service!
Features the rare Jim Murphy-led 5 piece line-up laying down the acid blues grooves the band would follow throughout their career with tracks such as "Suzy Q," "Smokestack Lightnin'," "Babe I'm Gonna Leave You,""Hoochie Coochie Man," and more!
Available on both CD and gorgeous 2LP vinyl set!
Release History
Label
Cat No
Country
Format
Date
Notes
Purple Pyaramid
US
2 x LP
2015
Purple Pyaramid
US
2 x CD
2015
---
Live at The Fillmore Auditorium, San Francisco, 6th February 1967
Tracks
1.
You Don't Love Me
2.
All Night Worker
3.
Gold And Silver
4.
Hey Mama
5.
Walkin Blues
6.
Year Of The Outrage
7.
I Hear You Knocking
8.
A Fool For You
9.
I Can't Believe It
Release History
Label
Cat No
Country
Format
Date
Notes
Bear Recordings
BEARVP108CD
CD
2008
---
New Year's Eve 1967
Tracks
1.
Instrumental
2.
Pride Of Man
3.
Who Do You Love
4.
If You Live (Your Time Will Come)
5.
It's Been Too Long
6.
Smokestack Lightning
7.
Babe, I'm Gonna Leave You
8.
Gold And Silver
9.
Dino's Song
10.
Back Door Man
11.
Mona/Maiden Of The Cancer Moon
Product Description
A superb concert album from legendary Bay Area psych rock band, Quicksilver Messenger Service, recorded live at Winterland Ballroom in San Francisco - December 31st, 1967!
Classic line-up featuring the twin guitar attack of Gary Duncan and John Cipollina tearing through the bands best songs including Pride Of Man, Gold & Silver, and Dinos Song PLUS blues classics Who Do You Love?, Mona and more!
Release History
Label
Cat No
Country
Format
Date
Notes
Cleopatra/Purple Pyramid
CLO 0013
CD
2015
---
Live at The Carousel Ballroom, San Francisco, 4th April 1968
Tracks
Disc 1
1.
Back Door Man
2.
Light Your Windows
3
Who Do You Love
4.
Babe I'm Gonna Leave You
5.
Walkin Blues
6.
The Fool
Disc 2
1.
The Jam
Release History
Label
Cat No
Country
Format
Date
Notes
Bear Recordings
BEARVP109CD
CD
2008
---
Revolution Original Motion Picture Score
Tracks
1.
Mother Earth
Revolution
2:56
(N. Martin - J. O'Connell)
2.
QMS
Codine
5:20
(Buffy St. Marie)
3.
Steve Miller Band
Superbyrd
4:37
(S. Miller)
4.
Steve Miller Band
Your Old Lady
5:50
(K. Isley - E. Glick - K. Curtis)
5.
QMS
Babe I'm Gonna Leave You
5:03
(E. Darling - P. Bennett - A. Bredon)
6.
Mother Earth
Without Love
4:37
(D. Small)
7.
Steve Miller Band
Mercury Blues
2:20
(S. Miller - K. C. Douglas)
8.
Mother Earth
Stranger In My Own Shoes
5:09
(P. Mayfield)
Next time you use the word revolution you'd better include in your concept a beautiful blonde who went to San Francisco and illegally changed her name from Louise to Today.

Today panhandles and sells underground newspapers with an equal sense of absurdity.

Today enjoys cooking and sewing and judo.

Today believes that napalm is more harmful than LSD.

Today learns more from talking with a little black kid on Haight Street than she did in school.

Today will be a fantastic mother because she's not ashamed to laugh like a child.

"You don't have to be a wife to be a mother," she is reminded by a friend in the film whose condensed soundtrack you hold in your hands. I say condensed because one couplet from the title song -

Politicians take your pay
Now get out of our way

- isn't on this record. But flesh was here before the Democratic Party, spirit was here before Republicans, and the unification of flesh and spirit is sweeter than all the joint sessions of Congress that could ever be called.

And the music is what holds it all together.

The music is an integral part of the revolution.

The music is the very rhythm of life.

The music is the soul of the universe.

The music is the beat of the revolutionary process.

The music is the missing link between a pulsating amoeba and a dancing hippie.

The music is the sound of freedom.

We want more than the laws allow...

The same soldier who is applauded for dropping bombs on a Vietnamese village gets court-martialed for smoking pot; young people are arrested on the lower east side for sharing food on the street.

That's how far the insanity has extended.

How would you go about explaining to visiting Martians a society where adults are afraid of hair?

The barbers' lobby?

Long-haired students are threatened with expulsion by Christians who worship long-haired Jesus Christ and by Americans whose original battle for independence was spearheaded by long-haired Thomas Jefferson.

But Christ was a virgin, and Jefferson was a slaveowner. And they're both yesterday. For now, in the Second American Revolution, Jesus would be taught that celibacy is a sin against God, and Jefferson would be taught that it is impossible for a free man to own another.

The message of the liberating subculture is simply that the postponement of joy is a perversion of nature.

This is the revolution: I love Today.

- Paul Krassner

Featuring TODAY MALONE
Produced and Directed by Jack O'Connell
Executive Producer Robert Leder





Release History
Label
Cat No
Country
Format
Date
Notes
United Artists
UAS 5185
US
LP
1968
---
Quicksilver Messenger Service
Tracks
1.
Pride of Man
4:09
(Hamilton Camp)
2.
Light Your Windows
2:36
(Duncan/Freiberg)
3.
Dino's Song
3:06
(Valenti)
4.
Gold and Silver
6:42
(Duncan/Schuster)
5.
It's Been Too Long
2:59
(Polte)
6.
The Fool
12:10
(Duncan/Freiberg)


Produced by Nick Gravenites, Harvey Brooks and Pete Wilding.
(P) 1967 Original sound recording made by Capitol Records Inc.


Personnel
David Freiberg
bass, viola, vocals
John Cipollina
guitar
Greg Elmore
drums
Gary Duncan
guitar, vocals
[Demon CD booklet notes]
Congratulations. You have just acquired the first, and some say finest, LP by Quicksilver Messenger Service. Originally released in 1968 on Capitol Records, it represents nothing less than a shining landmark in American rock history, Quicksilver were of course one of the more enigmatic and exotic of the 60's San Francisco bands and if you mix in the right circles their exploits are legend and their music incomparable. Their entire history though was dogged with calamity and extended beyond the patience of even their staunchest admirers. But it is their early and most interesting and amusing days that concern us here and nowhere has the spirit of those trailblazing times been better captured than in the pages of Zigzag magazine. In the mid-70's Pete Frame, on a mission to uncover the origins of Quicksilver Messenger Service, tracked down pioneering guitarist and gun-collector John Cipollina who, without too much persuasion it seems, told all.
Dino Valente, having made a transcontinental hike from Greenwich Village, where he'd achieved a charismatic coffeehouse reputation as a distinctive 12-string folkie song and dance man at the turn of the Sixties, arrived via a fruitless year in Los Angelesto start afresh in the folk haunts of San Francisco's gaudy North Beach district. A couple of years later, with little more than a local following, a few unissued tracks in the can at Autumn Records and an ache to investigate some of the areas the Beatles had opened up, he fell in with a couple of shady young characters who appear to have been helping to make ends meet by making certain scarce and beneficial herbs available to a wider public ... these were Jim Murray, Gemini looner extraordinaire, and John Cipollina an ex-real estate agent who felt it was too late to go back now.
This was 1964. Inevitably, they set about forming a group. "Dino not only had a head full of ideas, he was one of the few guys on the scene who had a manager - Tom Donahue, who owned Autumn Records and a club in the city called Mothers. So we knew that if we played with Dino, we'd have a place to stay, 'We'll start our rehearsals tomorrow' Dino told us, but the next day, before we had played a note together, Dino was busted right here in Sausalito and taken to jail. Well, Jim and I sat around thinking that he'd be out real soon - we were told that he'd be out on Tuesday, then we were told Thursday, then the following Tuesday, then maybe ... you know. Well, that went on for a year and a half! Jim and I, meanwhile, were waiting for his release and sleeping on this chick's floor - no, we weren't even doing that; we were sleeping up on Mount Tamalpais in a '54 Plymouth that I had at the time.
"Not long after Dino was put inside, we met a friend of his, David Freiberg, who'd just got out of jail himself ... and because he was a friend of Dino's and had just got out, we took him into the group, or what was trying to become a group. He played 12-string and was getting around as a folksinger, but he wanted to play bass, so I loaned him one that I had in the trunk of my car and he started hanging out with us, learning to play bass and singing real good.
"The group at this time (64/65) was Jim Murray on vocals and harmonica, David Freiberg on bass and vocals, a local guy called Casey Sonoban on drums, Skip Spence on rhythm guitar and vocals, and me on lead guitar, and we were rehearsing at the Matrix, a club in San Francisco that the Jefferson Airplane had part ownership of. They were letting us use it. Well, one day Marty Balin came up to Skip, who was standing there with his acoustic guitar around his neck, and asked him if he'd ever played drums before - and Skip told him about this marching band he was in at his high school. So he was rolled into the Airplane around the same time as Casey left ... he was crazy, and far more at home with congas than behind a set of drums - in fact, he was conga player in the original line-up of Copperhead.
"The three of us that were left began to look for a new guitarist and drummer and ran across Gary Duncan and Greg Elmore who had been in a group called the Brogues, which had broken up because the service had drafted one guy and another had disappeared without trace. They were living in a basement at 52 Water Steet, a crazy little alley in North Beach, and my Plymouth happened to break down out in front - the clutch went - so we had to stay the night, but we ended up staying there for 4 months. What a crazy street that was; a bunch of neighbours had got together and had painted this long fiery dragon which stretched right down the street ... this was the early days of psychedelia - right? Lots of LSD, no money, and lots of living off the street, which, coming from a good family, was very strange to me ... but this is Fat City and you can always get a meal or a place to stay - and you could pick up any hitch-hiker and they'd give you some grass."
Dino was eventually released from the State Pen, so Quicksilver Messenger Service was finally ready to deliver - but for some reason, Dino was a little wary of Greg and Gary and he wasn't entirely convinced that his re-joining would be a good idea. As it happened, all this conjecture was unnecessary - he was only out for 2 days before he was busted again and returned to jail.
Assuming that fate had ruled out any participation by Dino, the quintet set about rehearsal once more, and their first gig was to play at a Christmas party organised by the Committee, a local satirical group. "These guys came down to our basement and said they'd give us something to smoke if we gave them a rock 'n' roll version of "The Star Spangled Banner" - the Charlatans were originally going to do it, but had evidently backed out. We thought 'what the hell? We've got no reputation to harm, so we'll do it'. We went and recorded it to their satisfaction and they thought we were good enough to play at their Christmas party ... they offered us 200 dollars to do it. 'Wow', we all said, 'give it to us now, give it to us!' So they did - even though it was only October ... and we took the money and moved out of our Water Street basement, into a houseboat in Larkspur, up in Marin County".
THE BAND WITH MUD ON ITS BOOTS
"We moved into the houseboats not long before the authorities condemned them, burnt them down and filled in the quay area ... but we lived out that winter on the water. We didn't work much either ... the first job we had was in December (1965), so we practiced through October and November ... and we burned everything we could get our hands on to keep warm. It was bitterly cold up there, but the boat had this oil drum with a hole cut out of it and a stove-pipe coming out of the top, and we got that thing absolutely red hot every night. In fact, we ended up burning about a third of the houseboat in an effort to keep warm. I had a really bad case of pneumonia at the time, and one wall of the room I slept in was totally useless - it had this huge hole in it and when the tide came in, it almost poured right onto the bed ... it was really low life in some ways, but we had a lot of fun.
"Like I say, it was pretty cold living up there on the mud and the water, and the boat would get lashed by the rain and the wind - so we burned up whatever we could find ... fences, anything .. all's fair in that sort of situation. Anyway, we moved out of there pretty quick after we'd burnt down a neighbour's boat - some kind of fight had developed ... and then our boat got burned too - I'm sure I can't remember all the circumstances.
"We moved back down to Mill Valley and met Ron Polte, who became our manager. This was after we'd been through about half a dozen other managers - the first of them had got busted and put in jail for three years, the next two were brothers who were health food fanatics - they kept us well fed and healthy for about three months, then the next one was a mad astrologer from Chicago.
"Anyway, we got this 3 storey house in Mill Valley - a Victorian insane asylum or something, complete with a ghost. We had a pretty good time there but never rehearsed because it was right in the middle of town. This was 1966, when people across America were beginning to drift into the San Francisco area, and we became fairly well known as the band that lived a block and a half from the bus depot in Mill Valley ... so they'd just take a bus and come looking for us. As a result, the cops were always in and out of the house looking for the 14 year old chicks!
"All this time, we were slowly gaining a reputation in the Bay Area and by the middle of 1966 we'd become quite a legend; we were the first band on the scene in the country, and the City people looked up at us because we'd lived on the houseboats and were the only band who walked around with mud on their boots ... everybody used to make a big deal out of that for some reason".
After a few months, the restrictions of living in a town, albeit a small one, began to make themselves felt and to escape a growing notoriety they went north once more - this time to an 88 acre ranch at Point Reyes Station, some 25 miles north-west of Frisco. "Gary Duncan and I went straight out and bought cowboy hats - if we we're going to live on a ranch, we'd do it in style. Then I b[r]ought out my collection of guns and we b[r]ought out all these pretty girls who loved horses, because we had plenty of horses ... 40 to 70 head running around our property all the time. Next, I went out and got a wolf - a real Northern McKenzie timber wolf; it was the largest of the litter and its father was 224 pounds and seven and a half feet long. I'd been studying wolves really intensely for along time, about eight years, and had become some kind of an authority on them, so I thought that I'd get one now that I had a big enough place to keep it".
"This period, 'the ranch period' you could call it, saw Quicksilver Messenger Service at the height of its insanity, but the record companies had begun to take an interest in us and were watching us closely - even though we hadn't the slightest intention of signing with anybody. We had developed a great mystique because we were so weird and because we'd chosen to live way out in the wilderness.
"The only bands living out there in the San Geronimo Valley were us and the Grateful Dead, who had a summer camp up there - Camp Lagunitas for Boys and Girls. They had a swimming pool there, and arts and crafts things, but what they really got into was archery ... and they went into this big Red Indian trip as a result. So we were 7 or 8 miles away acting out our cowboy fantasies while the Dead were whooping it up with their bows and arrows ... and we inevitably got into this Cowboys and Indians riff.
"Apart from the Dead, the only other person we used to see was this guy called Jim Jensen who I lived in a deserted bakery up there, but then Dino got out of jail again and moved in with us. He'd decided to go his own way as a solo, but sometimes he came to gigs with us and played and sang as part of the band ... in fact some of those gigs were recorded - The Quicksilver Messenger Service with Dino Valente. Anyway, our rivalry with the Grateful Dead culminated in two of Quicksilver being put in jail".
THE QUICKSILVER/DEAD FEUD
"We had gone to San Francisco to get the Dead, because they had come and got us real bad. We had this roadie who wasn't too good at carrying equipment, so we turned him into a cook - and every night all of the people living on the ranch, the group and the roadies and the friends and the girls, we'd all gather together to eat. We I lived in six different buildings spread around the ranch, but every evening we'd come together to dine and then smoke ourselves silly until we passed out! Well, the Dead knew we did this, and they figured that the best time to catch us off guard was in our after-dinner relaxation. You see, I'd had this big argument with Jerry Garcia; we spent hours arguing the relative merits of cowboys and Indians ... it was at a Musicians Union meeting, in fact. For a laugh, a lot of us had decided to attend a Union meeting and these old straights who ran the Union almost collapsed; they'd never seen such a bunch of longhaired musicians before ... and there were so many of us; people from the Airplane, the Charlatans, the Dead, Quicksilver, the Mystery Trend, the Great Society, Big Brother ... it was just a whole gang of us, and these guys weren't ready for us at all - it was a really funny evening.
"Anyway, Garcia was saying things like 'Cowboys are lame, Indians are much hipper, nobody loves cowboys anymore but Indians are groovy because they're into flowers and stuff ... you guys are nowhere'. He was saying it all in fun, but he was giving me a hard time, so I said 'Yeah? Well our band says that the Grateful Dead eats shit'. We got into this slanging match until all these straight musician guys were cowering in the corners ... we were really digging it, but we made out that our tempers were fraying and we started to get really hot under the collar, shouting and stuff. When 1 got home that night, I told the other guys that we ought to go and get the Dead for saying that cowboys aren't as cool as Indians, and they said 'yeah, let's get em', but then we got stoned and forgot all about it.
"A couple of nights later, we'd just finished eating and we were all swacked out as usual, when suddenly there's all this whooping and hollering ... the dogs were barking like crazy, my wolf was howling, and we didn't know what was going on. Then suddenly the door bursts open and the entire Grateful Dead family crash in on us, whooping and shouting, all in feathers and warpaint, all high on acid, all crazy. Well, they got us real bad; they were all over us before we even realised what was happening - brandishing tomahawks and firing arrows into the walls ... you never saw anything I Ike it in your life.
"Needless to say, our egos were well and truly crushed and ground into the dirt because the Dead were all going around saying that our band eats shit Dino was with us at the time and being part Indian, he took it rather more personally than was intended - but anyway, we made up our minds that the Dead were not going to be allowed to get away with it ... no chance.
"Two weeks later, the Dead were due to play the Fillmore, sharing the bill with the Airplane, and that's where we reckoned we'd get them. The plan was for us to wear all our cowboy gear, masks and guns and take over the stage during their set ... we knew it wouldn't be difficult because the Dead were always out of their heads in those days. For those two weeks we rehearsed solidly, harder than we ever had before, until we'd perfected a 15 minute version of 'Kaw Liga was a Wooden Indian', which we intended to play at the Fillmore to humiliate them. Then we went out and bought cap guns, because we wanted to make a bit of noise as well as brandishing real guns ... we were going to frighten the piss out of them; wait till they'd finished their first song and strike, knowing they'd be too spaced out to resist.
"We called Bill Graham, explained what we were going to do, and he said it was cool and promised not to tell a soul, and we let Gleason in on it too ... but that was it - no-one else would know who these masked men were! We were going to grab them and handcuff them to their speaker cabinets, because they had got these huge things that Owsley had got for them, with big handles ... can you imagine how dramatic it was going to be??? Garcia and his gang being handcuffed and chained at gunpoint and watching us play 'Kaw Liga' on their instruments! Then they'd know that cowboys were cooler than Indians after all!
"Everything was taken care of ... everything except the X factor.
"The Fillmore was in a predominantly Black, ghetto area of San Francisco, and earlier that day some young kid had broken a jeweller's window, grabbed something and run - and this cop arrived on the scene, pulled his .357 Magnum and yelled 'halt or I fire' ... well, he fired and hit this kid right in the back of his head. The velocity of the bullet just about took his head off, and the whole neighbour hood went nuts about it ... the tension of the entire area just tightened up to breaking point. And we arrived a few hours later, knowing nothing of what had happened ... maybe you can imagine the effect of half a dozen freaks suddenly appearing outside the Fillmore with masks and guns.
"The cops were on us before we'd moved ten feet. Our protestations were useless, of course; they didn't want to know it was a joke - they were in no mood for joking. We tried to explain that we were going into the Fillmore to play, and that this was our stage gear, but they wouldn't believe that we were anything less than hippie revolutionaries bent on capitalising on the indignation of the Black population. As soon as we realised that it was no use, we tried to disperse but they got Jim Murray and David Freiberg and threw them in the tank with all these Blacks who were feeling real hostile towards any whites because they'd heard about the shooting of the kid. Everything was explained in the end, but David and Jim weren't released for 3 days - and we never got the Dead after all ... in fact, we eventually did, but I'm not going to talk about that".
[The version of this article printed in ZigZag 38 includes an additional section: "Gunfight at Point Reyes Station" here.]
"When we first started and were living in that basement on Water Street, we used to call up Tom Donahue, and say "listen, you're Dino's manager and Dino says we're his band - so what can you do for us?" But Valenti was in jail and Donahue didn't even want to speak to us - so every time we called, there would be all this mumbling and then his secretary would say "he's out to lunch". Well, we called him practically every day for 3 months, but no matter what time it was, he was always "out to lunch". So, after a while, the penny dropped and we'd all walk around chanting "Donahue's out to lunch ... Donahue's out to lunch" ... it became a real big catchphrase around the house."
They decided they didn't need a record contract anyway; it might interfere with their policy of uninterrupted enjoyment ... but when some of their friends started cutting albums, they were keen to see what happened.
"The Airplane signed with RCA and all the other bands in the area began to watch them real close, to see what would happen. The Airplane were really taking off locally; Matthew Katz was handling their affairs, they had the Matrix, they wrote and played good stuff, they packed out the Fillmore whenever they went there, and their reputation was really spreading out across the country - by word of mouth, I suppose, and through the underground press. So they really had it right there ... but all of a sudden, when they started recording, they were walking around with long faces."
"Then the Dead signed, and the same thing happened ... they weren't nearly as much fun. And all the groups were being urged to go out on tour, promoting their albums over as much of the country as they could cover - and nobody ever seemed to be playing around town anymore ... the scene was breaking up, But we were still around, and we weren't about to sign up and leave the area, so we got all the gigs we could handle. In fact, Quicksilver holds the record for the number of gigs played at the Avalon; 75 nights I think it was. So whilst we were up there on our ranch, fooling around and having good times, we were always capable of getting ourselves together to come into the city and play our arses off."
"We shared the bill with so many different people; everyone from Howling Wolf to the Doors - but we got more money than any of them, even though we hadn't got an album out or anything. So we stayed around ... never did too much travelling, except up and down the state."
Whilst their manager, Ron Polte, was assessing the various record company offers, sending them back with clauses amended in red ink and making outrageous demands, he negotiated a one-off deal with United Artists, which involved Quicksilver's appearance in a film called 'Revolution', a pot-boiler about 'the underground', and their contributing two tracks to the soundtrack album.
"I've never seen the film, says Cipollina. I missed it when it came to town, but maybe it'll come on television someday ... doubt it though - it wasn't too hot from what I hear. Anyway, the band was a 5 piece in the film, but by the time we came to cut the two songs for the album, Jim Murray had left and we were down to four. So if you can find somewhere where 'Revolution' is playing, you'll see us as we were back in that summer of '67 ... some summer."
Quicksilver do two tracks on the album; Buffy Sainte Marie's 'Codine' and their adaptation of the old folker 'Babe I'm gonna leave you' ... both superb. Sad but true, the album is now deleted but if you come across a copy, grab it fast, because it constitutes an essential fragment of the San Francisco jigsaw.
"I remember when we actually did sign; we were really depressed afterwards ... we were walking around with gloomy expressions saying 'we finally did it ... never mind, it was fun while it lasted'. Mind you, we held out until we got a really good deal; Ron Polte is a genius - I'm still glad to say he's my friend and I'd never consider signing anything without asking his advice."
Not only did they get a load of money, they got unprecedented freedoms in terms of material, presentation and studio time. "Also, we made Capitol provide 8-track facilities for our use ... almost unheard of in those days of 4-track studios. It was the first time Capitol had ever seen an 8-track, and they'd said 'what's an 8-track?' So we said 'we don't know, but we hear they're really groovy, so we've got to have one!'"
This first album, 'Quicksilver Messenger Service', was started at the beginning of December 1967 with Nick Gravenites and Harvey Brooks producing ("they just told us what to do and we did it"), and Pete Welding was subsequently roped in to help mix the tracks down. According to Cipollina, "the album was a lot of fun ... and some parts are pretty good I think". Such delicate understatement!
A little unsteady in places, certainly subdued ... but still magnificent. Setting new standards for twin guitar interplay, Gary Duncan and John Cipollina trade rhythm and lead roles - Duncan's full bodied, more mellow tone contrasting with the ringing density of Cipollina's solid Gibson. Listen to 'Gold And Silver' and you'll hear it all.
The album's happy atmosphere, I feel, stems from the obvious fact that they recorded it basically for themselves and their friends (whoever wanted to listen) ... no compromise, no pandering to commercial considerations - just 4 musicians playing their hearts out. What more could you ask? ... but this was only an indication of their power and quality. And that's where we leave the story. Quicksilver Messenger Service went on to record a commercially disastrous and peculiar single, 'Bears', and then the monumentally classic 'Happy Trails' before commencing on the tortuous and lengthy slide into oblivion. But enough of that. It should be time to turn the record over again and play 'Pride of Man'.
Release History
Label
Cat No
Country
Format
Date
Notes
US
LP
US
MC
Capitol
CDP 0777 91146 2 7
US
CD
Demon/Edsel
EDCD 200
UK
CD
1986
Demon/Edsel
EDCD 648
UK
CD
2000
Capitol
CDP 0777 7 91146 2 7
US
CD
1994
Capitol
TTOCP-67731
Japan
CD
2008
24-bit Remaster, card sleeve, limited
BGO Records
BGCD861
UK
CD
2009
Remastered
Culture Factory
US
CD
2012
Vinyl Replica, Collector's Edition, Limited Edition, Original Recording Remastered
---
Live at The Fillmore - June 7, 1968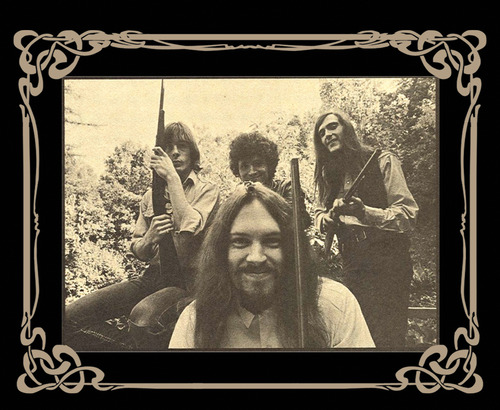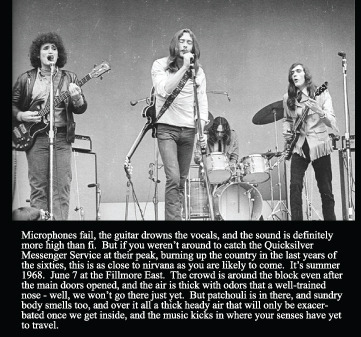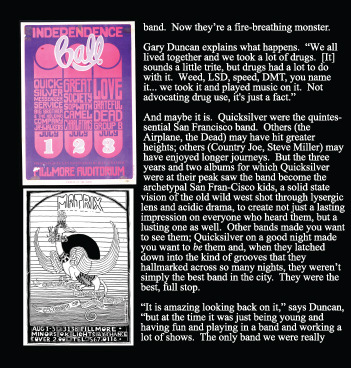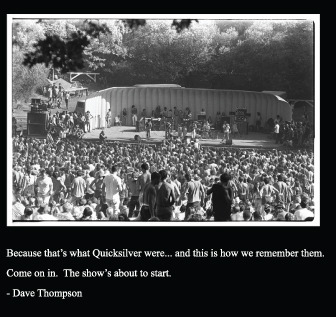 Tracks
Disc 1
1.
Pride of Man
4:06
(H. Camp)
2.
If You Live (Your Time Will Come)
4:13
(M. Allison)
3.
Dino's Song
3:28
(D. Valenti)
4.
Smokestack Lightnin'
10:30
(C. Burnett a/k/a Howlin' Wolf)
5.
Codine
6:36
(B. Sainte-Marie)
6.
Light Your Windows
3:04
(G. Duncan / D. Freiberg)
7.
Mona
7:13
(E. McDaniel a/k/a Bo Diddley)
8.
Calvary
4:30
(G. Duncan)
Total
43:39
Disc 2
1.
Back Door Man
4:13
(W. Dixon)
2.
Acapulco Gold and Silver
12:34
(G. Duncan / S. Schuster)
3.
Who Do You Love?
12:05
(E. McDaniel a/k/a Bo Diddley)
4.
The Fool
12:55
(G. Duncan / D. Freiberg)
Total
41:47
Personnel
Gary Duncan
guitar, vocals
John Cipollina
guitar
David Freiberg
bass, vocals
Greg Elmore
drums
Jurgen Engler & Chris Lietz at Atom H Studios, Austin TX
Licensed from the archives of Gary Duncan
Special thanks to Tom and everyone at Freakbeat Records, Sherman Oaks CA.
"Collector's edition 2CD digipak of psychedelic supergroup Quicksilver Messenger Service performing live in front of the Fillmore audience!"
"Classic line-up featuring the twin guitar attack of Gary Duncan and John Cipollina tearing through the band s best songs including Pride Of Man, Acapulco Gold & Silver, and Light Your Windows PLUS blues classics Who Do You Love?, Mona and more!"
"Packaged with detailed liner notes and rare photos!" -- Official Press Release


Microphones fail, the guitar drowns the vocals, and the sound is definitely more high than fi. But if you weren't around to catch the Quicksilver Messenger Service at their peak, burning up the country in the last years of the sixties, this is as close to nirvana as you are likely to come. It's summer 1968, June 7 at the Fillmore East. The crowd is around the block even after the main doors opened, and the air is thick with odors that a well-trained nose - well, we won't go there just yet. But patchouli is in there, and sundry body smells too, and over it all a thick heady air that will only be exacerbated once we get inside, and the music kicks in where your senses have yet to travel.
Steppenwolf are opening the show tonight, their debut album is fresh on the streets and their best known number is still "Sookie Sookie"; it'll be a while longer until "Born To Be Wild" establishes itself as the motorbiking song of the decade, courtesy of Easy Rider. At the top of the bill are Electric Flag, and you can hear Gary Duncan on this recording give them a shout out as he leads the Service into "Mona".
We're not here for the other bands, though. We're here for Quicksilver, a band that is all but synonymous with Bill Graham's Fillmore empire, and relished every opportunity to get out there and blast. There's tapes of the two together, Quicksilver and one or other of the Fillmores, that date back to 1966, some two years before their first album came out. Tonight, though, is even more significant because now the album, simply self-titled, is on the shelves, little more than a month before this concert. And the difference is astounding. Back then they were basically a blues band. Now they're a fire-breathing monster.
Gary Duncan explains what happens. "We all lived together and we took a lot of drugs. [It] sounds a little trite, but drugs had a lot to do with it. Weed, LSD, speed, DMT, you name it... we took it and played music on it. Not advocating drug use, it's just a fact".
And maybe it is. Quicksilver were the quintessential San Francisco band. Others (the Airplane, the Dead) may have hit greater heights, others (Country Joe, Steve Miller) may have enjoyed longer journeys. But the three years and two albums for which Quicksilver were at their peak saw the band become the archetypal San Fran-Cisco kids, a solid state vision of the old wild west shot through lysergic lens and acidic drama, to create not just a lasting impression on everyone who heard them, but a lusting one as well. Other bands made you want to see them; Quicksilver on a good night made you want to be them and, when they latched down into the kind of grooves that they hallmarked across so many nights, they weren't simply the best band in the city. They were the best band, full stop.
"It is amazing looking back on it", says Duncan, "but at the time it was just being young and having fun and playing in a band and working a lot of shows." The only band we were really close to was the Grateful Dead. We knew everybody, of course, because we were on the same bill with everyone at one time or another, but we actually hung out with the Dead quite a bit before everyone got record deals and started going on the road".
It was late 1967 before Quicksilver landed their record deal, by which time they had already conquered the Monterey Pop Festival, and half the western world was literally gagging to take home some Quicksilver vinyl. The wait was worthwhile, though; signing to Capitol, Quicksilver were labelmates with the Beatles, and had a $50,000 dollar deal - which they more or less doubled when they scrapped the original tapes for their first album, and recorded the whole thing again.
The album forms the heart of this live show, just as it had formed the heart of almost every show the band had played. "We never had set lists," Duncan admits. "We didn't actually know what we were going to play. We just got real stoned and went on the stage and let it happen the way it happened".
"Pride of Man", "Dino's Song", "Light Your Windows", "The Fool", "Acapulco Gold and Silver", the album dominated the live show tonight. But there was never anything routine about it, nothing set in stone or even carved in sand. Quicksilver did what quicksilver does: flowed wherever they wanted, over and under and around expectations, Bo Diddley rhythms set for the heart of the sun, pulsing and pulsating, and pounding on and on... there are versions here of two Diddley classics, the mighty "Mona" and the howling "Who Do You Love", that defy anyone to pick them out as being decade old songs before Quicksilver ever picked them up... that are fresh as tomorrow morning's mushrooms and as smooth as whatever you just rolled inside that paper.
Because that's what Quicksilver were... and this is how we remember them.
Come on in. The show's about to start.
- Dave Thompson
Release History
Label
Cat No
Country
Format
Date
Notes
Cleopatra/Purple Pyramid
US
CD
2012
Cleopatra/Purple Pyramid
US
LP
2012
---
Happy Trails
Tracks
1.
Who Do You Love (Part 1)
3:33
(Ellis McDaniel)
2.
When You Love
5:14
(Gary Duncan)
3.
Where You Love
6:07
(Quicksilver & Fillmore audience)
4.
How You Love
2:45
(John Cipollina)
5.
Which Do You Love
4:38
(David Freiberg)
6.
Who Do You Love (Part 2)
3:05
(Ellis McDaniel)
7.
Mona
7:01
(Ellis McDaniel)
8.
Maiden of the Cancer Moon
2:55
(Gary Duncan)
9.
Calvary
13:30
(Gary Duncan)
10.
Happy Trails
1:31
(Dale Evans)
Personnel
David Freiberg
bass, viola, vocals
John Cipollina
guitar
Greg Elmore
drums
Gary Duncan
guitar, vocals


Live portions recorded at Fillmore East and West.
"Calvary" Recorded Live at Golden State Recorders, S.F.; Nov. 19, 1968


We would like to thank the following people without whose help this movie would not have been possible: Bill Graham, John Palladino, Leo De Gar Kulka, Ron Polte, Frank Polte, Richard Nixon Applebee, Jim Johnson, Mike Moore, Marglet, Sheila, Rodger Collins, Walter Manning, Julius Karpen, George Smith, Alton Kelly.
Album design by George Hunter for GLOBE Paintings & Portraits; Kent Hollister, lettering; Alan Rose, logos.



[BGO CD booklet notes]

California was the melting pot of rock innovation in the mid-1960s. The United States hit back after the knock out punch of the so-called British invasion, when most American acts found themselves desperately unfashionable - largely because they were American. The Byrds were the most credible US group, because The Beatles had given the Los Angeles quintet their seal of approval, and innumerable L.A. acts emerged and usually disappeared in their wake (exceptions included Love, Buffalo Springfield, the Turtles, the Mothers of Invention, The Doors, etc). San Francisco, a cosmopolitan sea port a few hundred miles north of Hollyweird and the other trendy L.A. suburbs, had acquired a reputation for musical eclecticism - notable blues artists, folk singers, jazzers of many persuasions, bluegrass pickers - and during the heyday of hippiedom circa 1964, a number of ultimately world famous groups began to assemble there. These would eventually include The Grateful Dead, Jefferson Airplane, Country Joe & The Fish, Big Brother & The Holding Company and so on, but at the start of this movement, Jerry Garcia was probably in Mother McRee's Uptown Jug Stompers and Grace Slick was recording 'Somebody To Love', a later Airplane smash hit, with The Great Society, the group she formed with her first husband, Darby. Another of the notable San Francisco groups who stood alongside The Dead and the Airplane was Quicksilver Messenger Service, but for various reasons, such as their lack of a figurehead along the lines of a Garcia, a Slick, a Joe McDonald or a Janis Joplin, Quicksilver failed to achieve the commercial success and fame which accrued to the big name Bay Area acts which were their contemporaries. Nevertheless, their recorded output has easily stood the test of time, and they are among the most respected groups of their era.

Two of the musicians who would play in the classic line-up of Quicksilver Messenger Service, drummer Greg Elmore and singer/guitarist Gary Duncan (real name Gary Grubb), were members of The Brogues, a quartet whose choice of group name instantly suggests they were attempting to pretend that they were British. Little did they realise that most of the biggest British group names were just as obviously American-inspired: if Buddy Holly hadn't led The Crickets, The Beatles might have remained The Nurk Twins and The Rolling Stones were clearly paying homage to to an American blues idol in their choice of group name. The Brogues? The Hush Puppies? Mind you, The Byrds made the same mistake, recording as The Beefeaters (a very English name) before properly taking flight ... The original members of Quicksilver messenger Service were going to be John Cipollina (lead guitar), ex-folk musician David Freiberg (bass), and vocalists Dino Valente (also a rhythm guitarist) and Jim Murray, who played harmonica, but Valente fell foul of the drug kaws and went to jail. Undeterred, Cipollina, Freiberg and Murray recruited Alexander 'Skip' Spence (guitar, vocals) and drummer Casey Sonoban, who were in the band for less than a year. Sonoban resurfaced briefly in the early 1970s with Copperhead, a group led by Cipollina,which also included Jim Murray. Got that? Quicksilver's story sometimes seems more like a complicated video game than a record of a band's progress ... By mid-1965, Spence had left to join Jefferson Airplane (briefly) before launching Moby Grape, which is a whole different story for another time. sonoban, the drummer left for comparative obscurity until he became an early member of Copperhead, of which more later. Cipollina, Freiberg & Murray recruited Elmore and Duncan from The Brogues, and this quintet developed a huge local following in California, refusing to play outside the Gold State, with particular (and frequent) reference to San Francisco, the city in which they formed. However, they didn't get a record deal like The Dead or The Airplane. Quicksilver apparently felt that their peer groups had suffered due to the pressure of nationwide touring, and preferred to survive from local gigs without jumping on this potentially soul-destroying roundabout. In late 1967, Murray left the band after refusing to rehearse for the group's appearance in a hippie-exploitation movie titled 'Revolution', which tried to convey life in the Bay Area with its acid dropping weird-looking modern beatniks, whose musical preference was for loud, psychedelic bands who played R&B-flavoured material with extended instrumental passages. The film soundtrack album included two lengthy Quicksilver epics, especially a long drawnout cover of Buffy Saint-Marie's ode to the potentially addictive quality of prescription drugs, 'Codine'. Cipollina and Duncan played exquisite twin lead guitar (their work as a lead guitar duo has never been bettered), and the former's utterly distinctive and intense trembling sound was widely heard around America for the first time (albeit in a package which also featured the similarly unsigned Steve Miller Band and Mother Earth, a group fonted by country/rock queen Tracy Nelson).

The film soundtrack appeared on United Artists just as Capitol Records, which had previously failed to acquire a psychedelic San Francisco band, signed both Quicksilver and Steve Miller for substantial advances.

'Quicksilver Messenger Service', an excellent debut album, appeared in the spring of 1968, and was disappointingly-received critically, despite peaking respectably just outside the Top 50 of the US album chart. While planning their next album, perhaps the group members realised that their following had been built from live performances, which was why they decided thay their second album would include a live marathon, a 25 minute version of Bo Diddley's 'Who Do You Love', with each member of the group (first Duncan, then Elmore, then Cipollina and last Freiberg) demonstrating their command of their various instruments.

The album was titled 'Happy Trails', and many feel that it may be the finest album of the psychdelic era by a San Francisco group - quite an accolade bearing in mind that the competition includes the present-day stadium acts mentioned above. Another lengthy album track, 'Mona', is also borrowed from the Bo Diddley songbook, then came a couple of group originals (notably 'Maiden Of The Cancer Moon') before a short but bizarre sign-off with an unlikely version of 'Happy Trails', the signature tune of TV cowboy Roy Rogers (as sung to his horse, Trigger, presumably). The album stayed in the US chart for longer than any of their others, reaching the Top 30, an impressive feat, but the near-perfect combination was upset by the departure of Duncan and the arrival of English keyboard player Nicky Hopkins, who had moved to San Francisco from England ironically to work on Steve Miller albums after emerging in London with the first Jeff Beck Group (whose vocalist was Rod Stewart and whose bass player was latterday Rolling Stone Ron Wood.)

With Freiberg now the main vocalist, Quicksilver recorded their 'Shady Grove' album in 1969. It achieved their highest ever chart placing, although it fell out of the chart more quickly than either of its predecessors. Duncan had left to work with Dino Valente (now a free man) in a band called The Outlaws (doubtless something to do with Valente's chequered past), but after a year supposedly spent fruitlessly searching for a rhythm section, the duo joined the 'Shady Grove' line-up onstage for a New Year's Eve concert on the last day of 1969. They stayed on after the gig for six months, during which the sextet cut a fourth Quicksilver album, 'Just For Love', which equalled the chart peak of 'Happy Trails', but disappeared as quickly as 'Shady Grove'. Conflicts between Valente (who could accurately claim to have written a big hit, 'Get Together', which later became a hippie anthem) and Hopkins resulted in the latter's departure in mid-1970. Well before the end of that year, Cipollina also left during the recording of the group's fifth album, apparently because he, like Hopkins, was unhappy with Valente's growing predominance. The resulting album included contributions from Mark Naftalin (previously most notable for his work with the Butterfield Blues Band), who was replacing Hopkins, plus various session men who were recruited to complete the recordings after Cipollina departed.

Cipollina quickly formed Copperhead, a group which evolved from sessions for a never-released solo album by Jim Murray (the original Quicksilver vocalist), which Cipollina was producing. Others involved included original Quicksilver drummer Casey Sonoban, Cipollina's younger brother Mario on bass, who later acheived considerable success as a member of Huey Lewis and The News, Nicky Hopkins and guitarist Gary Phillipet, who later joined the excellent late 1970s San Francisco band Earthquake, where he was known as Gary Phillips. With the departure of John Cipollina, Quicksilver lost their greatest asset, and although, as we shall see, the group continued to make interesting albums, their sound was never as distinctive as when he was a group member.

'What About Me', the album which was in preparation when he left, was Quicksilver's fourth consecutive album in under two years to reach the Top 30 of the US album chart, but they never again approached such commercial heights of popularity. Freiberg was busted and jailed for marijuana possession, which left Duncan and Elmore as the only two survivors of the classic line-up of Quicksilver - rather than returning to Quicksilver after completing his sentence, Freiberg joined Jefferson Starship and played on many of their biggest albums. Quicksilver, now controlled by Valente, cut albums in 1971 ('Quicksilver') and 1972 ('Comin' Thru'), but neither reached the Top 100 of the US album chart, and 1973's 'Anthology', as its title suggests, was a compilation double album which did better than either of the albums which preceded it, but still peaked outside the Top 100 of the US album chart. Capitol Records seemingly decided that they could not make a commitment for a brand new Quicksilver album, and in 1975, Cipollina and Freiberg returned to record 'Solid Silver', an album which briefly returned the group to the US Top 100, but could not be said to mark a complete return to their past glory days. Freiberg was tied to Jefferson Starship, and even though Cipollina toured with the band as a guest, the spark which had made the band great was absent, and after the tour, they fell apart.

Little has been heard from the various members of the band subsequently, other than Freiberg, who remained in the Jefferson Starship camp until the mid-1980s, and Cipollina, who played in a number of mainly shortlived San Francisco bands, as well as guesting on tour with Welsh group Man in 1975, and appearing on their 'Maximum Darkness' album, before sadly dying from emphysema in 1989 at the tragically early age of 45.

The fascinating fact about Quicksilver Messenger Service which certainly inspired their quite unforgettable group name (and which some feel may have contributed to the unique chemistry of the group's classic line-up) was that all four musicians who played in that version of the group shared the birth sign Virgo: Freiberg and Cipollina both celebrated birthdays on August 24, while Elmore and Duncan similarly emerged on September 4. All four were born between 1938 and 1946. Freiberg once explained the origin of the group name by noting that Mercury was the ruling planet of all four members, and Mercury was not only another term for liquid metal (quicksilver), but also the messenger in Greek mythology. It remains a minor tragedy of rock history that circumstances prevented the group again reaching the inspiring heights of their first two albums, but there is nothing that can be done to change that sad fact. At least they left a couple of utterly brilliant albums and several more with moments of genius for posterity.

[The text above is as printed in the booklet, except that I have corrected the spelling of Cipollina which consistently appears as 'Cippolina' - not John Tobler's fault, I'm sure. This same text also appears in the BGO release of the 'Quicksilver' album.]

John Tobler, 1992





[Repertoire CD booklet notes]

Quicksilver Messenger Service epitomised those glittering new bands born of the artistic sub-culture that flourished so fruitfully in San Francisco during the Sixties. There was a great flowering of talent in this turbulent period, when American youth rebelled against the music, clothes, images and attitudes of their forefathers. A growing unease with the war in Vietnam all helped to fuel the hippies' revolt. It was against this background that bands like Quicksilver Messenger Service developed and helped change the face of modern music.

A new wave of musicians broke away from music industry convention and introduced a greater awareness of the roots of rock, as they delved back into America's hitherto neglected heritage of folk, blues and R&B. There was a great sense of searching for self, even for the values of the US pioneers, those rugged individuals who had opened up the West. This quality was reflected in the clothes, designs, fashions even the long hair of the Sixties' generation.

During their meteoric ten year career, Quicksilver underwent many changes to their personnel and despite initial success, ultmately failed to gain the status enjoyed by their peers like the Grateful Dead or Jefferson Airplane. However 'Happy Trails' has long since been recognised as a classic album, assuring its creators a place in the rock'n'roll hall of fame.

QMS were among the last of the San Francisco groups to sign a recording contract. This was mainly due to a sense of self suffiency rather than neglect. They preferred to hang on to their independence, while they made a good living playing the clubs in and around the Bay area. They also wanted to wait until they were musically ready to go into the studios.

The group's origins go back to 1965. The original members were John Cipollina (guitar, born August 24, 1943), Gary Duncan (guitar, born September 4, 1946), David Frieberg (bass, born August 24, 1938) and Greg Elmore (drums, born September 4, 1946). The early line-up also included harmonica player Jim Murray and singer/songwriter Dino Valenti (born October 7, 1943). However early in their career, Valenti disappeared from view, while serving a prison sentence on drugs charges.

The group often played free concerts for the hippie residents of the Haight-Ashbury district and gigged at The Avalon ballroom and at Bill Graham's famous Fillmore concert venue. They built up their reputation as one of the top local bands during the flower power boom from 1966 onwards and they also made a good showing at the Monterey Pop Festival of 1967. An early sign of recognition came when they were invited to contribute two songs to the soundtrack of the movie 'Revolution'.

They eventually signed to Capitol Records in January, 1968, having turned down several previous offers. Their first album 'Quicksilver Messenger Service' (Capitol) appeared in May, 1968 and featured the quartet of Cipollina, Duncan, Elmore and Freiberg, performing such titles as 'Pride of Man', 'Light Your Windows', 'Dino's Song', 'Gold and Silver', 'It's Been Too Long' and 'The Fool'.

The newly signed band felt ill at ease in the studio and some die hard fans expressed disappointment at the album, which they felt failed to capture the power and excitement of the band. Even so it was a good introduction to the band's style and in particular the guitar playing skills of Cipollina and Duncan. QMS decided to cut their next album in a 'live' situation at the Fillmore and 'Happy Trail's was the result. It proved an instant success. Some critics, including the highly esteemed writer Lillian Roxon, enthused that it was 'The finest live album ever recorded'. John Cipollina'a distinctive guitar work paired with Gary Duncan was inspirational. Both players were showcased on the dynamic 'Who Do You Love? Suite' which took up the whole of side one of the original vinyl album. This extensive work-out was based on the timeless Bo Diddley riff which opens and closes the piece. Along the way are variations on the theme, including 'When Do You Love' by Gary Duncan, 'Where Do You Love' (with contributions from the Fillmore audience), 'How Do You Love' by Cipollina and 'Which Do You Love' from David Frieberg.

The dynamic interplay between the two lead guitarists caused a sensation. Another tribute to Bo Diddley followed, with a dynamic version of 'Mona' boasting more of Cipollina's atmospheric guitar. Among the remaining tracks, Gary Duncan contributed 'Maiden of the Cancer Moon' and 'Calvary' while the title track was written by Dale Evans. The album's impact was enhanced by the eye-catching and attractive cover painting, which depicted a wild west pony express rider, galloping acrosss a rugged terrain, Stetson hat held aloft. This exuberant image was the work of George Hunter of Globe Propaganda, a company responsible for many fine album covers during this period. 'Quicksilver Messenger Service' and 'Happy Trails' are now seen as the best albums produced by the band and among the finest from the whole Sixties' San Francisco scene.

Shortly after the second album, Gary Duncan quit, lured away to join a projected new band called the Outlaws in New York, by Dino Valenti. The singer had just come back on the scene, having left prison in 1969. As a result of this manoueuvre, Duncan was replaced by British born keyboard player, the late Nicky Hopkins, who frequently played on sessions with The Who and the Rolling Stones.

The new line-up cut the third QMS Capitol album 'Shady Grove' (1970) which was less well received than its predecessors. In February 1970 Valenti and Duncan rejoined the band with Dino on vocals and guitar as their New York venture had failed to pan out. The six-piece produced a new album 'Just For Love' in September, 1970 and they also had a US Top 50 hit with 'Fresh Air'. Nicky Hopkins left the band just before the record came out and John Cipollina also quit in October, 1970 to form Copperhead.

The next QMS album 'What About Me?' (1971) had been recorded at the same time as sessions for the previous album. The group carried on with Valenti as the leader on guitar and vocals, with Duncan, Elmore and Freiberg. Despite all their efforts, this did not seem to be a happy time for QMS. David Freiberg was forced to leave when he was jailed for possessing marijauna in 1971. He subsequently worked as a session musician and played with Jefferson Starship. New recruits came into QMS including Mark Ryan (bass) and Chuck Steaks (organ) who appeared on two further albums 'Quicksilver' (1971) and 'Comin' Thru' (1972).

It was felt that the band had lost its original sound and sense of direction. In 1975, with the flower power scene already a failing memory, Quicksilver Messenger Service got back together with the four original members plus Valenti to produce the 'Solid Silver' reunion album. More than a decade later Gary Duncan put together a new version of QMS to record the album 'Peace By Piece' (1987).

'Happy Trails' remains a wonderfully evocative album, that conjures memories of a long lost happy time for youth, culture and rock'n'roll.

Chris Welch, London, England, 2000




Release History
Label
Cat No
Country
Format
Date
Notes
US
LP
US
MC
BGO
BGO CD151
UK
CD
1992
Repertoire
REP 4868
Germany
CD
2000
'Restored & remastered by EROC'
Capitol
TTOCP-67732
Japan
CD
2008
24-bit Remaster, 2008, card sleeve, limited
BGO
BGO CD950
UK
CD
2010
Digitally Remastered from the original tapes, Slipcased, with new notes
Culture Factory
US
CD
2012
Vinyl Replica, Collector's Edition, Limited Edition, Original Recording Remastered
---
Happy Trails Live 1969
Tracks
1.
Who Do You Love Part 1
(Ellis McDaniel)
2.
When You Love
(Gary Duncan)
3.
Where You Love
(Quicksilver & Fillmore audience)
4.
How You Love
(John Cipollina)
5.
Which Do You Love
(David Freiberg)
6.
Who Do You Love Part 2
(Ellis McDaniel)
7.
Mona
(Ellis McDaniel)
8.
Maiden of the Cancer Moon
(Gary Duncan)
9.
Calvary
(Gary Duncan)
10.
Happy Trails
(Dale Evans)
"A very special vintage concert performance by one of the most critically acclaimed bands to come out of the San Francisco 60s psychedelic rock movement, Quicksilver Messenger Service!
Features the classic line-up performing their entire second album, Happy Trails - ranked at #189 on Rolling Stone s list of the 500 Greatest Albums Of All Time!
Special foil printing and a 4 panel poster inside!" -- Official Press Release


Release History
Label
Cat No
Country
Format
Date
Notes
Purple Pyramid/Cleopatra
US
CD
2012
---
More Happy Trails 1969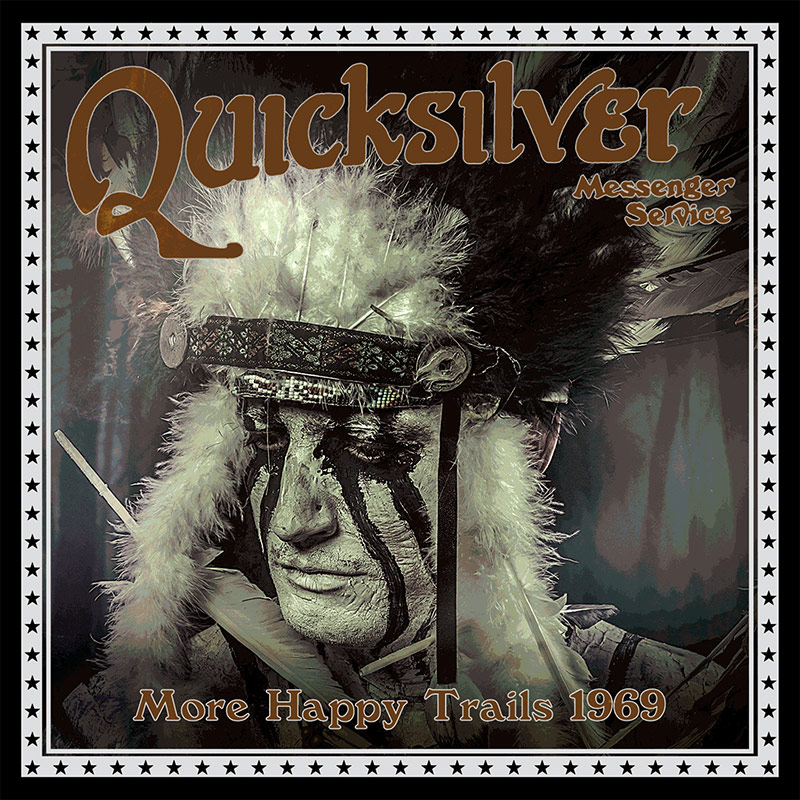 Tracks
1.
Subway
6:41
2.
I Believe
9:44
3.
Words Can't Say
3:15
4.
Mojo
6:30
5.
Mona
8:43
6.
City Of Stone
7:27
7.
Edward The Mad Shirt Grinder
8:18
[NB The setlist matches exactly with that of recordings that circulate of the Winterland, December 31, 1969 Early show - see here for details.]
Product Description
Another great live album from San Francisco's Quicksilver Messenger Service captured at the height of their powers just after the release of their sophomore album, the critically acclaimed Happy Trails!
About the Artist
Quicksilver Messenger Service gained wide popularity in the San Francisco Bay Area and through their recordings, with psychedelic rock enthusiasts around the globe, and several of their albums ranked in the Top 30 of the Billboard Pop charts. Though not as commercially successful as contemporaries Jefferson Airplane and The Grateful Dead, Quicksilver was integral to the beginnings of their genre.
With their jazz and classical influences and a strong folk background, the band attempted to create an individual, innovative sound. Member Dino Valenti drew heavily on musical influences he picked up during the folk revival of his formative musical years. The style he developed from these sources is evident in Quicksilver Messenger Service's swung rhythms and twanging guitar sounds.
After many years, the band has attempted to reform despite the deaths of several members. Recently, original members Gary Duncan and David Freiberg have been touring as the Quicksilver Messenger Service, using various backing musicians.
Release History
Label
Cat No
Country
Format
Date
Notes
Purple Pyramid/Cleopatra
CLO0103CD
US
CD
2016
---
Shady Grove
Tracks
1.
Shady Grove
2:57
(P. O. Wands)
2.
Flute Song
5:21
(D. Jewkes)
3.
3 or 4 Feet From Home
2:46
(J. Cipollina)
4.
Too Far
4:24
(D. Freiberg)
5.
Holy Moly
4:53
(N. Gravenites)
6.
Joseph's Coat
4:34
(J. Cipollina & N. Gravenites)
7.
Flashing Lonesome
5:24
(D. Freiberg & N. Gravenites)
8.
Words Can't Say
3:20
(D. Freiberg & D. Jewkes)
9.
Edward (The Mad Shirt Grinder)
9:17
(N. Hopkins)
Personnel
Gregory Elmore
Drums & Percussion
John Cipollina
Guitar & Vocals
Nicky Hopkins
Piano, Organ, Celeste, Harpsichord & Dog
David Freiberg
Viola, Bass, Guitar & Vocals


Recorded in San Francisco at Wally Heider Studios July - August 1969
and at Pacific High Recorders August - September 1969.
Engineered by Dan Healy, Mike Leary, Dave Brown & Bob Shumacker.
Mixed at P.H.R. by Quicksilver, Dan Healy & Snarly Grumbles.
Exec. Prod. J. Palladino.


Release History
Label
Cat No
Country
Format
Date
Notes
US
MC
One Way Records
CDL-57339
US
CD
1990
Demon/Edsel
EDCD 659
UK
CD
2000
Culture Factory
US
CD
2012
Vinyl Replica, Collector's Edition, Limited Edition, Original Recording Remastered
---
Castles in the Sand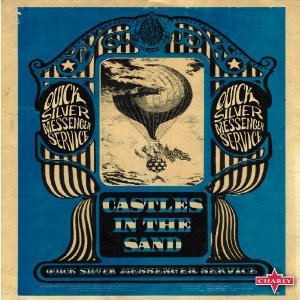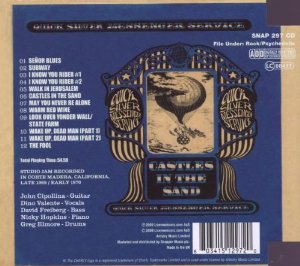 Tracks
1.
Señor Blues
6:18
(Silver)
2.
Subway
1:43
(Farrow, Duncan)
3.
I Know You Rider #1
3:54
(Trad arr Cipollina, Valenti, Elmore, Freiberg, Hopkins)
4.
I Know You Rider #2
4:35
(Trad arr Cipollina, Valenti, Elmore, Freiberg, Hopkins)
5.
Walk In Jerusalem
2:44
6.
Castles In the Sand
8:32
7.
May You Never Be Alone
2:19
(Williams)
8.
Warm Red Wine
3:03
(Walker)
9.
Look Over Yonder Wall / State Farm
3:51
10.
Wake Up, Dead Man (Part 1)
5:35
11.
Wake Up, Dead Man (Part 2)
3:31
12.
The Fool
8:51
Total
54:50
"One of the first studio sessions by Quicksilver's then new line-up of Dino Valente (vocals), John Cipollina (guitar), David Freiberg (bass & vocals), Greg Elmore (drums), with the British session pianist Nicky Hopkins. Mainly acoustic, it took place in Corte Madera, California in late 1969/early 1970."
"Most of the songs, a couple of them running for nearly nine minutes each, were never to appear on album, although they featured in the group's concerts. As well as working on new songs such as 'Subway' and the rarely-performed 'The Fool', the band run through several country, gospel and blues standards that they were familiar with, such as 'I Know You Rider', 'Walk In Jerusalem', Hank Williams' 'May You Never Be Alone' and Cindy Walker's 'Warm Red Wine'."
The booklet's sleeves notes cover the group's circumstances at the time of the recordings and the featured songs.
THERE'S ENOUGH MAGIC TO GO AROUND. PLEASE REMEMBER THAT.

I ask this of you for one particular reason: if you approach this collection of songs thinking that you've discovered a motherlode of spectacular, unheard Quicksilver gems, rivalling their best work - well, you will most certainly walk away disappointed.

If, on the other hand, you enjoy fascinating fly-on-the-wall glimpses of your favorite artists, creating, shaking, twisting, moulding some future classics into something resembling their final shape - well, then, you've come to the right place.

A bit of history is, as usual in such cases, necessary before we proceed. The band that came to be known as Quicksilver Messenger Service was originally conceived in San Francisco by Dino Valente in 1965. Unfortunately for Valente, his assembled trio - David Freiberg, John Cipollina, and Jim Murray - would end up having to soldier on without him, as he was promptly incarcerated for marijuana possession.

The three remaining musicians then imported Gary Duncan and Greg Elmore from another local band, The Brogues ("I Ain't No Miracle Worker"), and Quicksilver Messenger Service was born. Dino, meanwhile, remained in jail for two years.

Quicksilver were the last of the major Summer of Love bands to record an LP, waiting till 1968. But by the end of that year (following the departure of Jim Murray) they had released two of them, Quicksilver Messenger Service and the live Happy Trails. Gary Duncan left the band on New Year's Eve, with the intention of forming a new group with the newly-back-on-the-street Dino Valente. Quicksilver, meanwhile, replaced Duncan with British session musician wunderkind pianist Nicky Hopkins, and released a third LP, Shady Grove - an album much-beloved by fans but very heavy on the Hopkins, thank you very much.

The Valente/Duncan experiment (called at one point "The Outlaws") didn't gel, and in the first part of 1969 the two prodigals found themselves reunited with Quicksilver.

Valente was a born bandleader, for better and for worse, and there was no question who wore the pants in this new/old version of Quicksilver Messenger Service. The new band quickly set to work assembling new material.

And you hold now, in your hands, one of their first get-togethers.

The session took place in Corte Madera, California. All the tracks except "Senor Blues" seem to have been recorded on the same day - with the tape stopping only briefly between songs, or not at all. "Senor Blues" may be from the same session or a different one, but it's audibly clear that Dino is using a different microphone, among other things. The date of the session(s) is/are unclear - but, based on the mumbled/unfinished lyrics to a couple of songs that would later become QMS staples, it's certainly prior to the recording of Just For Love in mid-1970 (and certainly well after the release of the last pre-Dino album, Shady Grove, in the latter part of 1969. So we're definitely somewhere between October '68 and April '70. I'm not going to start any unfounded rumours about this being "The Great Long-Sought First-Get-Together Tape!!!!!" of the new/old band - but, from the sound of it, it very well could be. It's certainly an early, rough run-through of several songs - with Dino on occasion shouting chord changes out to the other players, on some standard old chestnuts as well as his own songs.

Freiberg, Cipollina, Duncan, and Hopkins are all present and accounted for on these tapes - both because they can clearly be heard and because Dino calls each of them by name during at one point or another. It's long been assumed that Gary Duncan is not present at the session, but I don't think that's true - in the middle of "I Know You Baby [Rider]," Dino very clearly says "Wake up, Gary." There are most defintely only two guitars playing here, throughout, and hustory may have assumed (so far) that one of them is Valente. It may well be that it's Duncan and Cipollina on the two guitars and Dino's not playing. Or - just to split hairs - Dino may have been calling out to some other "Gary" who was in attendance. Giving credence to the idea that the session may well have coincided with one of the episodes in which Duncan was "a guest of the American penal system" - a status "enjoyed" by most of the members of the band at one time or another. Or three.

The music here is sparse and unfinished, to be sure. Cipollina is marking time, breaking loose quite infrequently. On several songs, Elmore and Hopkins don't play at all. Freiberg sings authoritative backing vocals on the old country standards that he knows by heart, but stays well out of the way on Dino's own new songs. Dino shouts out chord changes, encouragements and epithets.

The listener is greeted right away, in fact, with a charming conversational snippet: "I get the feeling, man, that if I didn't say anything, we'd be playing the same old fucking gigs the same old fucking way, and I'd end up fucking dead" - and then bang, straight into the first verse of "Senor Blues" without so much as a pause.

(Well, you did end up "fucking dead," didn't you? Sure, it was a quarter of a century after the fact, but you can't be too careful what you say. Can you?)

The recording is excellent, given that these are certainly not top studio conditions - Dino is obviously working with a standard vocal microphone, not an expensive studio-type unit, and hugging it for dear life. The mix is perfectly clear but not very "careful" - these recordings were obviously intended as references, to be studied later on.

From "Senor Blues," it's straight into a brilliant early version of "Subway" - without the "subway" portion of the lyric, and with the signature riff about halfway-formed. The song collapses midway throguh a stinging Cipollina solo, when someone - it's not clear who - is too loud in Dino's headphones and he calls a halt to the proceedings.

At this point the band takes a break from the new material and chooses to run through some old standards that they all know - the traditional chestnuts "I Know You Rider" and "Walk in Jerusalem" as well as Hank Williams' "May You Never be Alone Like Me" (which some bootlegs have listed as "Like A Bird") and Cindy Walker's "Warm Red Wine." Freiberg is quite enthusiastic on these, and sings a low harmony each, uncharacteristic of his other work in Quicksilver.

"Look Over Yonder Wall/State Farm" is really neither of these traditional songs, but it borrows from both. And it doesn't stop there, either, playfully straying into territory inhabited by the likes of two Johnny Cash songs, "Take This Hammer" and "Tell Him I'm Gone", the old chestnut "Buddy Buddy" as well as Mississippi John Hurt's "Spike Driver Blues." It's hard to tell where this medley and the subsequent "Wake Up Dead Man" begins - other than the obvious fact that the tape stops rolling and then starts up again. At the end of part two of "Wake Up Dead Man" Dino breaks into a snatch of "Buddy Buddy"again - but gets no further than the title phrase before the song ends.

We end with an early version of "The Fool." The band is obviously enjoying this one - it's tough and muscular - although it's obviously a very early run-through, with Dino quite tentative about the lyrics. This will not be your favourite version of "The Fool," to be sure, but it's a lot of fun to hear the song take shape.

All in all, there are some considerably more-unstructured nascent takes on The Beatles Anthology series, for example, than you'll find on here. I don't think you'll be spinning this one as often as you do Happy Trails, but it's a fascinating look at an incredible band, behind closed doors, captured while struggling to reinvemt themselves with a new frontman. They would, of course, succeed beyond all expectations.

MIKE FORNATALE
Personnel
John Cipollina
Guitar
Dino Valente
Vocals
David Freiberg
Bass, Vocals
Nicky Hopkins
Piano
Greg Elmore
Drums
? Gary Duncan
Guitar
Release History
Label
Cat No
Country
Format
Date
Notes
Snapper/Proper
SNAP 297 CD
CD
2009
---
Just For Love
Tracks
1.
Wolf Run (Part 1)
1:10
(Jesse Oris Farrow)
2.
Just For Love (Part 1)
2:55
(Dino Valenti)
3.
Cobra
4:20
(J. Cipollina)
4.
The Hat
10:30
(Jesse Oris Farrow)
5.
Freeway Flyer
3:45
(Jesse Oris Farrow)
6.
Gone Again
7:10
(Jesse Oris Farrow)
7.
Fresh Air
5:20
(Jesse Oris Farrow)
8.
Just For Love (Part 2)
1:35
(Dino Valenti)
9.
Wolf Run (Part 2)
2:05
(Jesse Oris Farrow)
Personnel
Dino Valenti
World's most magical brat
Alias - The Hammer
aka Jesse Oris Farrow
Vocals Guitars Congas
Flute P.38 9mm
Ginseng & various assorted
psychic and visual effects
Gary Duncan
World's most funky saint
Vocals Electric Guitar
Acoustic Guitar
Maracas .44 Magnum
Bass & Woodblock
David Freiberg
World's most cuddly devil
Vocals Guitar Bass
John Cipollina
World's most benign carnivore
Electric Guitar Slide Guitar
Nicky Hopkins
World's most polite monster
Piano
Greg Elmore
World's most rhythmic mystic
Drums & Percussion .44 Magnum
Cast
Dan Healy
Engineer...wired wizard
Dr. Don Lewis
1st chair...J.A.M.F.
Peter Leibes
Ass. Engineer...equipment...rare solid
Dr. Jim Murray
Movies...laziest prankster
Dr. Barry Mayo
Babylonian Lights & Power Company
Dr. Paul Wilford
Chef & Living Proof
Gordon Kennerly
Equipment organisation...mellowest shark
Doug Mcguire
Equipment...recording...nicest scorpion
George Bonney
Equipment...fire keeper
Laird Barney Grant
Carpentry...Captain Fire
Ron Polte
Management Hawaii...El Raton
Frank Polte
Management San Francisco...closest relative
John Palladino
Executive Producer...straightest hipster
Ralph Rego
Ranger...most helpful heat
Larry & Chuck
Generator Repair...personal Redi Kilowatt
Uncle Sol
Loosest Kahuna
John Selby
Special Attention...sweetest producer
Red Johnson
Transient Poet
Jeremiah
Page of Reveilly
Mica Gabriel
The Nipper
Cyrus Farryar
Chief Flasher
Eric & Rachel
Spiritual Observers
Photographs courtesy of
Laura Lambe and Woody Woodridge
George Osaki
Custom Order Art Director (Capitol Records)
Mike Cantrell
Custom Order Artist (Hawaii)
Dee Sive
Subtle Trouble-Maker (Hawaii)


The Highly Esoteric Beverage "Primo" & Goddess Pele who didn't get uptight...

Recorded at the Opaelua Lodge
Haleiwa...Oahu...Hawaii
May-June, 1970



Ladies Section
Siva
Kris
Gail
Mary
Sherry
Patty
Nicole
Roxanne
Lorraine
Jane
Linda
Yole
Caroll
Marilyn
Sue
Squeak
Renais
Dara
Mikki
Kathy
Susan
Correy
Sheila
Susan
Laura
Kathy
Release History
Label
Cat No
Country
Format
Date
Notes
LP
MC
BGO Records
BGOCD141
UK
CD
1992
Culture Factory
US
CD
2012
Vinyl Replica, Collector's Edition, Limited Edition, Original Recording Remastered
---
What About Me
Tracks
1.
What About Me
6:44
(Jesse Oris Farrow)
2.
Local Color
3:00
(John Cipollina)
3.
Baby Baby
4:44
(Jesse Oris Farrow)
4.
Won't Kill Me
2:33
(David Freiberg)
5.
Long Haired Lady
5:56
(Jesse Oris Farrow)
6.
Subway
4:29
(Jesse Oris Farrow)
7.
Spindrifter
4:38
(Nicky Hopkins)
8.
Good Old Rock and Roll
2:30
(Jesse Oris Farrow)
9.
All In My Mind
3:48
(Gary Duncan - Jesse Oris Farrow)
10.
Call On Me
7:37
(Jesse Oris Farrow)
Personnel
Dino Valenti
aka Jesse Oris Farrow
guitars, vocals, percussion
Gary Duncan
vocals, guitars, bass organ, percussion
Greg Elmore
drums, percussion
John Cipollina
guitars, percussion
David Freiberg
vocals, guitar, bass
Nicky Hopkins
piano
2, 4, 5, 7, 8, 9
Mark Naftalin
piano
1, 3, 10
Jose Rico Reyes
conga, percussion, vocals
Martine Fierro
tenor and alto saxophone, flute
Ron Taormina
baritone and soprano saxophone
Frank Morin
tenor saxophone
Pat O'Hara
trombone
Ken Balzell
trumpet
Chief engineer: Dan Healy
Engineers:
Ken Hopkins, Bob Shoemaker,
Peter Liebes and the Capitol staff
Recorded at:
Opaeula Lodge, Haliewa, Hawaii
Capitol Studios, Hollywood
Wally Heider Recording, San Francisco
Pacific High Recording Co., San Francisco
Hustlin': George Bonney, Steve Parrish, Doug McGuire
Hastlin': Frank Polte, George Smith
Executive Producer: John Palladino
Cover Art: Michael Cantrell
Release History
Label
Cat No
Country
Format
Date
US
BGO Records
BGOLP58
UK
LP
BGO Records
BGOCD58
UK
CD
1990
Culture Factory
US
CD
2012
Vinyl Replica, Collector's Edition, Limited Edition, Original Recording Remastered
---
Live At The Old Mill Tavern - March 29, 1970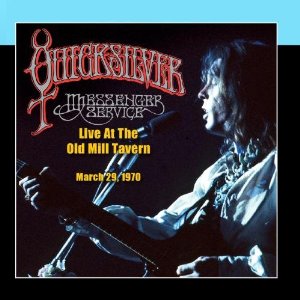 Tracks
1.
Subway (Part 1)
6:05
(Jesse Oris Farrow)
2.
Subway (Part 2)
2:09
(Jesse Oris Farrow)
3.
The Truth
8:20
(Valenti)
4.
Mona
7:58
(Ellis McDaniel)
5.
Baby Baby
6:01
(Jesse Oris Farrow)
6.
Rain
5:48
7.
Mojo
7:56
(Valenti)
8.
Blues Jam #1
7:28
9.
Blues Jam #2
15:05
Release History
Label
Cat No
Country
Format
Date
Notes
Cleopatra
US
CD
2012
---
Live At The Old Mill Tavern - March 29, 1970
Tracks
1.
Subway
7:09
(Jesse Oris Farrow)
2.
The Truth
8:20
(Valenti)
3.
Mona
7:58
(Ellis McDaniel)
4.
Baby Baby
6:02
(Jesse Oris Farrow)
5.
Rain
5:48
6.
Mojo
7:56
(Valenti)
7.
Blues Jam #1
7:28
8.
Blues Jam #2
15:04
Release History
Label
Cat No
Country
Format
Date
Notes
Cleopatra
US
CD
14 Oct 2013
Cleopatra
US
2 x LP
14 Oct 2013
---
Live At Winterland 1970
Tracks
1.
Subway
6:10
(Jesse Oris Farrow)
2.
Too Far
3:17
(David Freiberg)
3.
Warm Red Wine
2:58
(Walker)
4.
The Truth
7:55
(Valenti)
5.
Mona
8:31
(Ellis McDaniel)
6.
Long Haired Lady
3:17
(Jesse Oris Farrow)
7.
Mojo
3:22
(Valenti)
8.
Pride of Man
4:08
(Hamilton Camp)
9.
Edward (The Mad Shirt Grinder)
6:49
(N. Hopkins)
10.
Who Do You Love?
29:30
(Ellis McDaniel)
Total
75:57
Comparing the setlist to other recordings from Winterland in 1970, this is probably the April 15, 1970 show.
Release History
Label
Cat No
Country
Format
Date
Notes
Cleopatra
US
CD
2012
---
Hawaii 1970
Tracks
1.
Fresh Air(Excerpt)
3:35
(Farrow/Valente)
2.
Warm Red Wine
4:19
(Farrow/Valente)
3.
Subway
6:10
(Duncan/Farrow/Valente)
4.
Pride of Man
4:20
(Hamilton Camp)
5.
Baby, Baby
4:53
(Farrow/Valente)
6.
The Hat
7:44
(Farrow/Valente)
7.
Edward...
7:40
(Hopkins)
8.
The Truth
7:05
(QMS)
9.
Freeway Flyer
5:07
(Farrow/Valente)
10.
Mojo
15:29
(QMS)
Total
Bonus Disc: Hawaii 1970 Rehearsal Recordings
1.
Cobra x3 Takes
15:32
2.
Guitar Jam
2:17
3.
Won't Kill Me x9 Takes
25:57
4.
Cobra Acoustic x2 Takes
2:22
5.
Good Old Rock and Roll
10:00
6.
Drums
0:38
7.
Just For Love
4:56
Total


Recorded June 13th, 1970 at the Honolulu Convention Center, Hawaii
Bonus disc is from Opaelua Lodge in Haleiwa, Hawaii, June 4, 1970



Release History
Label
Cat No
Country
Format
Date
Notes
Gonzo Multimedia
HST 203 CD
UK
CD
2013
First 1000 have extra bonus disc
---
At the Kabuki Theater
The New Year's Eve Costume Ball, 31 December 1970
Tracks
Disc 1
1.
Fresh Air
9:56
2.
New Year's Jam
2:45
3.
Baby, Baby
4:26
4.
Too Far
3:39
5.
The Truth
7:54
6.
You're Gonna Need Somebody On Your Bond
4:07
7.
Doctor Feelgood
5:54
8.
Cobra
4:34
9.
Song For Frisco
5:33
10.
Mona
9:14
11.
Subway
4:55
Total
62:57
Disc 2
1.
What About Me
6:27
2.
Call On Me
15:30
3.
Pride of Man
4:21
4.
Local Color
3:17
5.
Not Fade Away
5:32
6.
Mojo
9:26
7.
Freeway Flyer
7:08
Total
51:41
Bonus tracks (Studio rehearsals from 1969):
8.
Subway
1:43
9.
Castles in the Sand
8:31
10.
Look Over Yonder Wall / State Farm
3:51
11.
Senor Blues
6:16
Total
20:21


Recorded live at The First Annual New Year's Eve Costume Ball at The Kabuki Theater, San Francisco on 31st December 1970



Quicksilver Messenger Service (QSM) were one of the quintessential San Franciscan bands who, although never equalling the success of their peers The Grateful Dead and Jefferson Airplane, still made some mighty fine music, propelled by the twin guitars of John Cipollina and Gary Duncan, and later by the dextrous piano of Nicky Hopkins. Communal living, acid fuelled cowboy and Indian battles with The Grateful Dead, members jailed on drug charges, lengthy guitar passages and flaxen hair also gave them a certain counter cultural credibility that fitted the zeitgeist, outwardly marking them as wild men hippies.

QSM arose from a musical relationship that centred around the charismatic folk singer Dino Valenti, who had released the rather wonderful "Birdses" 45 on Elektra in 1964. The single was certainly ligbt years ahead if its time; its surreal wordplay and Leon Russell's dominant baroque harpsichord contributing greatly to its proto-psychedelic feel. Earlier still (circa 1962) he had written what was to become the hippy anthem, "Get Together". Valenti had frequented the coffeee house scene of New York's Greenwich Village and built up a friendship with folk luminary Fred Neil, which led to him regularly perform live on stage with the almighty baritone. "Get Together" was later covered by flowering hippies Jefferson Airplane and even became a suitable Summer of Love hit for the Youngbloods in 1967 (it made the top five when when it was re-issued a couple of years later). Unfortunately, shortly before the song had been covered Valenti had to sell its rights in order to fund legal defence for one of his many drug charges that would eventually land him in jail. A friend of the rapidly-rising The Byrds, Valenti shared a houseboat for a short time with David Crosby. Gene Clark was so enamoured by the singer's odd folk-pop disc that he divised his group's idiosyncratic name as a play on "Birdses". However, Valenti never became part of the Byrds set-up, although it appears he would have been very welcome.

Guitarist John Cipollina recalls: "It was Valenti who organised Quicksilver. I can remember everything. Dino said: "We were all going to have wireless guitars. We were going to have leather jackets made with hooks that we could hang these wireless guitars on. And we were gonna have these chicks, backup rhythm sections that were gonna dress like American Indians with real short little dresses on and they were gonna have tambourines, and the clappers in the tambourines were going to be silver coins. And I'm sitting there going, "This guy is gonna happen and we're gonna set the world on its ear".

Before the band had even properly formed, singer Jim Murray quit and leader Valenti was jailed for drug possession, landing him inside for two years. Cipollina continues: "I was recommended to Dino, probably because I was the only guy playing an electric guitar, let alone lead, at the time... We talked about rehearsing and planned to rehearse the following night but it never happened. The next day Dino got busted".

Yet the unit evolved. David Freiberg, a folk-guitarist friend of Valenti's, who had been in a band with Paul Kantner and David Crosby, had just been released from jail on a separate drug charge. "We were to take care of this guy Freiberg," Cipollina recalled, and although they had never met before, Freiberg was added to the group. Also recruiting Skip Spence on guitar, the band began to rehearse at Marty Balin's club, The Matrix. Balin, who was searching for a drummer for the band he was putting together - eventually to be called Jefferson Airplane - convinced Spence to switch instruments and groups.

To make up for his poaching Spence, Balin suggested that they contact drummer Greg Elmore and guitarist-singer Gary Duncan, who had played together in a superb garage group called The Brogues. (The Brogues had caused a local stir with their snarling Stonesy sound and are now remembered as one of the best from the era.) This new version of the band had its first paying gig in December 1865, playing for the Christmas party of the comedy troupe The Committee.

Oddly, they were still without a moniker. Cipollina recalled: "Jim Murray and Freiberg came up with the name. Me and Freiberg were born on the same day, and Gary and Greg were born on the same day, we were all Virgos and Murray was a Gemini. And Virgos and Geminis are all ruled by the planet Mercury. Another name for Mercury is Quicksilver. And then, Quicksilver is the messenger of the Gods, and Virgo is the servant, so Freiberg says, 'Oh, Quicksilver Messenger Service'." The suitably psychedelic name stuck.

What made the early line up of QSM so special were the dual lead guitars of Cipollina and Gary Duncan. Unlike most of their contemporaries the two guitarists had not come from a folk background, favouring the rawer styling of Bo Diddley and the British bands that had adapted the R&B style. With original vocalist/harmonica player Jim Murray splitting, the remaining members ably undertook vocal duties, with the emphasis on Cipollina, and heavily toured the West Coast. A reputation was soon gained for the unique, lengthy guitar passages that the group were steadily perfecting.

Although QSM were a stunning act, they somehow missed out on the first wave of the San Fran hippie band signings and were unable to clinch a deal until the end of 1967. This was rather unfortunate, as it perhaps made the band, which had in fact debuted back in December 1965, appear as bandwagon jumpers. As Capitol had failed to pick up a San Francisco hippie band during the first rush of record company interest they were very eager to sign up long haired bands so, as a result QSM managed to negotiate a far better deal than many of their peers. Their self-titled 1968 debut album was a superb effort. Mixing laid back folk-rock (notably their amazing adaptation of Hamilton Camp's "Pride of Man") and extended pieces "Gold and Silver" and "The Fool", the album deserves the status as a San Francisco psychedelic rock classic. Happy Trails (released the following March) had more emphasis on lengthy instrumental jams, especially the side long reworking of "Who Do You Love" and Cipollina's astonishing guitar parts on "Mona", both Bo Diddley numbers.

Due to further mind affecting drug problems Duncan quit the group after the recording of Happy Trails. Freiberg later recalled that "the engine" of the band had been removed. Nevertheless, Duncan was replaced by the English piaon journeyman Nicky Hopkins, who had played on albums by The Rolling Stones, The Who and Steve Miller, amongst many others. This version of QSM released Shady Grove at the tail end of 1969; Hopkin's virtuoso piano adding much gravitas to Cipollina's wonderful guitar work.

Meanwhile, Dino Valenti was released from prison in 1968 and began to embark upon a solo career. His sprawling self-titled album produced by Bob Johnston (most famous for overseeing much of Bob Dylan's classic '60s output) was released by Columbia later that year. Valenti's stream-of-consciousness mystic musings may have had little in the way of a narrative, beginning, or end; but these delicate songs did have a certain quality, underlined by their evocative lyricism. Recently reissued on CD, the album has now been acknowledged as something of an acid folk classic.

However, at the time of its release, after the album barely registered with the public (or media), Valenti gave up his solo career and joined forces with with QSM friend Gary Duncan (who had recently split the band) and formed the short lived Outlaws - who proved to be another spectacular failure.

It wasn't long until a slightly cleaned up Duncan rejoined QSM with the band's originator in tow, marking a new era for the group. Rather unbelievably, considering the divergent paths he and the other musicians had taken since the mid-'60s, Valenti once again assumed artistic leadership of the group, which clearly says something about the force of both Dino's incredible ego and QSM's utter lack of direction. Valenti would write most of the songs on their next two albums, which were recorded in Hawaii: 1970's Just For Love (sometimes using the pseudonym Jesse Oris Farrow) and the follow-up What About Me. These two albums also included the bands biggest hit singles, the pro-drug groove "Fresh Air" and "What About Me" (both Santana-inclined Latin rockers). Considering how often the later Valenti incarnation of QSM have been dismissed as an uninventive backup band for a megalomaniacal singer-songwriter, it was in fact this line-up that brought the band the most success.

Unfortunately, the diminished influence of Duncan and Cipollina pretty much meant that the group's celebrated acid rock guitar duals were now taking second place to Valenti's shorter, structured songs. This cost QSM many of their previouly diehard fans. Neverthless, Just For Love was a fine album that displayed another side of QSM, and a stoned stylistic that was still central to the hippe ethos.

What About Me? marked the arrival of Jose Reyes (congas, vocals) and furthered the move towards the then highly-fashionable Latin rock sound. Valenti, who was perhaps one of America's first genuine hippies, was still something of a people's revolutioary nearly ten years on from writing "Get Together". The topic of youth rebellion was also close to his heart - even if he was nearing 30. The album also contained two beautiful love songs "Baby, Baby" and "Long Haired Lady" which, togther with "All In My Mind", captured Valenti's vocals at their best. However, there was a problem arising, as Valenti's influence increased. Cipollina's, unfortunately, lessened; the instrumental "Local Colour" being his only What About Me? credit. In the fall of 1971 Cipollina started a new group, Copperhead, which recalled the kind of sound associated with the early QSM - and he would later rejoin the original members for a decent 1975 QSM reformation. Valenti and Duncan soldiered on for one more album (1972's Comin' Thru) before calling it a day.

The New Year's Eve 1971 Kabuki Theatre (aka Mojo Kabuki) concert was caught on tape at a rather exciting gig-come-party, partly celebrating the recent release of What About Me?, and partly a nice excuse for a heady New Year's celebration. The majority of the concert featured a number of new songs from the two 1970 albums and the forthcoming 1971 "near classic" Quicksilver and the disappointing Comin' Thru albums (which would be recorded after Cipollina departed from the group.) Interspersed amongst these are older material (including a superb rendition of "Pride of Man" from their 1968 debut) and a few token blues jams. It's a lively set that features the last stand of the second line-up QSM. Valenti, Cipollina, Duncan, Freiberg and Elmore are all on top form throughout, giving a highly charged show that is guaranteed to please all fans of the band.

Jon 'Mojo' Mills




Personnel
Dino Valenti
vocals
Gary Duncan
guitar
Greg Elmore
drums
John Cipollina
guitar
David Freiberg
bass, vocals
Nicky Hopkins
piano
Release History
Label
Cat No
Country
Format
Date
Snapper / Charly
SNAD 556 CD
UK
2 x CD
2007
---
Live at The Winterland Ballroom, December First 1973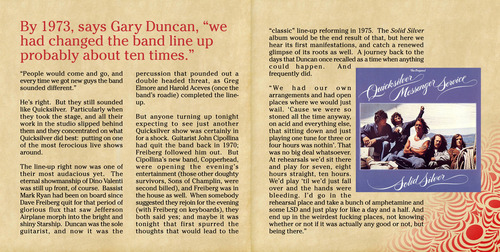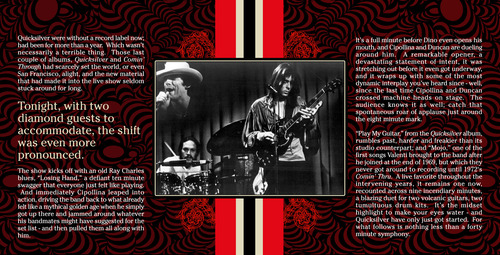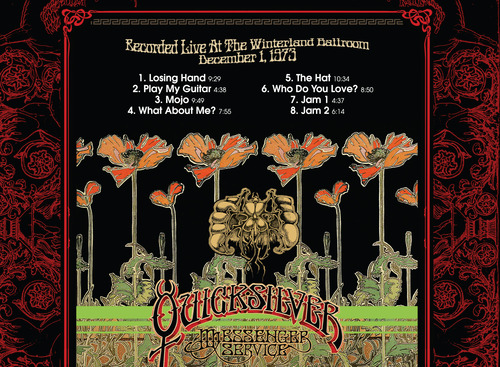 Tracks
1.
Losing Hand
9:29
2.
Play My Guitar
4:37
3.
Mojo
9:46
4.
What About Me?
7:52
5.
The Hat
10:33
6.
Who Do You Love?
8:51
7.
Jam 1
4:35
8.
Jam 2
6:11
Total
61:54




By 1973, says Gary Duncan, "we had changed the band line up probably about ten times."

"People would come and go, and every time we got new guys the band sounded different."

He's right. But they still sounded like Quicksilver. Particularly when they took the stage, and all their work in the studio slipped behind them and they concentrated on what Quicksilver did best: putting on one of the most ferocious live shows around.

The line-up right now was one of their most audacious yet, the eternal showmanship of Dino Valenti was still up front, of course. Bassist Mark Ryan had been on board since Dave Freiberg quit for that period of glorious flux that saw Jefferson Airplane morph into the bright and shiny Starship. Duncan was the sole guitarist, and now it was the percussion that pounded out a double headed threat, as Greg Elmore and Harold Aceves (once the band's roadie) completed the line-up.

But anyone turning up tonight expecting to see just another Quicksilver show was certainly in for a shock. Guitarist John Cipollina had quit the band back in 1970; Freiberg followed him out. But Cipollina's new band, Copperhead, were opening the evening's entertainment (those other doughty survivors, Sons of Champlin, were second billed), and Freiberg was in the house as well. When somebody suggested they rejoin for the evening (with Freiberg on keyboards), they both said yes; and maybe it was tonight that first spurred the thoughts that would lead to the "classic" line-up reforming in 1975. The Solid Silver album would be the end result of that, but here we hear its first manifestations, and catch a renewed glimpse of its roots as well. A journey back to the days that Duncan once recalled as a time when anything could happen. And frequently did.

"We had our own arrangements and had open places where we would just wail. 'Cause we were so stoned all the time anyway, on acid and everything else, that sitting down and just playing one tune for three or four hours was nothin'. That was no big deal whatsoever. At rehearsals we'd sit there and play for seven, eight hours straight, ten hours. We'd play 'til we'd just fall over and the hands were bleeding. I'd go in the rehearsal place and take a bunch of amphetamines and some LSD and just play for like a day and a half. And end up in the weirdest fucking places, not knowing whether or not it was actually any good or not, but being there."

Quicksilver were without a record label now; had been for more than a year. Which wasn't necessarily a terrible thing. Those last couple of albums, Quicksilver and Comin' Thru had scarcely set the world, or even San Francisco, alight, and the new material that had made it into the live show seldom stuck around for long.

Tonight, with two diamond guests to accommodate, the shift was even more pronounced.

The show kicks off with an old Ray Charles blues, "Losing Hand," a defiant ten minute swagger that everyone just felt like playing. And immediately Cipollina leaped into action, driving the band back to what already felt like a mythical golden age when he simply got up there and jammed around whatever his bandmates might have suggested for the set list - and then he pulled them all along with him.

It's a full minute before Dino even opens his mouth, and Cipollina and Duncan are dueling around him. A remarkable opener, a devastating statement of intent, it was stretching before it even got underway, and it wraps up with some of the most dynamic interplay you've heard since - well, since the last time Cipollina and Duncan crossed machine heads on stage. The audience knows it as well; catch that spontaneous roar of applause just around the eight minute mark.

"Play My Guitar," from the Quicksilver album, rumbles past, harder and freakier than its studio counterpart; and "Mojo," one of the first songs Valenti brought to the band after he joined at the end of 1969, but which they never got around to recording until 1972's Comin' Thru. A live favorite throughout the intervening years, it remains one now, recounted across nine incendiary minutes, a blazing duet for two volcanic guitars, two tumultuous drum kits. It's the midset highlight to make your eyes water - and Quicksilver have only just got started. For what follows is nothing less than a forty minute symphony.

"What About Me" and "The Hat" set things rolling, showcases for Valenti too as he rides the laid back groove by demanding that the soundman turns the vocal up "because I wanna penetrate." And he does, it's a soulful excursion, supremely sweet but never slight, an oasis of glorious calm that reminds us just how close Quicksilver could have come to patenting the whole blue-eyed soul boom of the mid-1970's.

Valenti vamps, improvises, raps... the audience howls its approval. He leads a singalong and describes the crowd as sounding like angels. He swoops and soars, the band busks along, and as "The Hat" wraps up on an almost a cappella finale, your first thought is that the night must almost be over.

But Gary Duncan has other ideas. Out of nearly nowhere, a lone guitar seizes upon a flourish that slowly resolves into a riff. Drums pick up the rhythm, both percussionists pounding, a tribal clatter that hauls the other instruments into the brew. And Bo Diddley is stalking the land once again, a take on "Who Do You Love" that even manages to sideline Dino as Duncan steps up to the microphone, walking all those miles of barbed wire in his cobra snake necktie, and demanding to know who do you love?

It's a sensational performance, one to play as loud as you can bare[sic], your heart keeping time with the manic percussion, your blood pumping hard as those garrulous guitars... you could line up this version of Quicksilver's anthem with any other you have ever heard them play, and there's not one that could eclipse this baby.

Years had passed by, musicians had passed through. But this was, is, and will always remain quintessential Quicksilver, because there are moments when it feels as though it will never end, spiralling off into untitled jams, spacious improv, space rock sunbursts, but always touching bass with Bo in the end.

It's a triumph that could never be trumped, and so they don't even try. The show ends with the showboating still loud in everyone's ears, wave upon wave of magisterial mayhem, guitars whipped to submission and an audience drenched with exhaustion and delight. Nothing could follow this... so nothing did. One of the last great nights in Quicksilver's life, one of the last great live recordings in a career that is littered with classics, Live at Winterland is alive with every reason you could think of for wanting to listen to the band.

- Dave Thompson



(C) (P) 2013 Purple Pyramid Records a division of Cleopatra Records, Inc.
11014 Santa Monica Blvd. #703 LA CA 90025 www.cleopatrarecords.com



[There's a video clip available online on YouTube that shows that the tracking and musician credits aren't totally accurate:
tracks 6-8 of the CD are actually 1 track 'Who Do You Love' lasting 19:54,
Dino also plays guitar,
Gary Duncan also sings lead vocal ]
Personnel
Dino Valenti
lead vocals
Gary Duncan
lead guitar
Mark Ryan
bass guitar
Greg Elmore
percussion
Harold Aceves
percussion
with Special Guests:
John Cipollina
guitar
David Freiberg
keyboards
---
Solid Silver
Tracks
1.
Gypsy Lights
3:41
(Duncan)
2.
Heebie Jeebies
4:14
(Cipollina)
3.
Cowboy on the Run
3:13
(Valenti)
4.
I Heard You Singing
3:44
(Freiberg/Hunter)
5.
Worryin' Shoes
3:24
(Valenti)
6.
The Letter
4:02
(Valenti)
7.
They Don't Know
3:51
(Duncan)
Remastered CD only?
8.
Flames
4:17
(Cipollina/Valenti)
9.
Witches' Moon
2:59
(Valenti)
10.
Bittersweet Love
4:21
(Duncan/Valenti)
Personnel
John Cipollina
lead guitar
vocals
Hawaiian steel guitar
guitar
back-up vocals
drone guitar
feedback guitar
harmony guitar
open-tuned lead guitar
rhythm guitar
1 2 5 8 9
2
2
4 6
8
8
8
9
10
10
Gary Duncan
lead guitar
rhythm guitar
vocals
back-up vocal
acoustic guitar
guitar
pedal steel guitar
acoustic V.S.O. guitar
harmony guitar
1 5 6 7 9 10
1 2 5 6 7 10
1 7
2
3
4 8
6
7
9
Greg Elmore
drums
1-10
David Freiberg
bass
back-up vocals
vocals
1 2 4 6 7 9 10
1 7
4
Dino Valenti
back-up vocals
acoustic guitar
vocals
guitar
1
3 9
3 5 6 8 10
4
Nicky Hopkins
piano
2 3
Michael Lewis
organ
arp
piano
1
3 9
5 7 10
Kathi McDonald
back-up vocals
1 4 6 7 10
Skip Olson
bass
3 5
Pete Sears
piano
4 6 9
Mario Cipollina
bass
8
Produced by Quicksilver and John Palladino
Recorded between 30th June and 29th August 1975, at Columbia Recording Studios, San Francisco
Engineers - Mike Fusaro, George Engler, Tom Lubin, Phil Brown
Mastered by Wally Traugott, Capitol Records, Hollywood
Project Co-ordinator - Ron Umile
Photos - Tierra Productions/Ron Quilici
Original art direction - Roy Kohara



[Edsel CD booklet notes]
Quicksilver Messenger Service was one of the bands in the vanguard of the original San Francisco acid-rock scene of the mid-1960's. Their reputation was founded on a live penchant for long, improvisional jams based on Blues-based or primal rock and roll structures, and featuring the contrasting guitar styles of John Cipollina and Gary Duncan. Cipollina favoured squally, trailing notes, with heavy use of the ol' whammy bar on his trusty trebly Gibson SG. Duncan's technique differed markedly, opting for a mellower, more honeyed tone, and the creative tension of their styles did much to characterise the band's sound. As such, their jamming, spontaneous style helped push them to the forefront of the SF Rock milieu, along with the likes of the Grateful Dead and Jefferson Airplane, and for a while, at least, big-time success seemed assured.
QMS had formed as early as 1964. The line-up comprised the aforementioned Cipollina, Dino Valenti (vox), David Freiberg (bass / vox), Jim Murray (vox / harmonica), Casey Sonoban (drums), and, for a trial period, Alexander 'Skip' Spence (guitar / vox). Skip would shortly do just that, to take up the vacant drum stool in Jefferson Airplane (Freiberg was an ex-folkie, whilst Cipollina, was, legend has it, a former Real Estate salesman!). Soon after their formation, however, the arrest and imprisonment of Valenti on a drug charge proved a crucial impediment to their progress. Valenti was by then a successful singer-songwriter, having penned the classic folk-rock item 'Hey Joe', under the sobriquet 'Chester Powers', and had been a notable figure on the Greenwich Village coffee-house circuit. He didn't in fact, rejoin the QMS ranks until 1969.
The loss of Valenti was obviously a tremendous blow to the band. They bided their time awaiting his release living communally in a basement on Water Street, North Beach. As Cipollina recalled for Pete Frame's absorbing 'Rock Family Trees': "These were the very early days of psychedelia - lots of LSD, no money, lots of living off the street, which, coming from a good family, was very strange to me". The band's line-up was bolstered in '65 by the arrival of Gary Duncan on guitar / vox, and Greg Elmore taking Sonoban's place behind the drum kit.
Valenti was eventually released, but had the misfortune to be busted again some two days later and found himself back in clink in next-to-no time. The band volunteered to soldier on without him, and soon worked up a strong local following. They made a conscious decision only to gig within California until they were ready to make a big move. They ended up playing some seventy-five shows at the Avalon ballroom in SF.
After a well-received set at the Monterey Pop Festival in 1967, Jim Murray flew the QMS coop, ostensibly to learn the sitar. It was as a quartet - with Cipollina, Duncan, Freiberg and Elmore - that they cut their first two albums for the Capitol Records label, namely an eponymous debut (released May '68) (i), and their sophomoric effort, 'Happy Trails' (March '69). The later is regarded as the band's enduring work, with their cover of Bo Diddley's 'Who Do You Love', recorded live, taking up the entirety of one side of the album. Just as Rick Griffin became synonymous with the Grateful Dead's album art, QMS looked to George Hunter and his Globe Propaganda design company to lend their album jackets a unique look (though Griffin was of course responsible for the cover of their first album).
It wasn't too long after the release of 'Trails' that Duncan departed from the band, to be replaced by British keyboard ace, Nicky Hopkins, who featured heavily on their next album 'Shady Grove' (November '69). Duncan had actually been persuaded by the now-released Valenti to relocate to New York and form a band with him, named The Outlaws. By the end of the year, however, the pair had hooked up with the band tp play their New Year's Eve bash, and stayed on.
They gigged around the USA extensively, and then flew to Hawaii to record the album 'Just For Love' (released September '70). By this time, Valenti had assumed a much greater role in the band, and Hopkins took his leave. Disenchantment settled in, however, and Cipollina and the band's manager, Ron Polte, quit the band before the recording of 'What About Me' (released May '71) (ii). The album's sessions had to be buttressed by the use of session men. By now, the band's line-up was fragmenting alarmingly. It was obvious that they had peaked with 'Happy Trails', and like a lot of their contemoraries were finding that adjusting to the 1970's was difficult. Drug busts, uninspired albums, the disillusionment of the decline of the Hippie ideal, all contributed to the band's slide from commercial grace. However, a rejuvenated Quicksilver reconvened in '75, after a well-received compilation album, 'Anthology', seemed to revive interest in the band. The line-up that cut 'Solid Silver' featured long-serving QMS alumni Gary Duncan (guitar, vocals), Dino Valenti (vocals, guitar), John Cipollina (guitar) (iii), David Freiberg (backing vocals, bass), and Greg Elmore (drums). Various keyboard assists from the likes of Nicky Hopkins and Michael Lewis helped flesh out the band's sound.
Although hopes were high that 'Solid Silver' might kick start the band's career, the reality was otherwise. Whilst the musicianship is excellent, the big problem with 'Solid Silver' is the lack of particularly inspired material. The songs struggle to reach a head of steam, and, although John Cipollina's distinctive lead guitar style is much in evidence, even he can't get overly worked up about it. 'Worryin' Shoes' is a blues shuffle by numbers, but its taken at quite a clip,which pushes the energy level up a few notches. 'Cowboy on the Run' isn't bad, a plaintive rock ballad with a heartfelt Valenti vocal. Other tracks such as 'The Letter' and 'They Don't Know' have their moments, but there's little of the old QMS frictional guitar sparks to lift the thing above the lightweight at best, or mundane at worst.
QMS toured to support the album, but neither the tour nor the album were a great success ('Solid Silver' made number eighty-nine on the Billboard album chart), and the band ground to a halt. Freiberg enjoyed rather more success as a member of Jefferson Starship. Cipollina died on 29th May 1989, from complications assocaiated with emphysema, aged forty-two. Dino Valenti sloughed off this mortal coil on November 16th 1994, aged fifty-seven. Quicksilver Messenger Service remain a fondly-recalled, if ultimately underachieving acid-rock band. There's still a version of the QMS knocking about, featuring Gary Duncan on guitar, and of course, CD reissues of the band's albums have helped add lustre to their legend. 'Solid Silver' may not be the finest Quicksilver album, but it has its moments, and Cipollina was always a guitar player worth listening to. I hope you enjoy it.
Alan Robinson, December 1999
Acknowledgements: 'Rock Family Trees' Pete Frame; Billboard Top Pop Albums `955-1996; The Virgin Encyclopaedia of Popular Music, ed. Colin Larkin; 'The Faber Companion to 20th Century Popular Music' Phil Hardy & Dave Laing
(i) They had recorded a couple of songs for the soundtrack of the exploitation flick, 'Revolution', released in March '68.
(ii) Cipollina formed Copperhead, a terrific outfit who produced one very underrated album for CBS. In 1975 he toured the UK as guest of Welsh rock band Man, with whom he cut a live album. Apparently, Cipollina was so out of it that he rarely bothered tuning up, and his guitar parts on the in-concert album had to be re-cut by the band.
(iii) Cipollina's brother, Mario (featured here on 'Flames'), would find the massive success that John was denied as bass player with the massive 80's US stadium-rock outfit, Huey Lewis & The News.
Release History
Label
Cat No
Country
Format
Date
Notes
Capitol
ST 11462
LP
Edsel
EDCD 376
UK
CD
Edsel
EDCD 643
UK
CD
2000
Remastered
---
Cowboy On The Run: Live in New York
Tracks
1.
Fresh Air
4:41
2.
Dr. Feelgood
6:34
3.
Baby Baby
4:33
4.
Cowboy On The Run
4:20
5.
Bittersweet Love
4:28
6.
I'd Rather Be Lonely
11:21
7.
They Don't Know
3:48
8.
What About Me
7:55
This unique show offers up a slice of QMS history with most of the band following other pursuits shortly after. Valenti carried on his solo career while Cipollina took Olsen into various offshoot projects. Duncan relocated to Hawaii, Elmore dropped into the background and Lewis ventured deep into the disco scene, the conclusion of a period that had promised so much more. Many of the shows on the Solid Silver comeback tour of 1975/76 brought Quicksilver back into the club scene, playing in more intimate surroundings such as My Father's Place in Roslyn, New York. It harked back to their days as psychedelic protagonists from San Francisco. Their appearance here in 1976 reflects times gone by and allows the band to enjoy their respected repertoire that had brought them the deserved attention in the late 1960s. Echoes proudly presents the entire FM broadcast of QMS appearance at My Father's Place in Roslyn, New York on 31st January 1976.
Release History
Label
Cat No
Country
Format
Date
Notes
Echoes
CD
2015
Last updated: 5-Jun-2016